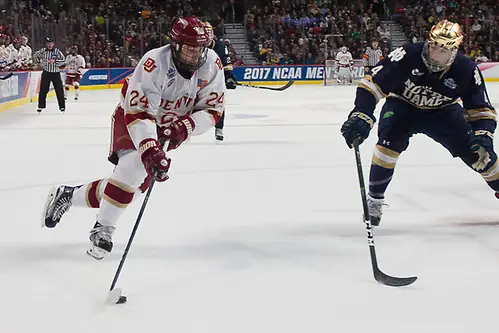 CHICAGO — Everyone who follows college hockey this season knows that the Denver Pioneers have star power.
A Mike Richter Award finalist goaltender in Tanner Jaillet. A Hobey Baker Award hat trick finalist in Will Butcher. Offensive firepower in Troy Terry, Henrik Borgström and Dylan Gambrell.
Frozen Four 2017
More coverage of the 2017 NCAA men's Frozen Four at Frozen Four Central.
Denver coach Jim Montgomery has frequently talked about special players make special plays, and how when your best players are your best players, good things usually happen.
Many of those names were on the score sheet Thursday night in a 6-1 victory over Notre Dame in the Frozen Four semifinals, and they made some memorable plays.
However, for all the star power the Pioneers have, what often goes unnoticed is their depth and how they get offensive contributions from many different players. It is something, however, that has been on display ever since Denver lost to North Dakota 1-0 in the NCHC Frozen Faceoff semifinal game in Minneapolis.
The next night in the consolation game, Montgomery rested Borgström, Butcher, Gambrell and Terry. The No. 1 seed in the NCAA tournament may have depended on Denver beating Western Michigan that night. The Pioneers got two goals from normal fourth-line winger Colin Staub in a 3-1 victory.
"Ever since we lost to North Dakota, our line has started to click more and more," said Staub. "Ever since that Western game, I think everyone has gotten their confidence and kind of been working a lot. We're just firing on all cylinders."
That built some momentum for that line, as Staub scored the first two goals of the opening game of the NCAA tournament against Michigan Tech, and Emil Romig scored the third goal, which proved to be the game-winner.
Staub again helped Denver Thursday night with two assists, including a big one on the Pioneers' first goal of the night. He carried the puck deep along the left side boards and headed toward the net, then passed it to Romig behind the net. Romig then stepped out and whipped a quick wrist shot to the top corner.
"It's funny that people want to call them our fourth line; I actually thought Borgström's line was our fourth line going into Michigan Tech," said Montgomery. "They played full out and felt like our second line. I just think that all four lines I have confidence in, and they have confidence in each other. The support that they have and trust they have, and communication on the ice allows all four lines to play well. That depth that we talk about has been really pronounced in the tournament."
Staub also assisted on Evan Ritt's goal that made it 5-0 Denver at 18:18 of the second with a beautiful play, knocking the puck away from a Notre Dame player at the blue line on an attempted clear. He then drove down the left side of the slot before passing it to Ritt, who finished with a great shot high. Denver's fourth line came through with two goals and four points.
"We really kind of embraced our role as the fourth line," said Staub. "We want to contribute to the team any way we can. We're a line that can get in on top of D men and cause a lot of turnovers. We were lucky enough to cause key turnovers tonight and we were able to capitalize. As a line, we feel great about being able to contribute that way, and when we play like that, we can open up some room for those guys [Borgström, Gambrell and Terry]."
Others who don't normally show up on the score sheet included Tariq Hammond, who helped Denver break it open in the second by finishing off a two-on-one rush with Evan Janssen, scoring before Petersen could slide back over to make it 3-0.
Hammond assisted on Gambrell's first goal, passing it to the winger deep in the zone and allowing Gambrell to go for the wraparound.
"Janny made a good play there and I jumped up in the rush and he made a great move to get around that guy and then I was open and luckily was able to tap it in," said Hammond.
Denver has one more game left in its goal to capture a national championship when it plays conference rival Minnesota Duluth on Saturday. Montgomery expects a tough challenge.
"It's going to be a great college hockey game," said Montgomery. "NCHC, two opponents, two best teams consistently throughout the year in the NCHC. It's going to be a barn-burner and a great show for college hockey."