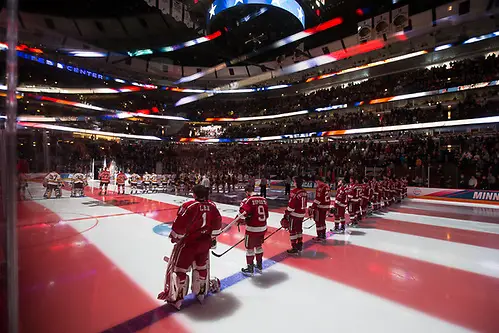 CHICAGO — With Minnesota Duluth's 2-1 victory over Harvard in the first game of the Frozen Four on Thursday, the Bulldogs won their fourth straight one-goal game.
On March 18, Joey Anderson scored with 51 seconds left in the game to lift the Bulldogs to a 4-3 win over North Dakota in the NCHC Frozen Faceoff championship. The Bulldogs then won both of their West Regional games in overtime.
Alex Iafallo's game-winner against Harvard came with 26.6 seconds left, so Minnesota Duluth has established itself as a clutch performer in the postseason.
"It's kind of been our MO all year, another tight hockey game, another one-goal game," said Bulldogs coach Scott Sandelin. "And just real exciting to be moving on."
Minnesota Duluth is 13-4 in one-goal games this season.
"I think as the game wears on, we play a really good style that allows us to maintain our game and take chances when we get them," said Joey Anderson.
Late finishes
The last-minute goal by Iafallo marked the third time in the last four years that a semifinal game was decided in the last minute.
Minnesota defeated North Dakota 2-1 in 2014 on a goal with less than a second left, and North Dakota defeated Denver 3-2 last year in Tampa, Fla., on a goal by Nick Schmaltz with 56.8 seconds left.
Going to the box early
A boarding penalty at 1:08 of the first period to Harvard's Luke Esposito was the earliest penalty in the Frozen Four semifinals since 2005, and the fastest in the Frozen Four since 2014, when Minnesota's Brady Skjei was penalized just 14 seconds into the championship game against Union.
Even after one
When Joey Anderson scored at 18:34 of the first period, it marked the first time since 2011 that both teams had scored in the first period of a Frozen Four semifinal game. That year, both Duluth and Notre Dame scored in a game Duluth won en route to the program's only national championship.
No goal
Harvard appeared to take a 2-1 lead midway through the third period, but the referees waved it off and after review, the on-ice call stood.
"I don't know, it might have been an early whistle," said Harvard captain Devin Tringale. "The goalie had the puck covered, I think, for a second and then it got pushed in the net. They didn't have audio on the replay or something so they couldn't … determine what actually happened with the whistle."
Quality chances lacking
Minnesota Duluth fired 38 shots on net, and Harvard had 40. Despite that, it didn't seem that either team had many excellent scoring chances.
"They're a good defensive team," said Sandelin. "They're a good transition team. I didn't think in the neutral zone, for us, I didn't think we spread the rink out enough. I thought the first period was fine. The second period, I thought we just tried forcing too many plays and made it a little bit easier for them to stop us
through the neutral zone. And it's a game against a good team that transitions well. You've got to manage a puck. I thought we got away from that a little bit, but it was a battle."
"I think pretty much every bit of ice was hard to get out there," said Harvard coach Ted Donato. "I give Minnesota Duluth a lot of credit for that. I thought neither team really had a lot of zone time. I think both teams had some good chances, but certainly in the first half of the game, I don't think we were able to get out of our zone as cleanly as we would have liked and establish some offensive zone play."