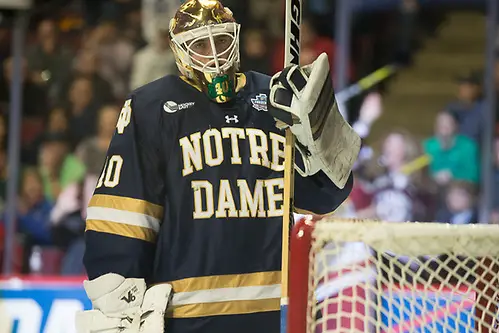 CHICAGO — Notre Dame came into the Frozen Four as the clear underdog. Denver, Minnesota Duluth and Harvard had been No. 1 seeds in their regionals; the Irish had been a No. 4 seed, requiring two upsets to even get this far.
As such, they needed to bring their "A" game as they faced the No. 1 team in the country, Denver.
Frozen Four 2017
More coverage of the 2017 NCAA men's Frozen Four at Frozen Four Central.
Either they brought something far less than a "A" to their semifinal contest, or Denver's "AAA" game rendered the Irish an "F."
Denver dominated the first period, taking a 2-0 lead, expanded the lead to 5-0 in the second without so much as a single power play and finished Notre Dame off, 6-1.
There were plenty of self-inflicted wounds. Down 2-0, Notre Dame was in the same position it had been in the Northeast Regional where the Irish came back against top-seeded Minnesota, 3-2.
Instead, a defenseman fell, leading to a backbreaking third goal. On the fourth, Irish goaltender Cal Petersen got a pad on Dylan Gambrell's wraparound, but when the puck popped up, Petersen knocked it in with his blocker.
And the fifth came on a bad turnover at the defensive blue line by star forward Anders Bjork that led to a two-on-one.
Not any team's "A" game.
"We didn't really play our game, we didn't play Irish hockey as we have been the past couple weeks," Bjork said. "Honestly, I think we beat ourselves by not playing the right way and getting a little timid."
Notre Dame coach Jeff Jackson also tipped his hat to Denver.
"They're the No. 1 ranked team in the country for a reason," he said. "You give them their due. They're a great team.
"I just didn't think we played as well as we're capable of playing. I could take that and put that on me, but it's also about learning and growing and experiences."
Notre Dame's poor performance was reminiscent of its play three weeks ago in the Hockey East semifinals against UMass Lowell. On a similarly large stage with considerable limelight — the TD Garden compared to the United Center — the Irish were outplayed to the tune of 5-1.
"I thought our youth showed up again tonight," Jackson said. "It showed up a few weeks back in Boston, especially with some of our young defensemen making some plays coming out of our zone. But that's a growing experience.
"Hey, I'll be very honest with you: I'm extremely proud of this group considering what they did in the second half of the season. They overcame some obstacles. They fought back. And they had a couple of blips in the last month here against very, very good teams."
Arguably, the Irish have nothing to be ashamed of. They overachieved to get this far, but just ran into a far superior opponent. Outclassed does not mean "no class."
But more will be expected in the future.
"I'm not going to be pleased until we win one of these things," Jackson said. "Getting here is great. I give these kids a lot of credit because I don't think anybody expected them to be here.
"They got within a point of first place in Hockey East. They got within a game of the championship in Boston Garden. They got within a game of playing in the national championship game. So something has to be said for that."
And perhaps Notre Dame will be taking a page out of Denver's playbook next year. Last season, the Pioneers advanced to the Frozen Four but fell short.
"Maybe we can be that team a year from now," Jackson said. "They were here last year. They were not happy about losing, and they came back."