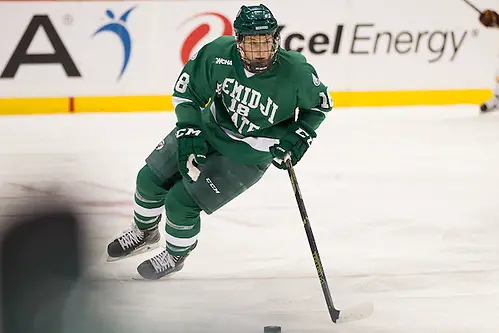 CHICAGO — Bemidji State forward Brendan Harms was named Friday as the winner of the 2017 Senior CLASS Award.
The award recognizes the most outstanding senior student-athlete in Division I men's hockey.
From the organizers:
An acronym for Celebrating Loyalty and Achievement for Staying in School, the Senior CLASS Award focuses on the total student-athlete and encourages students to use their platform in athletics to make a positive difference as leaders in their communities.
Harms, a 4.0 student as a business administration major with a minor in human performance, had eight goals and 13 assists as a senior for the Beavers.
"Winning the Senior CLASS Award really means a lot," Harms said in a statement. "When I saw the list of nominees, they are all great players, and they are amazing people, too. Just to have the opportunity to be nominated and then to make the short list of finalists was an extreme honor for me. When you put the work in to balance life as a student-athlete and try to contribute more than just on the ice, and then get acknowledged for that, it's an amazing feeling."
The first-team Senior CLASS Award all-Americans include Harms, Air Force's Johnny Hrabovsky, Northern Michigan's Brock Maschmeyer, Ferris State's Chad McDonald and Northeastern's John Stevens.
The second team included St. Lawrence's Gavin Bayreuther, Denver's Will Butcher, Army West Point's Parker Gahagen, Penn State's David Goodwin and Harvard's Alexander Kerfoot.