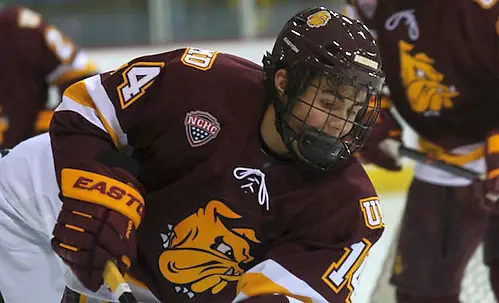 After scoring at least a point in all 10 games in March and April and leading Minnesota Duluth to the national championship game, UMD senior forward Alex Iafallo completed his career by being named the Hockey Commissioners' Association (HCA) National Division I Men's Player of the Month for March/April, the final HCA monthly award for 2016-17.
Iafallo's linemate, freshman forward Joey Anderson, was selected the HCA National Division I Men's Rookie of the Month for the final month and a half of the season.
Iafallo finished his collegiate career on a 15-game point streak to lead the Bulldogs to an 8-2-0 record in March and April and a national runner-up finish. He compiled 17 points during those 10 games, which led the NCAA during that span, as did his 10 assists, while his seven goals tied for the NCAA lead in March and April. Iafallo tallied multiple points in seven straight games to close March, while averaging 1.70 points per game in March and April. Iafallo's three game-winning goals also led the entire NCAA over the last month and a half.
At the NCAA Frozen Four in Chicago, Iafallo scored the game-winning goal against Harvard in the national semifinals April 6 with only 26.6 seconds remaining in regulation to break a 1-1 tie. In his final game as a Bulldog, Iafallo scored UMD's first goal on the power play in a 3-2 loss to Denver in the national championship game. He was voted to the NCAA Frozen Four All-Tournament Team, as well, for his third all-tournament team in March and April.
For the season, Iafallo finished with 51 points on 21 goals and 30 assists. He ends his career with 121 points on 48 goals and 73 assists in 152 career games.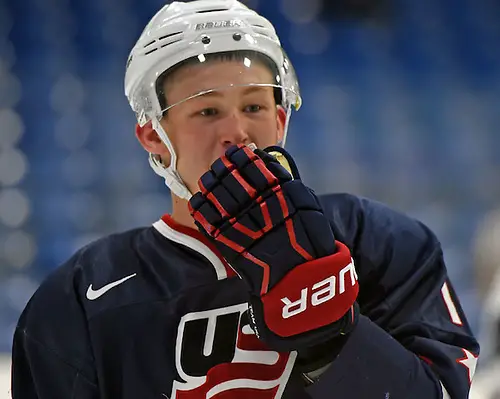 Anderson closed out his freshman season by tallying 13 points in 10 games in March and April to lead all NCAA rookies in scoring during that span. His eight assists also led all NCAA freshmen while his five goals ranked second among NCAA freshmen. The New Jersey Devils draft pick averaged 1.30 points per game to close the season. He notched a point in seven of his 10 games in March and April, including closing on a five-game point streak, tallying multiple points in six of those games.
Anderson continued his multi-point streak in the NCAA Tournament, handing out two assists, including on the game-winning goal in the win over Ohio State March 24. He then added two more points the following night in the win over Boston University in the regional final. With his four-point weekend, he was named to the NCAA West Region All-Tournament Team. Anderson then capped his five-game multi-point streak by having a hand in both goals in UMD's 2-1 national semifinal win over Harvard April 6 at the Frozen Four in Chicago, scoring the first goal and setting up Iafallo's game-winner. In the national championship game, he collected the primary assist on the Bulldogs' first goal.
Anderson finished his rookie campaign with 37 points on 12 goals and 25 assists in 39 games played.