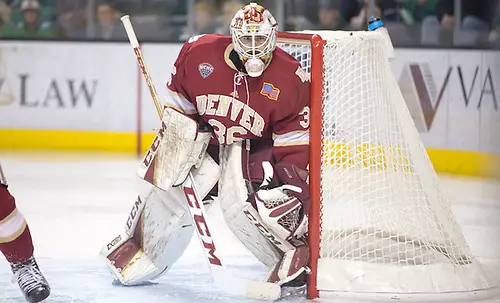 National champion Denver has placed two players on the 2017 All-USCHO first team.
Pioneers senior defenseman Will Butcher, the Hobey Baker Award winner, and junior goaltender Tanner Jaillet, this season's Mike Richter Award winner, were among the six first-team selections.
Butcher was a second-team pick in 2016.
Northeastern senior Zach Aston-Reese and Union senior Mike Vecchione, who were part of a three-way tie for the national lead with 63 points, were first-team picks at forward along with Minnesota Duluth senior Alex Iafallo.
Harvard freshman Adam Fox joined Butcher as defensemen on the first team.
The full All-USCHO teams for the 2016-17 season:
All-USCHO first team
• Forward Zach Aston-Reese, sr., Northeastern
• Forward Alex Iafallo, sr., Minnesota Duluth
• Forward Mike Vecchione, sr., Union
• Defenseman Will Butcher, sr., Denver
• Defenseman Adam Fox, fr., Harvard
• Goalie Tanner Jaillet, jr., Denver
All-USCHO second team
• Forward Anders Bjork, jr., Notre Dame
• Forward Henrik Borgstrom, fr., Denver
• Forward Tyler Kelleher, sr., New Hampshire
• Defenseman Tucker Poolman, jr., North Dakota
• Defenseman Dylan Zink, sr., UMass Lowell
• Goalie Charles Williams, sr., Canisius
All-USCHO third team
• Forward Spencer Foo, jr., Union
• Forward Joe Gambardella, sr., UMass Lowell
• Forward Troy Terry, so., Denver
• Defenseman Charlie McAvoy, so., Boston University
• Defenseman Neal Pionk, so., Minnesota Duluth
• Goalie Hunter Miska, fr., Minnesota Duluth
Denver led the way overall with four of the 18 players selected across the three teams. Minnesota Duluth had three, while UMass Lowell and Union had two apiece.
USCHO awards were selected by staff members covering the Frozen Four.