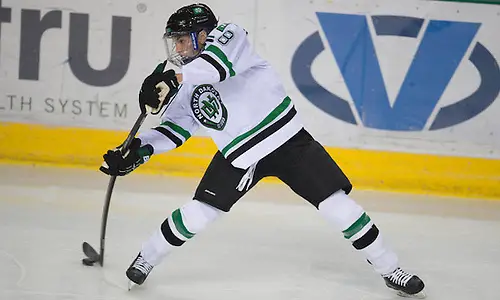 North Dakota senior defenseman Halli Krzyzaniak has been named the recipient of the 2017 WCHA postgraduate scholarship.
Now in its 14th year for the WCHA women's league, the scholarship program awards an annual grant of $7,500 for postgraduate studies.
"On behalf of the entire Western Collegiate Hockey Association family, we are thrilled to recognize Halli Krzyzaniak as this season's postgraduate scholarship recipient," said WCHA vice president and women's league commissioner Katie Million in a statement. "Halli is an exemplary student-athlete — a leader and champion in all facets, who truly embodies the mission of the WCHA and its member institutions.
"During her time at the University of North Dakota, Halli served as a two-time captain, competed at the highest pre-Olympic levels of international hockey with Canada's National Women's Team, maintained a near-perfect standard of academic excellence and made invaluable contributions on campus and within the Grand Forks community. With graduation on the horizon, she will then train with Hockey Canada in pursuit of a spot on the 2018 Olympic Team, while harboring future ambitions to treat the next generation of student-athletes as a physician. The WCHA is thrilled to assist in Halli's inspiring future academic plans, while we applaud her commitment, effort and dedication.
"We thank Halli for being a tremendous ambassador for the WCHA and the sport of women's hockey, and wish her all the best in her future academic and personal endeavors."
In 2016-17 as a senior, Krzyzaniak led all UND blueliners with 18 points in 36 games.