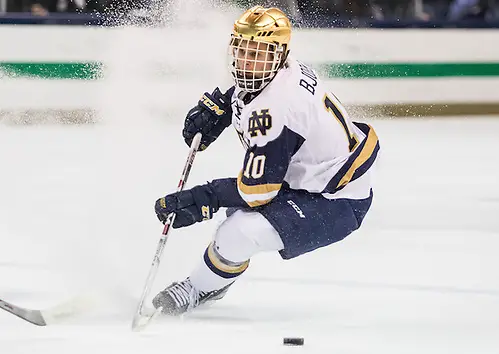 Notre Dame junior forward Anders Bjork has signed a three-year, entry-level contract with the Boston Bruins, giving up his senior season with the Fighting Irish.
A fifth-round pick by Boston in the 2014 NHL Draft (146th overall), Bjork posted a career-high and team-best 52 points on 21 goals and 31 assists as a junior while leading the Irish to the 2017 Frozen Four. He was named a Second Team East CCM/AHCA All-American and earned First Team Hockey East All-Star honors.
"We are excited Anders is getting the opportunity to realize his dream of playing in the National Hockey League," Notre Dame coach Jeff Jackson said in a statement. "He has promised to complete his degree at Notre Dame, which has been another dream of his. Anders is a great young man who has worked very hard to make himself into a great hockey player. I am proud of him and happy for him."
"This was a difficult decision because Notre Dame is such a special place," Bjork added. "I am ready for the next step in my hockey career and am excited for the opportunity to join the Boston Bruins organization. It is also important to me, my family, and my Notre Dame coaches that I finish earning my degree from the University so I will continue to work towards that goal as well. I would like to thank Coach Jackson, Coach [Paul] Pooley and Coach [Andy] Slaggert for their dedication and all they have done to help my development. I would also like to thank my mom and dad and siblings for their countless sacrifices and their leadership in character."
Last season, Bjork's 52 points tied for fourth in Hockey East and tied for ninth in the country. He scored six game-winning goals, which tied for second in Hockey East and tied for fourth in the country. The Irish were 22-5-2 on the season when he registered at least one point and 11-3-0 when he scored at least one goal.
In Notre Dame's first two games of the 2017 NCAA championship in Manchester, N.H., Bjork led the Irish with a two-goal performance against No. 1 seed Minnesota, including the game-winning goal, and tallied the primary assist on all three goals in a 3-2 overtime win over UMass Lowell. He had five points on the weekend and was named the NCAA Northeast Regional Most Outstanding Player.
Bjork was also named a 2017 Hobey Baker top 10 finalist, becoming the third player in program history to be named a top 10 finalist, joining forward Dave Poulin (1982) and goaltender David Brown, who made the top 10 and finished as the runner-up in 2007. Bjork was also one of five finalists for the 2017 Hockey Humanitarian Award. He was just the second player to be a top 10 finalist for the Hobey Baker Memorial Award and a finalist for the Hockey Humanitarian Award in the same season, joining Cody Reichard of Miami (2012).
Bjork posted 16 multi-point games in 2016-17, including four-point efforts against Arizona State (Oct. 8) and Connecticut (Oct. 28). Bjork was the first Irish player to reach the 50-point plateau since 2010-11, when T.J. Tynan had 54 points.
Following the 2016-17 NCAA season, Bjork joined classmate Cal Petersen and Irish alum Anders Lee as part of the U.S. Men's National Team for the 2017 IIHF Men's World Championship, which took place on May 5-21 in Cologne, Germany, and Paris, France.
Bjork skated in 115 career games for the Irish, scoring 40 goals and adding 69 assists for 109 points, which ranks tied for 42nd on Notre Dame's career points list.