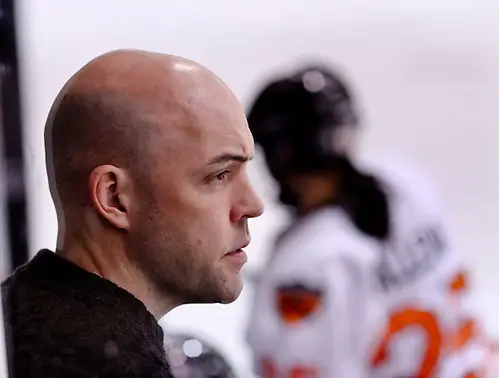 Penn State announced Thursday the appointment of Jeff Kampersal as the second head coach in the history of the women's hockey program.
Kampersal comes to Happy Valley after serving as the head coach at Princeton for the past 21 seasons, where he won 327 contests.
"We are thrilled to have Jeff Kampersal joining our family as the leader of the Penn State women's hockey program," said Penn State director of athletics Sandy Barbour in a statement. "Jeff has developed one of the nation's top women's hockey programs at Princeton and is among the sport's most respected and successful coaches.
"Jeff has recruited and developed students who have earned distinguished success in their academic and athletic pursuits. He's a perfect fit for our promise of preparing students for a lifetime of impact. We are excited about the experience and leadership Jeff will bring to Penn State and look forward to building the women's hockey program into one that competes for championships."
Kampersal replaces Josh Brandwene, who retired earlier this offseason.
"Thank you to my wife Eileen and my children, Keira and Jack, for their strength, love and support as I accept the incredible opportunity to coach the women's ice hockey team at The Pennsylvania State University," Kampersal added. "Thank you to Sandy Barbour, Mike Cross and the search committee at Penn State. After participating in the interview process and spending some time on campus, it is hard not to notice the genuine passion everyone has for Penn State. WE ARE! is real. I am so excited to be part of the Nittany Lion family.
"Thank you to Princeton athletic director, Mollie Marcoux, my friend and dynamic leader of the Tigers. Thank you to Gary Walters, my former boss, who took a chance on a young coach 21 years ago. I will be forever grateful. I have been incredibly fortunate to surround myself with great people during my time at Princeton. To all the coaches I have worked with, you have made me a better coach by challenging me every day. I am so lucky to have spent so much quality time with you, thank you. Finally, to the current and past players I have coached at Princeton, I love you all and I am so privileged to be part of your lives. You are such a motivated and impressive family.
"I am excited to continue my career at Penn State, an institution of academic and athletic excellence. We will continue to search for great student-athletes eager to win in the classroom and on the ice, in the nation's best college hockey facility, Pegula Ice Arena. I am really looking forward to meeting the team, setting the standards and taking this young program to the next level."
Kampersal ranks fifth in career victories among active women's hockey coaches with 327, a total that ranks No. 7 all-time. As the head coach at Princeton, Kampersal garnered ECAC Coach of the Year honors three times and Ivy League Coach of the Year accolades twice. He helped the Tigers capture two Ivy League championships (2005-06, 2015-16) and qualify for the NCAA tournament twice (2005-06, 2015-16).