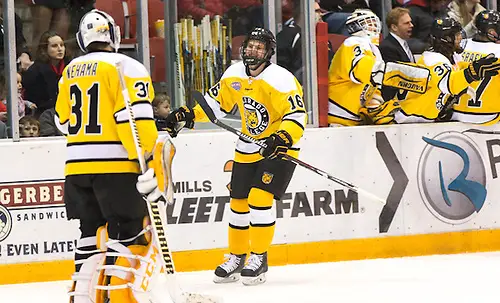 Colorado College junior defenseman Teemu Kivihalme has left the Tigers one year early, according to the Colorado Springs Gazette.
Kivihalme would have been CC's lone senior for the 2017-18 season.
"It is an important thing in life to get your degree," Tigers coach Mike Haviland told the paper. "But he, his family and his family adviser (agent) decided this was the time for him to turn pro. We wish him nothing but the best."
Kivihalme gave his 30-day letter of notice to the NHL earlier this month, meaning he would become an unrestricted free agent on July 1 if Nashville does not sign him beforehand.
The Predators drafted Kivihalme in the fifth round (140th overall) back in 2013.
He recorded 36 points (10 goals, 26 assists) in 107 college games, including 10 points (two goals, eight assists) during 2016-17.
"(Kivihalme) improved defensively from year to year," Haviland added. "He came in with offensive skills and skating but he needed to become better defensively to be trustworthy at the next level."