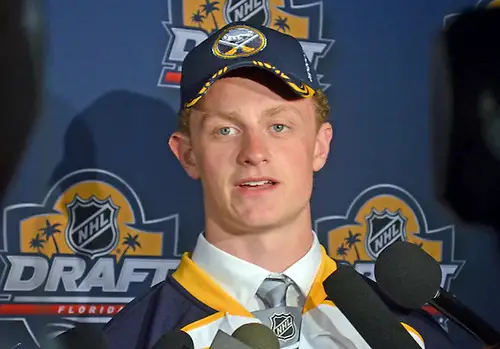 If you're a passionate hockey fan, you probably think like you can recognize talent.
This writer is included in that category.
We're always trying to predict that "this guy will be a great pro" or "this guy will be a bust."
Thus, there are probably a number of us who thinks that spending each and every day of our lives trying to identify the next generation of NHLers would be a dream job.
For David Gregory, a 15-year veteran scout for NHL's Central Scouting, that's the life he lives every day.
But listening to him describe the job doesn't make it always sound like a dream.
"There's a lot of behind-the-scenes, non-glamourous things that happen," said Gregory, who one might say is continuing the family business, the son of a former NHL scout and current NHL vice president Jim Gregory. "Our scouts in North America, the nine of us, we travel all over North America. We have a region we're based in and we have to know our region as our base.
"But I'm all over North America. You have to go to where the players are. Every year we go to Europe. So the travel part of it is the thing people might not understand."
Trips might be as long as two weeks and include many small town rinks.
And as Gregory points out, "Hockey isn't played in July.
"You run against weather and all kind of things that can make it challenging."
But the work Gregory and the Central Scouting team does is critical and will be on display this weekend when the NHL hosts its annual draft in Chicago (Friday, 7 p.m. ET, NBC Sports; Saturday, 10 a.m. ET NHL Network). More than a year's work will culminate as 31 players – all of whom will inevitably have been ranked by Gregory and his team – will become first-round picks, while another 180-plus prospects will become NHL property on day two during rounds two through seven.
NHL Central Scouting, Gregory says, is an "early warning system" for all 31 NHL clubs. More than a year before the draft, Central Scouting gathers lists of players to watch and twice during the season they release their rankings of both skaters and goaltenders in both North America and Europe.
Additionally, about a month before the draft, Central Scouting holds the annual combine, where each of the top prospects are put through a battery of physical tests.
Combine, technology help scouting process evolve
Just like the NHL itself, Central Scouting's role has evolved over the years and the combine might the one of the biggest areas of improvement.
"With concentration on fitness and nutrition and things like that, [the combine has] almost become a convention for strength and conditioning coaches as well to chance to look at the top 100 players in one setting," Gregory says.
And while only the top 100 players appear at the combine, that's just a fraction of the entire pool of players that Central Scouting reports on each year.
Providing up to 40 reports on any one particular player in a given year, Central Scouting will view about 600 total players. In the end, this year they ranked 247 North American forwards and defensemen, 34 North American goaltenders, 149 European forwards and defensemen and 14 European goaltenders.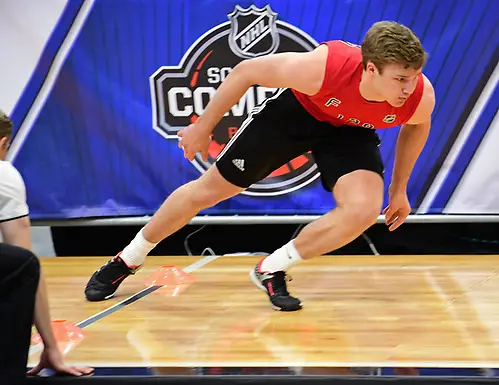 And while the average fan sees only final rankings, Central Scouting provides its member teams so much more. That's something that continues to increase as technology improves, the same technology that makes the job of a scout a continuously-evolving animal.
"I am a firm believer as a scout that in-person is not replaceable," said Gregory. "But to have more video and better video and quick access certainly is a help. During our meetings, we're always pulling up our own video and outside-sourced video.
"One thing that Central Scouting does is provide what we call 'isolation videos' for usually about 150 prospects each year. When you isolate you can get closer to a player you can see a lot of things about his balance, his skating, his edges. When you look at that you can look at how strong he is when he's battling other players. [Video] is certainly a tool that enhances what we do and I think it's is going to continue to grow."
Changing game equals a shift in players who stand out
In Gregory's 15 years as a scout and more than a decade in various roles in hockey prior to that, it's not just technology that is changing. The game has evolved into a product that Gregory says he prefers – a faster, more open game that emphasizes skill over size.
That has greatly impacted how Central Scouting reviews the position of defenseman.
"Over the years of doing this, you see the game evolve. It's a five-man attack, it's a five-man defensive strategy," said Gregory. "There were rule changes put in place years ago where the game got slowed down and a big guy could stop a skilled player. The league put rules in place — or really just enforced the existing rules — to allow skill to dominate.
"More than anything, the best way to use that is that you need skilled and puck-moving defensemen. And you don't have to be 6-foot-6 to do this. You see 5-foot-11 or 5-foot-10 players who can dominate [as defensemen]."
And while trends often come in go in sports, the highly-skilled defenseman in the NHL isn't one Gregory expects to change.
"This year's Stanley Cup playoffs have proven that mobile D, puck-moving D are going to have a major impact on the result. I see that trend continuing and it's a great one because it makes the game that much more exciting."
Another position that has evolved is goaltending. While positioning and fundamentals for a top-tier netminders continues to improve, Central Scouting must try to identify those who can live up to the current standard. And at age 17 or 18, identifying that can be a significant challenge.
"You need a level of expertise to project [goaltending prospects]," said Gregory. "We have one of the best in the world in Al Jensen, who heads up our goalie scouting. He's kept up with the progression of the game. It's not only a different position but it's changed so much in the last 20 years.
"Seeing a goalie play makes it tough, though. Coaches want to win and if a goalie doesn't happen to be the right guy at the time, you may go to see a goalie play and he's not playing, there's nothing you can do about it."
Diamonds in the rough and busts: part of the process
This year's NHL Draft, like most years, provides some excellent tests for Gregory and the Central Scouting staff.
Sure, there are players like Auston Matthews and Jack Eichel who make it easy to project their NHL future. But there are also so many "diamonds in the rough," as Gregory calls them. Central Scouting hopes to identify these talents, but Gregory admits that it is easy for many to slip through.
"That's the challenge with ranking 17- and 18-year-olds," says Gregory. "There have certainly been a number of players over the year who we rank high and that didn't get drafted until later [rounds] who proved they are impact players and they're doing well. But quite honestly, there's the opposite, too, players who rank high and don't pan out.
"Looking at stats for 30 teams, it's right around 17 of the 30 first-round picks that really have an NHL career. That's just barely over 50 percent. Then you go down rounds 2, 3, 4 and down to 7 and that number really drops off. You can't always measure will, you can't measure injuries."
Longevity in playing careers is also having an impact. In the 1990s, the average player retired in their mid 20s with only 50 players playing past age 35 and only two into their 40s. In the decade that followed (2000-2009), the most players retired at age 27, but 169 players' careers lasted past age 35 and 25 played into their 40s.
"Players are playing longer, so the number of jobs just don't come up the way they used to," Gregory says.
E.J. Maguire and his influence on Central Scouting
Dave Gregory was hired 15 years ago by a man named E.J. Maguire. The two went way back in hockey circles. Maguire recruited Gregory to play college hockey and then, when Gregory owned the New Haven AHL team in the late 90s and Maguire coached Hartford Wolfpack just an hour up I-91, the pair became friendly rivals.
But when Maguire retired from coaching and joined Central Scouting, he may have found his calling.
Timing was perfect as the information age was just arriving in earnest and Maguire was the perfect face to bring Central Scouting and the NHL Draft to the public.
"E.J. saw [the information age] coming. He was a great forward thinker," said Gregory. "He didn't shy away from new ideas. The previous director of Central Scouting, Frank Bonello, had come from the era prior and was following the directive that this information if private and for the teams. E.J. saw it to embrace it and be as open as possible and not have to chase things around. He was a big part of changing the information that was exposed and how it was exposed."
Because of that, the release of Central Scouting's rankings became an anticipated event. The combine is now a media event. And the NHL Draft itself, once impossible to find on television in the U.S., is broadcast live for more than nine hours over the two days.
"The game has grown and is exposed to more people," said Gregory, "and E.J. was a big face of saying that the future of our game starts at that draft."
After Maguire passed away in 2011, the E.J. Maguire Award was established. It is presented at the beginning of day two of the draft and is given to the player who not only is a top prospect on the ice, but handled the entire process – from the combine to media obligations and public appearances – the best.
"It's something as a Central Scouting staff that we really look forward to voting on every year," Gregory said.
* * * *
Gregory and the Central Scouting staff will head to Chicago this weekend and will answer questions from the masses about every and any topic when it comes to prospects.
The good things is, they're ready. They've put in the man hours, the travel, the reports, the video review. They've done their job and done it well.
If there is one regret, though, it's the fact that when this weekend is over, these same scouts need to clear their memory.
"The toughest thing is that when the year is over, you kind of get rid of it," Gregory said. "Once the year's over you have 600 kids on your brain and you've got to get rid of them because there another 600 you've got to get in there."
And so the process starts again. Empty notebook and laptops will be filled with notes and videos and reports.
Jumping on an airplane to then drive all around the U.S. and Canada, sleep in strange beds, experiencing flight delays and eating on the go will soon become part of the daily grind.
And as bad as it may sound, you can tell there's a reason Gregory keeps doing it.
"It's still better than real work."