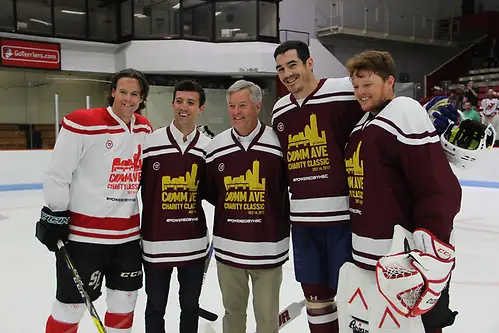 BOSTON — During the season, Boston College and Boston University are ancient rivals willing to do whatever it takes to defeat one another.
It's good, clean hate blossoming out of the parochial neighborhoods of Massachusetts.
Its roots run into the very fabric of the early morning alarm clocks of parents shuffling young children to practice.
But it's a rivalry also bringing out the best in both sides. On Friday, alumni from both the Terriers and Eagles took to the ice for the third annual Comm Ave Charity Classic, a summer exhibition raising money for both Compassionate Care ALS and the Travis Roy Foundation.
Led by a pair of first-period goals, the BU alumni won 8-6, earning proverbial bragging rights on a night where over an event raised over $64,000 for those two charities at historic Walter Brown Arena.
"It was great to get back on the ice," former Eagles defenseman and Hobey Baker Award winner Mike Mottau said. "There were some great players and so many fans in the stands. Everyone was there to raise money for some great causes, and it was just a great overall night."
The game is the brainchild of Boston College alumni Pat Mullane. Along with Andrew Orpik and Justin Murphy, the trio hatched the idea in 2014 following the death of longtime Eagles sports information director Dick Kelley. Having battled valiantly against ALS, his legacy took on a whole new meaning when Pete Frates, a 2007 graduate of the Boston College baseball program, received his own diagnosis.
Following its first year, the game grew a second partner in the Travis Roy Foundation. A former Boston University Terrier hockey player, Roy was paralyzed following an injury just 11 seconds into his first shift of his freshman year in 1995. His life forever changed, he remained an active member of the Boston University community and committed himself through his foundation to helping people afflicted with severe spinal cord injuries.
Now in its third year, the game itself draws some of the biggest names in both program's recent history. Mottau won the Hobey Baker Award in 2000 before enjoying a career in the professional ranks with the New York Rangers, New Jersey Devils and New York Islanders, among others. He teamed up with a star-studded maroon and gold roster that included Johnny Gaudreau, Kevin Hayes, Brian Dumoulin, Noah Hanifin and Cory Schneider.
For BU, Jack Eichel returned with teammates like Charlie McAvoy and Charlie Coyle. They joined Dave Warsofsky, Danny O'Regan and Doyle Somerby along with Brian Strait and John McCarthy. Keith Yandle, a former Phoenix Coyote now with the Florida Panthers, didn't play for either school during his tenure, but joined the Terriers side as a Massachusetts native and "free agent."
Behind the bench, current head coach David Quinn found himself joined by a BU legend and his former head coach, Jack Parker.
They understand how the emotion of the BC-BU series runs deep within the blood of their respective fan bases. But they also understand that it stems from a mutual respect, something of a family feud. While wins and losses matters, it's equally important to work with one another for a common goal. This year, the game raised the aforementioned money, bringing a three-year total to nearly $175,000 for both ALS research and spinal injury support.
"I am blown away by the generosity of the hockey community," Mullane said. "There's a great hockey culture, and it really shines through and delivers all the time (for others). It's amazing to see the caliber of players, the number of fans in the stands, and the amount of money that can be raised year after year. I couldn't be more grateful to the college hockey community specifically in Boston."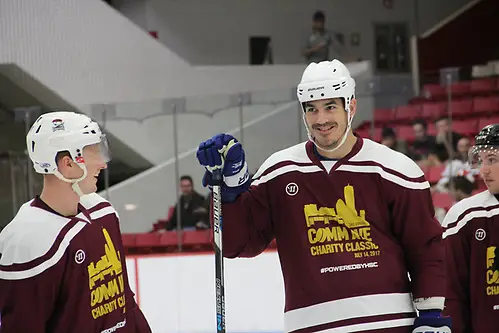 As for the game itself, a light-hearted early skate turned into a 2-1 BU advantage after the first period behind an offense powered by Eichel. The 2015 Hobey Baker Award winner lit the lamp eight minutes into the 15 minute period by deflecting a McAvoy shot past goaltender Schneider.
BC tied the game shortly thereafter when Joe Whitney found Paul Carey in the center slot for a ripper to beat Matt O'Connor. But Eichel and Freddy Meyer set up Mike Moran for a wrist shot on Schneider's short side, giving BU a 2-1 edge after the first period.
In the second, BU poured on the BC net, scoring twice within a minute as part of a four goal explosion. Both Eichel and Moran notched their respective second goals before Gaudreau scored his first of the game. Sean Sullivan responded to give BU a 6-2 lead, but Gaudreau scored his second before the end of the period.
"It was great from the start," Mottau said. "The fans were into it from the start, and when you have that many people, with a low ceiling and the bands from both schools playing, it felt like there were so many more [in the arena]."
Kevin Hayes opened up the third period with an ice burner past Sean Maguire in the first minute to cut the Terrier lead to 6-4. But Garrett Noonan scored a minute later for the Terriers' seventh goal.
With 8:20 left in the period, a BC breakout allowed Ryan Fitzgerald and Brian Boyle a two-on-none scoring opportunity. Fitzgerald put the puck on Boyle's stick, and a deke and backhand lit the lamp to once again make it a two-goal, 7-5 game. The teams continued trading goals, piling on offensive opportunities for the fans in attendance before ending with an 8-6 BU win.
"It was great to revisit that rivalry with these guys," Mottau said. "It was like being back in college. There were a lot of good guys on both squads, and the caliber of hockey player on the ice was great."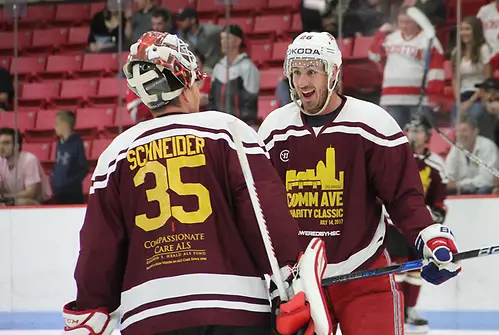 The night brought a fun atmosphere indicative of days gone by at Walter Brown Arena. With a near-capacity crowd brimming to the low-hung ceiling, the noise factor brought back memories of college hockey's younger days and an era before facilities and realignment discussions. It packed the tight concourses with bodies, and it allowed fathers and grandfathers to share memories with young children.
"There were some of the same chants from when I was playing," said Mottau said with a smile.
Though it was a charity game, the BU faithful peppered the Boston College alumni with the same derisive chants as during a regular season game, while the Boston College fight song sang out both before and after Eagle goals.
"We didn't even think we would get 25 people to show up that first year," Mullane said. "For us to grow it into $175,000 is beyond our wildest dreams. All the credit should go to the players, the fans and the volunteers. They make this game what it is. We're very grateful and fortunate to have the support of this community."
Overall, the game allowed fans to break up their summer by putting on the same colors they wear during wintertime, and it gave them a chance to chant and sing with their respective pep bands on a July night with a backdrop of uniting for charity.
"In anything you do, you want to play a part [in a success]," Mottau said. "We can do our part by coming back in playing. It helps raise awareness, and it helps raise funds for ALS and the Travis Roy Foundation. It's really easy because it only takes us coming to play hockey.
"Everyone did it for the right reason, and we will continue to hopefully raise money together."