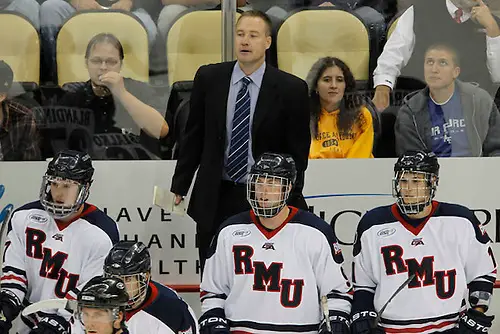 Robert Morris announced Tuesday that head men's coach Derek Schooley has agreed to terms on a three-year contract extension through the 2022-23 season.
Schooley is entering his 14th season at the Colonials helm, as the program's only head coach since its founding in 2003. Schooley has led the Colonials to a 213-205-58 (.508) record since RMU's inaugural NCAA season in 2004-05, reaching the 200-win plateau in the 2016-17 campaign. Schooley was named the 2014-15 Atlantic Hockey Coach of the Year and was one of eight finalists for the Spencer Penrose Award, given to the nation's top college hockey coach.
"We are thrilled to extend Derek's contract and to ensure that he will remain a Colonial for a long time," RMU director of athletics Craig Coleman said in a statement. "As the founding coach of our men's hockey program, he continues to push the program to greater heights, and the sky is the limit."
"My family and I would like to thank Robert Morris University president Dr. Chris Howard and Dr. Craig Coleman for the confidence that they have shown in me and direction of the Colonial hockey program," added Schooley. "We are proud members of the Robert Morris community and the city of Pittsburgh."
Since joining the Atlantic Hockey conference in the 2010-11 season, Schooley has coached the Colonials to a 144-92-32 (.597) record, finishing every season above .500 and posting 20 wins or more in four of the last five seasons. In that time, Robert Morris has reached its first NCAA tournament, winning the Atlantic Hockey tournament title in 2014 and back-to-back regular-season championships in 2014-15 and 2015-16. The Colonials have advanced to the AHC championship game in each of the last two seasons and three of the last four.
The Colonials have played host to several of college hockey's top teams as part of the Three Rivers Classic, played in the home of the Stanley Cup champion Pittsburgh Penguins, winning the hometown tournament three times in five years, including back-to-back Confluence Cup titles, aiming for a three-peat in 2017-18. The Colonials have taken down three ranked teams to win the last two Three Rivers Classic titles – over No. 14 Penn State and No. 8 UMass Lowell in 2015 and No. 14 Quinnipiac in 2016.
"I am honored and humbled every day to lead this program," said Schooley. "We could not have done it without the dedication of great staff members, players and alumni. I look forward to continuing the success we have built over the past 13 years."