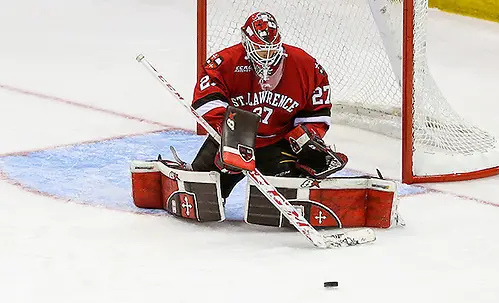 After first reported by the Wisconsin State Journal last month, St. Lawrence and Wisconsin made it official Friday by announcing that All-American goaltender Kyle Hayton has completed his bachelor's degree at SLU and will continue his education by enrolling in a graduate MBA program at Wisconsin.
Hayton will also use his remaining NCAA eligibility as a graduate transfer to join the Badgers men's team.
"Though we were aware earlier this summer of Kyle's intentions to graduate with the class of 2017 and then enroll at Wisconsin, both privacy laws and university policy prohibited us from making any public statement until the university registrar had officially certified him for having satisfied all requirements for a St. Lawrence degree," Saints coach Mark Morris said in a statement. "Kyle is obviously a very talented student-athlete and accomplished goaltender, and was a tough competitor for us the last three years. Our staff wants to congratulate him on completing his degree and thank him for being such a big part of our program.
"We're looking forward to playing Wisconsin in October."
Hayton finished his degree as he planned late this summer and was certified as having done so by the university this week, thus releasing him from the SLU hockey program. St. Lawrence does not offer an MBA program as part of its graduate studies.
"I think he's a confident kid, a kid that looks at our program and the goalies we've produced and he wants to be one of those guys," Wisconsin coach Tony Granato said in a news release.
"It's definitely a long legacy to fill here," Hayton added. "A lot of great goalies came through here. I have a lot of great hockey tradition to live up to here.
"It's a tough task to live up to, but it's an honor to get to do it."