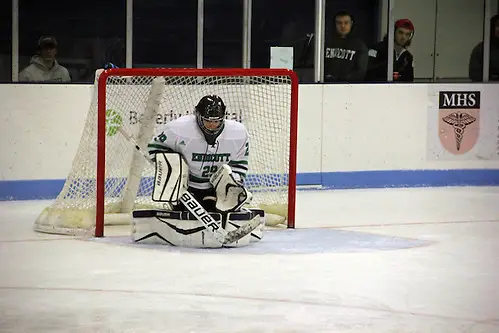 Morrisville upset top-seeded Endicott to win the conference tournament last season, despite Endicott ending the regular season in the top spot.
The favorites
It would be surprising if we're talking about someone other than Morrisville State or Endicott at the end of the season. Endicott returns a strong roster that was able to go the distance over the course of the regular season, but came up short in that single championship game. They allowed just 1.22 goals per game last season, good for fourth in the country, and had the best penalty kill in the nation. They also have an experienced goalie, always a good starting spot. Morrisville defender Kaitlyn Schlake led the league in scoring from the blue line and anchors the defense. Vanessa Klimpke was sixth in the country with 24 goals as a freshman.
The dark horse
It's a tough hill to climb, but Canton has the biggest chance to upset the top two. Tess Adams was one of the best scorer in the country, but Canton was one of the most penalized teams in the country and has to be more disciplined. Brooke Susac held her own as a freshman goalie last season while logging a ton of minutes.
Players to watch
Becker: Bailey Coons, forward; Hannah Elmer, defenseCanton: Tess Adams, forward; Noelle Niemiec, defenseEndicott: Vendela Jonsson, goalie; Jade Meier, forwardJohnson and Wales: Kathryn Mason, forward; Julia Aberg, goalieMorrisville State: Renee Stevenson – forward; Kaitlyn Schlake, defenseNichols: Emily Barden, forward; Laura Christie, forwardSalem State: Amanda Giles, forward; Sarah Plourde, goalie
USCHO predicted finish
1.    Morrisville2.    Endicott3.    Canton4.    Becker5.    Johnson and Wales6.    Nichols7.    Salem StateIt again looks to be a two-team race between Morrisville and Endicott. The Mustangs came out on top in the conference tournament last year, but Endicott lost no players to graduation and brings that experience and a hunger to avenge last season.