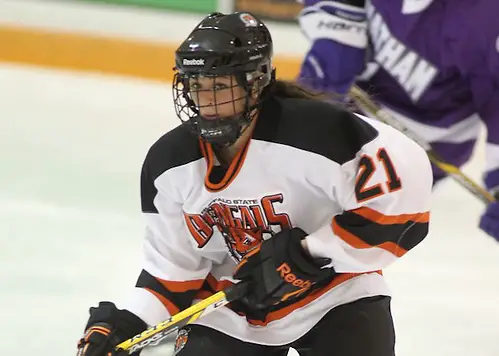 This is a brand-new conference for 2017-18. These are the five teams from the old ECAC West that did not head to the other, already formed conference. We've got a brand-new slate here, but as Plattsburgh is the four-time defending national champions, they're obviously the favorites to win the inaugural Northeast Women's Hockey League (NEWHL).
The favorites
There's very little that Plattsburgh has done wrong over the past few seasons. They are a combined 138-6-6 over the past five seasons. The were second in the country in team offense, averaging 4.53 goals per game and first in the country in team defense, allowing just 1.13 goals per game. Seniors Melissa Sheeran and Kayla Meneghin were sixth and seventh in the country in scoring, and Sheeran led all scorers with 33 goals in 29 games and was second in the country with 10 power-play goals. The big question for the Cardinals will be in net. They graduated the top goalie in the country in Camille Leonard, and junior Kassi Abbott played just six games last season. Still, a team like Plattsburgh tends to just reload, and the offense is high-powered enough to overcome that loss.
The dark horse
Buffalo State graduated just three players off a team that had a fairly successful season. They are the team most likely to trip up Plattsburgh over a set of meetups, but the chances are pretty slim. The members of this new league really don't get a lot of a chances, but really no one in the country does against Plattsburgh.
Players to watch
Buffalo State: Justine Silva, goalie; Erin Gehen, forwardCortland: Miranda Kolb, forward; Charlie Calamari, defenseOswego: Olivia Ellis, forward; Mariah Madrigai, goaliePlattsburgh: Melissa Sheehan, forward; Kayla Meneghin, forwardPotsdam: Alexa Pfeiffer, goalie; Rylie Murphy, defense
USCHO predicted finish
1. Plattsburgh2. Buffalo State3. Potsdam4. Oswego5. CortlandOswego lost a large senior class while Potsdam showed a lot of growth and returns a solid core. There's pretty much nowhere for Cortland to go but up and it's not an easy hill to climb in this new conference. Plattsburgh is used to playing many more games than the others in this newly formed league, and it will be interesting to see if their style of scheduling affects how others in the NEWHL plan things in the future.