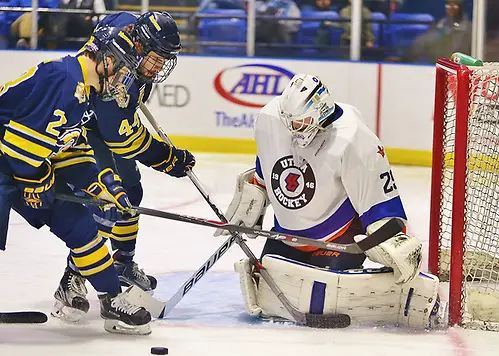 The last of the D-III conferences with an ECAC moniker is gone. The former ECAC West has now become the United Collegiate Hockey Conference, or UCHC. The members of the former league, minus Hobart (now a member of the NEHC), have been joined by newcomers King's College and Chatham University to create a new nine-team league.
The former members of the ECAC West are optimistic that the change of name and scenery may be an opportunity to capture the elusive league title won by Hobart in successive years. Utica which won last year's regular season title with a 12-2 record, lost the title game to Hobart, and looks to claim the crown this season.
The favorite
Utica has too often been the bridesmaid in the old ECAC West and this year will look to emerge at the top of the standings not only through the regular season but also through the playoffs. The conference has always been very competitive, and the name change isn't going to alter that at all. Coach Gary Heenan's team is experienced and has great depth at forward, defense, and in goal. Patrik Virtanen will carry the load in the crease for the Pioneers, while seniors Roman Ammirato, Anthony McVeigh, Kevin Valenti, and Brett Szajner provide the on-ice leadership for a group of nine seniors who want to win a title to end their Utica career on a high note.
The dark horses
Manhattanville has the talent led by forward Steven Gaul to challenge for the title. Coach Arlen Marshall's team always plays a gritty game and is willing to go to the tough parts of the ice to score goals. They make it hard for teams to play their game, especially in their home rink.
Stevenson enters their second season as an NCAA program and has a solid year with some successes to build off. Coach Dominick Dawes has added in a handful of freshmen to go with some transfers and the core group of 21 sophomores. Look for a big jump in play from the Mustangs, who might just surprise a few teams if they are not ready to play.
Players to watch
Chatham: Andrew Breda, defenseman; Kevin Fees, forward
Elmira: Blake O'Neill, defenseman; Connor Powell, forward
King's: Nicholas Palumbo, defenseman; Tyler O'Mara, forward
Lebanon Valley: Cole Hepler, forward; Brett Johnson, forward
Manhattanville: Stephen Gaul, forward; Matt Lippa, forward
Nazareth: Austin Romzek, forward; Mike Tilford, goalie
Neumann: Liam Board, forward; Jake Davidson, defenseman
Stevenson: Mike Davis, forward; Jordan Watt, forward
Utica: Roman Ammirato, forward; Patrik Virtanen, goalie
Predicted finish
1. Utica
2. Manhattanville
3. Stevenson
4. Elmira
5. Neumann
6. Nazareth
7. Lebanon Valley
8. Chatham
9. King's
Within the UCHC is a subset of teams (Manhattanville, Stevenson, Lebanon Valley, and King's) who will see their scheduled games count toward a Middle Atlantic Conference championship. Wilkes College, which postponed its hockey program launch to next season, would also be a member of both the MAC and UCHC conferences.  Manhattanville has been predicted by the coaches as the likely winner of the MAC title.