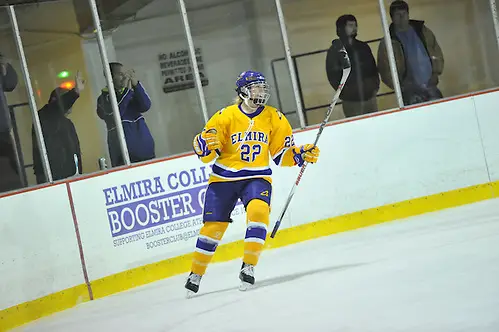 The United Collegiate Hockey Conference is brand new for the 2017-18 season.
The favorites
The Elmira Soaring Eagles return their top eight scorers and starting goaltender after finishing 14-2-2 last season and earning an at-large bid to the NCAA tournament. They lost a heartbreaking game to Adrian in the quarterfinal, as they were defeated 5-4 in overtime.
Elmira was the unanimous number one selection in the coaches preseason conference poll and started the year ranked fifth in the USCHO national poll.
Utica returns a fairly young team that lost just five players to graduation. Every coach in the UCHC put them in the top three on their preseason ballot. Rebecca Brown is a F/D transfer from Norwich who immediately made an impact for the Pioneers.
The dark horse
Manhattanville returns 20 of 25 players, including their top eight scorers and 87 percent of goal scorers from last season. The Valiants appeared in the ECAC West conference title game and finished with their best record in the past four seasons. They have nine returning on the blue line and two goalies who together had a majority of their starts. There's a lot of good pieces in Manhattanville that if they come together well could pose a threat to the top two teams.
Players to watch
Chatham: Kasandra Petersen, defense; Sydney Isbell, goalie
Elmira: Katie Granato, forward; Kelcey Crawford, goalie
King's: Gracen Mahoney, forward; Indra Wood, F/D
Lebanon Valley: Nikki Lloyd, forward; Amy Templeman, defense
Manhattanville:Nicole Mensi, forward; Zoey Pellowitz, defense
Neumann: Sammy Patrick, defense; Julia Fair, goalie
Stevenson: Chelsea Blackburn, forward; Natalie Rosendahl, defense
Utica: Rebecca Brown, forward; Kayla Dion, defense
William Smith: Maggie Salmon, goalie; Krista Federow, forward
`
1. Elmira
2. Manhattanville
3. Utica
4. Stevenson
5. William Smith
6. Chatham
7. Neumann
8. Lebanon Valley
9. King's
Elmira has a lot to prove this season and can't be happy with how last season concluded. They have a tough road to face; they'll face four of the other preseason top 10 teams and may face a fifth before the season is over.