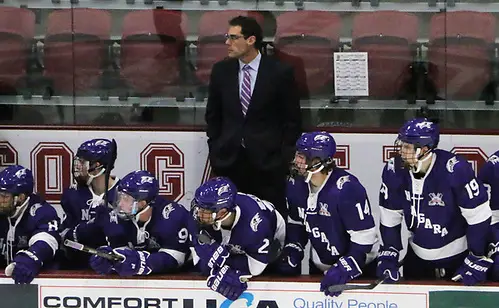 They say that progress takes time, that you don't see radical change overnight.
But it's hard to look at what Niagara (4-2-0) has accomplished over its first six games and not see a significant difference over the past few seasons.
It's early. There's a lot of hockey to play, at least 30 more games.
But this stat stands out: the Purple Eagles claimed their fourth victory of the season last Saturday, a convincing 6-2 road win at Sacred Heart to complete a series sweep.
Last season, NU recorded its fourth win on March 3, an upset win at Rochester Institute of Technology in the first round of the Atlantic Hockey tournament.
Which means Niagara is literally ahead of schedule.
Injuries decimated the Purple Eagles the past few seasons, and last year was especially rough. The team missed close to 200 man-games to injury. Several key players were out of the lineup by December, and many didn't return for the remainder of the season.
Getting healthy hasn't been the only difference this season. NU and longtime coach Dave Burkholder parted ways at the end of last season, and shortly after, Jason Lammers was selected as the third head coach in program history.
Lammers came to Niagara from Dubuque of the USHL, where he was head coach of the Fighting Saints. Previously, Lammers had a stint as head coach at Geneseo, as well as assistant positions at Mass-Lowell, Colorado College and Ohio State.
Lammers offered a fresh start, and says his team willfully accepted the challenge to make the most of a clean slate.
"They've been so impressive so far," he said of his team. "The cultural pieces keep growing and coming together. They're learning how to own it. First you learn it, then you do it, then you own it."
Things got off on the right foot with a win over Robert Morris to open conference play, followed by a buzzer-beating victory against Rensselaer and last weekend's convincing sweep of Sacred Heart.
"Their intent has been tremendous," said Lammers of his team. "It's been a pleasure to watch them put in the work and effort to get what they want to accomplish. They've set standards for themselves that exceed even what we as a staff have set."
Leading the way so far has been co-captain Derian Plouffe. The senior has a point in all six games so far this season, including two goals and a pair of assists last weekend against Sacred Heart. He's the current AHC Player of the Week as a result.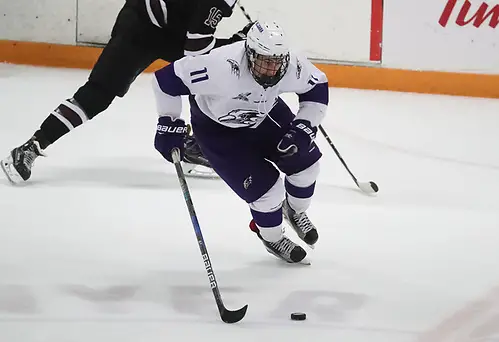 Ironically, the last time Plouffe won the award was also after a big weekend against Sacred Heart, in mid-November of last year. It was also the final time he played hockey in the 2016-17 season, his year ended by an injury in practice the following week.
That time away made Plouffe appreciate hockey even more, and he's back with a vengeance.
"(The injury) gave me a kind of insight on life in general," said Plouffe. "Not to take things for granted.
"I spent a lot of time off watching hockey, and missing hockey. I was itching to get back for sure."
Plouffe says that for him and his team, winning has been the best medicine.
"There's a lot of confidence in the room," he said. "It's been a rough three years, but there's a lot of energy right now. The guys are upbeat."
Getting so many players back has meant that Lammers hasn't had to rely on his freshman, but a big exception is goaltender Brian Wilson, who's sporting a 2.03 GAA and .915 save percentage. He's the reigning Atlantic Hockey goalie of the week after stopping 37 of 39 shots against Sacred Heart.
"We've got depth in goal," said Lammers. "Brian started the season for us, and then we went with (Guillaume) Therien, and he played well. Things didn't go his way last weekend, so Brian had another opportunity. We've got other guys who are looking for a chance to come in and prove themselves."
Dwyer Arena used to be a house of horrors for visiting teams. It wasn't that long ago that Niagara posted a pair of 22-game home unbeaten streaks that spanned multiple seasons.
Lammers is looking to bring some of that magic back, and with it, the large crowds that have dwindled the past few seasons.
"Winning's a great deodorant," said Lammers. "Winning's a big part of it. But it comes with working with our students, our community, and the Junior Purple Eagles (youth program).
"We've had great support from the university. I've told our players to be good ambassadors, be visible, and (larger crowds) will happen. It's a matter of time."
Especially when you're ahead of schedule.
Close shaves
Dan Rubin touched on this in the Atlantic Hockey blog: how parity is king.
Results so far support that oft-used claim by the league's coaches.
Cases in point:
* Tuesday's tie between Bentley and American International was the sixth consecutive draw between the schools. You have to go back to January of 2015 to find a meeting between the Falcons and the Yellow Jackets that didn't end in a tie.
* Last Friday, three of the four conference games were decided by a single goal, and the other had a two-goal margin.
* On Saturday, we had a league game with a one-goal margin and two more decided by two goals. Both of those contests featured empty-net insurance tallies, meaning they were one-goal games until the closing seconds.
* In all, 21 league games have been played, and 17 of them had winning margins of two goals or less. More than half (12) were either ties or one-goal games.
All good things
Robert Morris found itself on the wrong end of a hard-fought home-and-home series with Ohio State last weekend. The Colonials dropped Friday's game in Columbus, 5-3, and fell at home to the Buckeyes by a 3-1 score.
It was the first sweep suffered by RMU in 150 games, a streak dating back to a pair of losses to Bentley on Dec. 6-7, 2013.
That means that prior to this past weekend, no current RMU player had experienced a weekend of hockey without at least gaining a tie.
Over that same timeframe, Robert Morris recorded 20 sweeps, including two postseason series and one in non-conference play.
Up or down
A couple of weeks ago, as a guest on USCHO Live, Air Force coach Frank Serratore discussed USCHO's Division I Poll and how Air Force's ranking from week to week motivated the Falcons.
"I've got to thank you guys," he said. "You guys are my best motivators. You're motivating my guys so just keep it up."
Serratore went on to explain that despite winning some key games, his team dropped in the poll.
"We start the season out as USCHO's No. 17 in the country," he said. "We beat Fairbanks. We drop to No. 19. We beat Arizona State and we drop to No. 20. I told my guys, if we beat Bemidji, we could drop as far as 25.
"If we don't win this week, will we move up?"
Air Force split with Bemidji and, guess what? The Falcons moved up in the poll. Air Force was ranked No. 18 the following week, up a spot.
After a split last weekend at Canisius, Air Force sits at No. 20.
Go figure.
Weekly Awards
Here's what the league came up with this week. I'll throw in an honorable mention for a pair of goaltenders, Bentley's Jayson Argue and Mercyhurst's Brandon Wildung, who last Saturday combined to stop 53 of 54 shots in the Lakers' 2-0 win at Bentley. Wildung stopped all 24 shots he faced, while Argue stopped 28 of 29 in the loss.
Player of the Week — Derian Plouffe, Niagara
The senior forward had two goals and two assists to lead the Purple Eagles to a sweep at Sacred Heart. He's got eight points so far and has scored at least one point in all six games to date.
Goalie of the Week — Brian Wilson, Niagara
I'm going to try to avoid the Beach Boys (and Barenaked Ladies) references here and just point to the numbers: Wilson notched his first two collegiate victories in a sweep of Sacred Heart. The freshman was True to His School (sorry, can't help myself) by stopping 37 of 39 shots he faced on the weekend.
Defensive Player of the Week — Matt Abt, RIT
Abt scored a pair of goals, one on the power play and one even strength, in Friday's 5-4 win at Army West Point.
Rookie of the Week — Logan Drackett, RIT
Drackett wins this award for the second time this season. This time he made 56 saves on 61 shots to earn his first collegiate wins in a sweep of Army West Point. He was particularly strong in the third period on Saturday, when he stopped all 17 shots to preserve a 3-1 win.