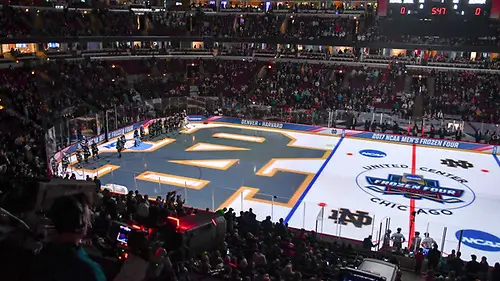 Notre Dame and Wisconsin have agreed to play a pair of Big Ten games at the United Center in Chicago, beginning with this season's game on Jan. 21, 2018.
The game is scheduled to start at 2 p.m. CST and will air on NBCSN. The teams will also play one of Wisconsin's home games at the United Center in 2018-19.
"We're excited to be returning to the United Center," said Notre Dame coach Jeff Jackson in a statement. "Providing our team with the chance to compete in an NHL building is always a great experience and one that can prepare us for future games. Continuing to build on our relationships with the Chicago Blackhawks and United Center, while also playing where so many of our great fans and alumni live, makes it an even more worthwhile trip."
"We had the pleasure of practicing at the United Center, and playing at Madison Square Garden and Joe Louis Arena last season, so we are looking forward to another game at an NHL arena again," noted Badgers coach Tony Granato. "When we get to play at special places like these, it gives our players and fans great experiences and a taste of what they will see at Frozen Fours. It also gives our players a chance to feel what it is like to play at the next level.
"We want to thank the Chicago Blackhawks for helping make this happen."
"Bringing as many marquee hockey games to the United Center is something the Chicago Blackhawks are passionate about and that is emphasized by hosting the University of Notre Dame and the University of Wisconsin," added Blackhawks president-CEO John McDonough. "This series is meaningful not only to the local alumni and fans of the Fighting Irish and Badgers, but also hockey fans in Chicago who want to witness the future of the game."
Presale tickets for the 2018 game will be available to Notre Dame and Wisconsin season ticket holders from 10 a.m. CST to 10 p.m. CST on Thursday, Nov. 16.
General admission tickets for the 2018 game are available starting at 10 a.m. CST on Friday, Nov. 17, and can be purchased online at unitedcenter.com, in person at the United Center box office or by calling Ticketmaster at (800) 745-3000.
Tickets for the match up in 2019 will go on sale next year.
The Irish and Badgers have played four neutral site games in their previous 64 meetings, including games at the Milwaukee Arena, the BMO Harris Bradley Center (Milwaukee), Allstate Arena (Rosemont, Ill.) and the E.J. Nutter Center (Dayton, Ohio).