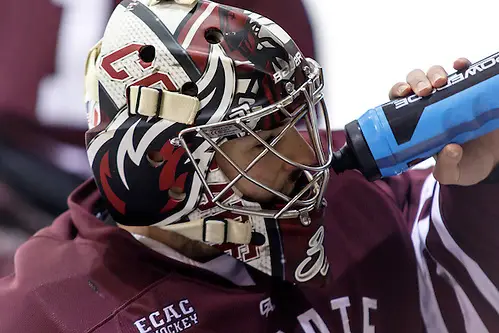 At 6-foot-4, Colgate goalie Colton Point can cover plenty of territory in the crease.
But it's the sophomore's improved confidence that's helped him become a dominant force throughout the opening part of the season.
The Raiders extended their seven-game unbeaten streak last weekend with home wins over Harvard and Colgate, and Point has been a big part of that success. He stopped 58 of 61 shots against the Crimson and Big Green, and the Raiders are unbeaten (6-0-4) when he starts in goal.
"He's been unbelievable," senior captain Mike Panowyk said of Point, who leads Division I with a .962 save percentage. "He makes big saves, little saves. It helps our defensemen and helps our forwards to have more trust in our game."
Point, a fifth-round draft pick of Dallas in the 2016 NHL Draft, missed nine weeks last year with mononucleosis, and was behind senior Charlie Finn when he was active.
"Last year was a roller coaster for me," Point said, adding that getting a relief appearance against Harvard and a start against St. Lawrence later in the year helped boast his confidence.
"Knowing that [Vaughan] has that trust in me was a huge confidence builder coming into this year. I just put my head in the game and just ran for it. I'm here for a reason and I just wanted to prove to everyone that I deserve to be here."
While Point has been one of the main reasons for Colgate's early success, he's quick to credit his teammates for their defensive play so far this season.
"It's been a crazy good team effort and a huge confidence thing for the whole team," Point said.
One of those has been freshman Nick Austin, who leads all Colgate defensemen in scoring and plays an important role on both special teams units.
"He plays with a ton of confidence for a first-year player," Vaughan said of Austin.
Offense was a problem for the Raiders last season, as Colgate finished last in ECAC Hockey in goals scored. Prior to the season, Vaughan said one of the main culprits for those struggles was Colgate's poor puck possession.
The Raiders have gotten more scoring over the last three games, averaging three goals in wins against Quinnipiac, Harvard, and Dartmouth, but Vaughan said there is still room for improvement.
"We're getting there, [but] we're still not where we need to be," Vaughan said. "We're possessing the puck a heck of a lot more than we did last year. Last year, we chased the game every night."
Some of that improvement has to do with maturity on the part of Colgate's younger players.
"It's just about realizing that you do have a little more time and space," Vaughan said. "I think for the young guys it happened so quickly that sometimes they move [the puck] before they should, thinking that it happens quickly but they really do have more time."
With 17 freshmen and sophomores, Colgate has a chance to replicate its success it experienced from 2013-15, when the Raiders made it to the league quarterfinals in consecutive seasons.
"We're building something special here," Panowyk said. "A lot of people underestimated us at the start of the year. We have a chip in our shoulder and we're going to come at you every single game. We know we have a good group in there, we believe in ourselves and that's all we need, really."
Yale holds steady minus Allain
Yale got a preview of what life would be like without head coach Keith Allain this past weekend.
Allain, who is an assistant coach for the U.S. Olympic team competing in Pyeongchang, South Korea, in February, was in Germany last weekend for the Deutschland Cup, a four-team tournament hosted by the German Ice Hockey Federation. While he'll be back for this upcoming weekend against Brown and Quinnipiac, he'll likely miss much of February to be at the games.
In his absence, assistant coaches Josh Siembida and Ryan Donald were in charge of the Bulldogs.
"I don't think too much changes except that it's a bit of a different voice, but the guys handled it well and they're going to continue to handle it well," Siembida said. "They understand what's going on and it's an opportunity to become closer as a team."
Even with Allain on a different continent, he's still keeping an eye on the Bulldogs.
"Oh yeah, we've been in touch with Keith every day," Siembida said. "No question this program is important to him and he likes to know what is going on. It's a great thing to have when you have somebody like that who is giving you feedback even though he is focused on the [Olympics]."
While the transition has been smooth thanks to the coaching staff, the older players on the Bulldogs have also helped the team along as well.
"We talked about during the week that it's going to be on us," senior captain Ryan Hitchcock said. "It's on the leadership of the older guys."
Allain had several familiar faces in the lineup in Germany, as former Bulldogs Sean Backman, Broc Little, Mark Arcobello, and Brian O'Neill were on the roster.
With Allain gone, Yale split a home series last weekend, beating St. Lawrence Friday before losing to Clarkson on Saturday.
Friday's win was led by freshmen Dante Palecco, who scored his first three collegiate goals and added an assist after being moved to the top line with Hitchcock and Joe Snively.
Around the League
• Cornell is the only team in Division I with an unblemished record following a home sweep of Harvard and Dartmouth. The Big Red are 6-0 for the first time since the 1971-72 season, when Cornell en route to a 23-6-1 record and a loss to Boston University in the national title game. The hot start also bumped the Big Red up to No. 6 in the latest USCHO.com Division 1 men's poll, the highest it has been since March 22, 2010.
• Rensselaer senior Viktor Liljegren's natural hat trick helped the Engineers rally for a 5-3 win over Quinnipiac Friday. The win gave RPI coach Dave Smith his first league win, and also ensured the Bobcats would remain winless in conference play.
• The league lost several high-profile goalies last offseason, but the play in net hasn't dropped off much so far this year, as three of the top four save percentages in the country belong to ECAC Hockey goalies. Point is joined by Cornell's Jake Kielly (.945) and Cornell's Matthew Galajda (.942) among the national leaders.
• Galajda was named the league's goalie of the week, while Palecco was named both the player and rookie of the week. Galajda recorded his second shutout in his fifth collegiate start Friday against Dartmouth, and made 22 saves in the Big Red's 3-2 win over Harvard Saturday. His two shutouts in five games are tied for the second most by a freshman in Cornell history. Palecco added an assist to accompany his hat trick Friday and had a goal against Clarkson on Saturday.