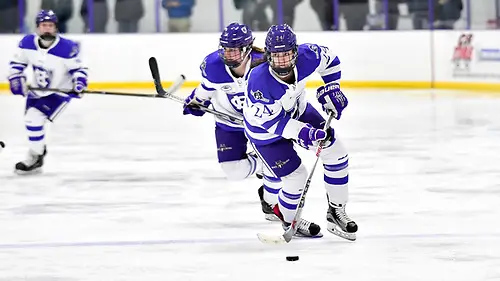 The Holy Cross women's hockey program has lived in a state of limbo for 18 seasons. Next season, the Crusaders will become the 10th member of the women's Hockey East conference.
Though the college itself is a Division I institution, the women's program has competed as a Division II school and played a predominantly Division III schedule, and they've been very successful doing so. In his 18 years at the helm of the Holy Cross women's hockey program, Peter Van Buskirk has amassed an impressive 278-140-29 record.
But when the skates hit the ice as members of Hockey East next season, what they did before won't have a lot of impact. There will need to be a huge mentality shift within the Crusaders program as this transition happens, and Van Buskirk knows it won't be easy.
As is the common refrain when talking about stepping up levels in women's hockey, whether it's from high school to college, college to international play, or Division III to Division I, the biggest difference is the speed of play. That means not just quicker skating, but also quicker passing, quicker decision-making, and quicker zone transitions. Van Buskirk is already working to recruit players that will help the Crusaders in that area, but even he and his staff have work to do to adjust to the program's new normal. This is a team that's used to being on top. Opponents prepare for them, and that gave them an advantage. Now it'll be the Crusaders that will have to tailor their game plan to the other team.
"Next year is going to be quite a challenge, but there's only one way: you've got to go through it and play your game," he said. "It's a process, but I know that, we all know that. The kids are realistic, they know what they're getting into. They're going to apply themselves the best they can and work to be ready for that. We hope to be able to work out some consistency to our play and win some games."
The Crusaders made an important step in their transition last weekend when they defeated Harvard, 2-0, for their program's first-ever Division I win.
That win, combined with a tie and a one-goal loss to RIT and how well the Crusaders played against Harvard through two periods Friday in a loss, have given Van Buskirk and his players a bit of a confidence boost as they look into what will undoubtedly be a huge change in circumstances — and their record — next season.
Where Holy Cross could build their confidence on their win-loss record in the past, in the coming years, they may need to look for smaller victories to show their growth.
"A little bit of success goes a long way to lifting their spirits," he said. "You really need something like that (win). Sometimes it's not a full game, it's a period — you're putting things together and you look at the positives of what happened because there will always be positives, regardless of the score, and that's what you have to (build) on."
Not only was Van Buskirk happy with the character his team showed by not getting discouraged and responding to Friday's disheartening final period with Saturday's win, but he thought there was a good lesson to be learned about the fickle nature of hockey.
"It's a good example of how this game can change in a short period of time, from being humbled by it to being exhilarated by it," he said. "It's only one game, and certainly one game isn't the story of the whole year, but it's exciting for the kids. It was a big win for the program, it was a big win for the girls."
Making themselves into a D-I program is neither a quick nor easy process, though Van Buskirk said he's received tremendous support from the college, especially financially. In preparation for the new era, Van Buskirk knew he'd need to expand his staff and beef up recruiting efforts, both of which require funding, something he said Holy Cross has been generous in providing.
One major move Van Buskirk made was hiring Katie Lachappelle to be his associate head coach. She came to Holy Cross after nearly a decade as an assistant coach at Boston University and many years as an assistant coach for Team USA's U-18 women's team.
"She's got a wealth of knowledge and a wealth of experience at the D-I level, which I did not have." he said. "Any time you add experience and enthusiasm both in the same person, it only can lead to future success for you, and that's the way I look at Katie and her position with us. We couldn't be more thrilled that she's here. We're looking forward to working with her and for her to eventually take over the program."
Van Buskirk is certainly not immune to being humbled by the game of hockey. He admitted that there was comfort in where the program was, but he knows this move to Division I has been a long time coming.
"It really does take a little time, and it can't be done overnight, like most important things. It takes a plan, it takes support, and it takes some leadership."