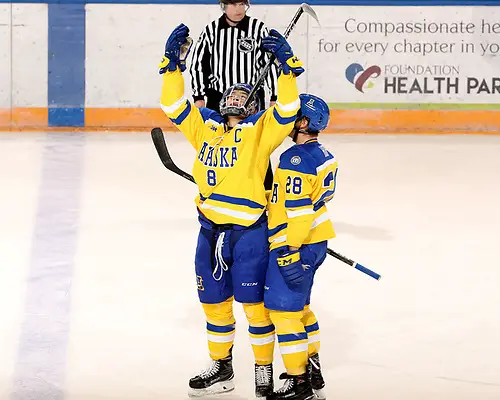 Justin Woods didn't know if he was ever going to play another game on defense for his hometown Alaska (Fairbanks) Nanooks.
He didn't even know when or if he'd get to go back to his home state after he heard one of the most troubling words anyone can ever hear, especially someone in his early 20s.
Cancer. The dreaded big "C" itself.
Woods was diagnosed prior to his sophomore season with Ewing's Sarcoma, a form of bone cancer, and redshirted the entire 2014-15 campaign while undergoing treatment and convalescence at the Ronald McDonald House in Seattle.
"It was an emotional time for me," he admitted in mid-November. "There was a lot going on, and I had to just focus on what was important, which was getting better and having a positive attitude."
It took a while, to be sure.
"I was diagnosed in April 2014, and didn't get back until Feb. 2015," he added. of the time from when he first learned he had cancer until the point he was declared cancer-free to return to Alaska.
Ewing's Sarcoma has popped up intermittently in the sports world over the last decade. NFL linebacker Mark Herzlich missed the 2009 season at Boston College and went undrafted due to his diagnosis, but later won Super Bowl XLVI as a member of the New York Giants. More recently, former Providence College hockey forward Drew Brown passed away on Nov. 11 at age 25 following a long fight with the disease.
Woods said he didn't speak to anyone waging the same exact battle he was—but he did get a pick-me up in Seattle from someone who plied the same winter trade.
"My mom contacted Jordin Tootoo," said Woods of the veteran NHL player, who is now with the Chicago Blackhawks. "He got back to me and told me to stay positive. He told me he had my back, and if I needed anything, I could call him. It was pretty cool."
Woods bided his time in Washington, waiting for the day when he could return to both his hometown and the school he grew up rooting for as a boy. He also got an impromptu visit from his Nanooks teammates, when they were headed back to Alaska from Minnesota that December.
"They were actually coming from Mankato, and were ranked in the top 20," said Woods. "We talked and explored the Ronald McDonald House, and it was a really cool experience to have them with me."
Ultimately, he was cleared to go back home and resume his hockey career, after also being honored with the Harris Shelton Spirit of Competition Award from Nanook Athletics that year.
"There are people who were not as lucky as me with their treatment," said Woods. "I was blessed and lucky to play again, and it was nice to get back and put on the skates."
"He's more than just a local boy, and his story is more than inspiring," said Bruce Cech, the longtime radio "Voice of the Nanooks" about Woods and his fight.
"He has won the battle with cancer, and now he gets to battle every weekend playing the game he loves the most," added Cech.
Woods formally returned to the ice at the Patty Ice Arena on Alaska's campus in Sept. 2015, making an emotional homecoming at the Nanooks' annual Blue and Gold Game intrasquad scrimmage.
"I got a standing ovation," recalled Woods, who was also one of the dozen on-ice starters in that contest. "My teammates and the Fairbanks community all supported me, and it was amazing."
Besides skating for the Nanooks, he went on to graduate in 2017 with a bachelor's degree in Business Administration. He is currently studying Homeland Security and Emergency Management as a graduate student, while Alaska attempts to get back to its winning ways of 2013-14 and 2014-15.
"We have all watched how hard he works and how he hard he's fought to get his game back, and it's unbelievable," said Nanooks coach Lance West. "He approaches everything with such a positive attitude and energy, and it's rubbed off on all of us."
Woods, 23, now has another prominent and more benevolent "C" in his life — that of the captain's "C" he sports on his game jerseys in his final year of NCAA eligibility.
A Fairbanks native, he played almost all his formative hockey in his hometown, and his local tenure included stints with West Valley High School and the Fairbanks Ice Dogs of the North American Hockey League. He then spent one season in Nebraska, just prior to joining the Nanooks, with the USHL's Lincoln Stars.
"I always watched them (UAF) growing up," admitted Woods. "I'd go to games, and thought it would be cool to play for the Nanooks. I was a big fan, and when I got offered, I knew it was good for me."
An all-around blueliner, the 6-foot-1, 214-pound Woods has seemingly become a goal-scoring machine this season. He tallied eight goals over his previous three college campaigns, but had already collected six scores following a 3-2 loss to Bemidji State on Nov. 4 that completed a personal three-game goal-scoring streak.
"There's no secret," he laughed, about his newfound scoring prowess. "I'm working hard and shooting more, and my teammates do a good job of getting me the puck."
His best game statistically so far this season came in a two-goal, one-assist effort in a 6-2 rout of in-state nemesis Alaska Anchorage on Oct. 20. For his career, that gave him six goals and five assists altogether against the rival Seawolves.
"Growing up, I always played against Anchorage teams," recalled Woods. "We hated each other, and you always wanted to beat them."
Such feelings towards Alaska's biggest city and its teams have persisted at the college level.
"It's a fun atmosphere, and it's not just in the rink—it's both communities," he said. "It's a really cool experience, and it's fun to play them (UAA)."
Woods, who notched three points in a two-game set with Michigan Tech on Nov. 24-25 at the Carlson Center in Fairbanks, put up seven goals and 11 points overall in his first 16 contests this season. In 113 career games with the Nanooks to that post-Thanksgiving point, he had registered 16 goals and 38 points with 93 penalty minutes.
"Justin has been outstanding for us, not just on the ice, but in every aspect of our program," remarked West. "He has been a leader, a role model and mentor for our players, and also the community of Fairbanks."
Now in his last season in Blue and Gold, Woods would like to help the Nanooks to another Governors Cup victory against UAA, plus a WCHA playoff berth and perhaps even Alaska's first selection to the NCAA tournament since 2010.
"Those are the goals," he laughed.
Besides earning his master's degree, his other personal objective is to turn pro after his college hockey days are done.
"I do want to play pro," said Woods. "I want to finish strong, and put myself in a position to play professionally."
Wherever he goes to get paid for playing, It'll have to be somewhere in the Lower 48, Canada or Europe, what with the demise of the ECHL's Alaska Aces earlier this year. There were also public fears last year that with Alaska's bleak state budget situation, the Nanook and Seawolf hockey programs might be consolidated or even eliminated. The players, though, continued with their business as usual.
"We didn't pay much attention," said Woods. "I think we'll be fine. Nanook Hockey has been good for the Fairbanks community. It does good things, and does a lot of community service, and if it was gone the area would change. Nanook Hockey is really good for Fairbanks."
So is No. 8 for the Nanooks, at least for one more half-year, even more so with all he has been through both on and off the ice.
"What's really special is you can see how his journey has taught others to appreciate their opportunity," said West. "Just being around him inspires you to embrace and enjoy what you're doing, no matter how hard it is or how hard you have to work for it."