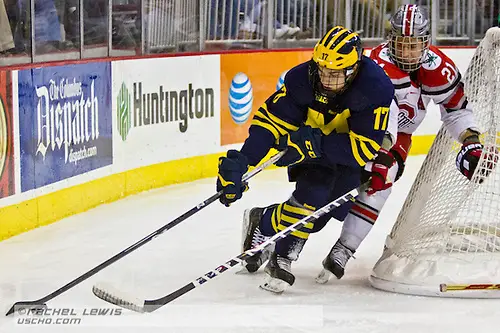 Two weekends ago, Michigan went to Wisconsin and returned to Ann Arbor with two points, having lost to the Badgers on a Friday and earned an extra point in the shootout following a tied game on a Saturday.
Even with the mixed results, Michigan still scored seven goals that weekend.
And that has been a pattern for the Wolverines in the early going. When Michigan hosted Minnesota Nov. 10-11, the Wolverines gave up 10 goals in two games, but scored 11 and wound up with four of six Big Ten points in the series.
The weekend before, Michigan split at home with Ferris State, scoring two goals in a loss but seven in a win.
Most recently, though, the Wolverines were swept at home by a most-hated rival, Ohio State – and the Buckeyes shut them down.
Ohio State beat Michigan 3-2 and 5-2, and there were stretches during both games when the Buckeyes were utterly dominant, like the third period of the 3-2 win when OSU outshot UM 18-8, and the third period the following night when Michigan outshot Ohio State 21-7, but came away with no goals to Ohio State's two, in spite of a two-man Michigan advantage for over a minute in the stanza.
For a young Wolverine team enjoying the bounce that can come with a new head coach and a little bit of breathing room from improved goaltending, the losses against Ohio State were a reality check.
"I think the makeup came off and we saw a lot of the blemishes this weekend and we were able to cover some things up, but this weekend, we saw a little bit of some of the issues we're going to have going forward unless we band together," said Michigan coach Mel Pearson. "We've got to learn and we've got to grow from it. There's a lot of hockey left."
Last season, the Wolverines finished fifth in the Big Ten with just six conference wins. Michigan's offense averaged 2.63 goals per game – in spite of possessing some very gifted players – and the defense was 44th, giving up 3.17 goals per game on average.
Heading into the weekend against Ohio State, the Wolverines had already won two of their six B1G games, were tied for third nationally in scoring offense (3.83 goals per game), and were allowing 3.33 goals against on average. After that two-game set, Michigan fell to eighth offensively (3.50) and 55th defensively (3.43).
"We have to understand that we can't give up much," said Pearson. "I think early in the year against Minnesota [and] Penn State we outscored our mistakes, but against a good defensive team like Ohio State, you're not going to do that."
The Wolverines have relied heavily on their top line of senior Dexter Dancs on left wing, junior Cooper Marody at center and senior Tony Calderone on the right. The trio has combined for 19 of Michigan's 49 overall goals, including six on the power play. All three players seem to have benefited from the line's chemistry, as each is having an outstanding early season.
Calderone leads the Wolverines with 10 goals in 14 games after a career-high 15 goals in 31 games last season. Marody has four goals in 14 games after netting five goals in 18 last year, and Dancs has four goals in 14 games after scoring once in 31 last season.
The line has been so good that it's been given a nickname, the "Run DMC" or "Skate DMC" line from the first letter of each player's last name – a nickname that I confess to have disliked all season long – but Pearson is thinking of mixing things up to overcome the team's overdependence on one scoring line.
"It's no secret that [they] have really been pulling the cart, and [Ohio State] took Cooper's time and space away, made it tough on those guys, and we just couldn't step up," said Pearson after Saturday's loss. "That's why we're asking for other guys to get opportunities to give us some depth. We haven't taken advantage of that, and that's going to continue to be an issue. We're going to have to move some things around. It might be a good time to change that line. You can't break them up when they're rolling."
This weekend, the Wolverines face the U.S. Under-18 Team in exhibition, giving Pearson and his staff a chance to experiment.
"We'll have a good week of practice, a good work week this coming week," said Pearson. "We'll look at some line combinations. We'll look at some individuals individually [and] we'll watch their game. We'll talk to them a little bit about their preparation.
"We'll look at who's available, who's healthy, and we'll try to play as many guys as we can in that game. We've got one more Big Ten series [in the first half] and it's going to be a huge one, so we've got to use that game to help prepare for that series against Michigan State."
Every coach would like winning weekends as lesson plans, but Pearson knows how to turn the kind of weekend that the Wolverines had against the Buckeyes into a teachable moment. Pearson said that the Buckeyes were a good, hard-working team that didn't bring "out the best in" the Wolverines.
"I think this is a good lesson for our team to understand how you have to compete," Pearson said. "We'll see whether we'll rally around this and come together as a team or whether we'll play like individuals, but I think there's too much character in that [locker] room. I think they'll come together."
And Pearson is experienced enough to know, too, that coming up against a team that shuts yours down – especially this early in the season – isn't something that has to be a permanent stop. Last year as head coach at Michigan Tech, Pearson saw his Huskies lose their first four games of the season before going 3-5-2 in their first 10 games.
"We started 1-5-2 and made it to the NCAA tournament," said Pearson. "There's a lot of hockey left."
Michigan hosts the Under-18 team at Yost Ice Arena at 7 p.m. Saturday night.
Those Buckeyes, though
Ohio State may only be scoring 2.71 goals per game, tied with Alabama Huntsville for 34th nationally, but they're giving up 1.93 per game, second in the nation.
A good deal of that has to do with senior goaltender Sean Romeo, a transfer from Maine who sat out last season and came in this year with a purpose. Romeo's .931 save percentage is eighth national, and his 1.69 goals-against average is sixth. He's a solid, calm presence in Ohio State's net and he doesn't give up a lot of anything – goals, rebounds, angles. In the series against the Wolverines, Pearson called Romeo "excellent" and "outstanding," and he was.
After the game, he was also humble and funny.
"The team played awesome, made my job easy," said Romeo. "They played really well in the 'D' zone. When you score five, you should do pretty well, so I think it was overall a good team game."
This was after facing 21 shots in the third period Saturday night.
During the Michigan post-game interview, Pearson made mention of the non-hockey contest that was played that day between the Buckeyes and the Wolverines, the 31-20 Buckeye gridiron win that made traffic around Yost Ice Arena a nightmare pre-game and may have had an effect on hockey game, according to Pearson.
"Maybe there's some hangover from the football," said Pearson. "I've seen it before, when you lose a tough [football] game and it seems to affect the crowd, your team and everything. I'm not saying that's it."
Naturally, I asked Romeo whether his teammates had watched the football game all together. He looked at me like I was from another planet.
"Uh, no," he said. "Some guys napped."
That may be the most shade a Buckeye has ever thrown at a Wolverines, albeit unintentionally. There was no malice in his voice. He's from North Carolina and transferred from Maine. He's not completely new to this, though.
"I'm sure some guys watched the whole thing together," he added, kind of quickly.
As a long-time observer of Buckeye hockey, the newfound defensive play isn't all Sean Romeo. The entire team is playing a tighter system, with shorter, crisper passes and an ability to protect the puck absent in large stretches of recent seasons. They're just playing smarter hockey. If this keeps up, they may very well be for real.
We'll find out this weekend, as the Buckeyes host Penn State for two. Friday's game begins at 7:05 p.m., Saturday's at 4:05 p.m.
Speaking of Penn State …
The Nittany Lions took four of six points from the visiting Spartans this past weekend, and it was not for lack of trying.
In Friday's 7-2 win, Penn State outshot Michigan State 37-29, which seems almost normal until you look at Saturday's 2-2 tie, in which the Nittany Lions had a 41-21 shot advantage.
"In general we're playing a better quality hockey game," said Penn State coach Guy Gadowsky. "We have to be a lot more consistent, but we are getting a lot of chances, we are getting pucks to the net, we are getting bodies there, and that's what Penn State does. That's how we're successful.
"Without the puck, our consistency has to get much better, but if we can get better and better with that and maintain the same attitude and aggression that we've had offensively and defensively, I think we can be a very good team, one that's extremely hard to beat – even on the road against the Buckeyes."
There's a little welcome news for the Nittany Lions this week. Sophomore forward Denis Smirnov, who's missed eight games with an undisclosed illness, will be back in the lineup against Ohio State. Smirnov had five goals through his first eight games this season, and 19 in 39 games last year.
A little discipline goes a long way
With a sweep of Minnesota, Notre Dame further solidified its lock on first place in the Big Ten standings here in the early going of conference play.
The undefeated Fighting Irish have a 6-0-0 start in B1G games and the 18 points that accompany that. In second place, Minnesota has played two more games and has seven fewer points.
That may be why things got a little heated in the Compton Family Ice Arena last weekend, Saturday more so than Friday night. In Friday's 1-0 win, the Irish had five penalties for 10 minutes; Minnesota had four for eight, and Andrew Ogelvie's game-winning goal came at 1:43 in the second period on the Irish power play.
In Saturday's game, though, Minnesota's Mike Szmatula had the only two Golden Gopher goals of the game, both on the power play. Even though they won 5-2, the Fighting Irish gave Minnesota a number of opportunities with an extra man, and both teams were feisty; Minnesota had six penalties for 20 minutes, and Notre Dame had eight for 16.
"That's the tough thing about college hockey," said Notre Dame coach Jeff Jackson. "When you're playing a team back to back, two nights in a row, the first night some things brew, and the second night, they come out. We just have to have better discipline. You can't take penalties 200 feet away from your net, and we took the first four penalties were all in the offensive zone. We've got to clean that up. We've got to eliminate those."
Luckily for the Irish, sophomore Cale Morris is defending the net. After playing just one game last season, Morris has emerged as Notre Dame's starter with a GAA of 1.62, third in the nation, and a nation-leading save percentage of .952. Morris turned away all 44 shots he faced in Friday's shutout, his fourth of the season.
Notre Dame travels to play Michigan State twice this weekend, Friday and Saturday nights at 7:05 p.m.
Three stars of the week
Morris earns the first star for the third consecutive week.
First star – Notre Dame sophomore goaltender Cale Morris
Morris (Larkspur, Colo.) had a .977 save percentage with 84 saves in Notre Dame's two-game home sweep of Minnesota, contests that extend Notre Dame's current win streak to nine games. Friday's 1-0 shutout was his second consecutive shutout and his third in five games. This is Cale's fourth weekly Big Ten award this season.
Second star – Ohio State sophomore forward Tanner Laczynski
Laczynski (Shorewood, Ill.) tied for the lead in Big Ten scoring with four points on the weekend as the Buckeyes swept the Wolverines on the road. Laczynski had the game-winning goal in Saturday's 5-2 win and assisted on the game winner in Friday's 3-2 win. In 14 games this season, Laczynski leads the Buckeyes in points (5-12—17). This is his third career weekly Big Ten award and his second this season.
Third star – Wisconsin junior forward Seamus Malone
Malone (Naperville, Ill.) tied for the lead in Big Ten scoring with four points as the Badgers split a nonconference series with visiting Mercyhurst. Malone had two goals and two assists on the weekend, including his second career three-point contest on Saturday, with a go-ahead goal and two assists. Malone has six goals in 17 games this season after scoring a career-high 10 in 35 last year. This is Malone's third career weekly Big Ten award and his first of the season.
My ballot
Yes, I was the voter who put Notre Dame at the top of my ballot. A nine-game win streak will sometimes do that to me.
1. Notre Dame
2. Denver
3. St. Cloud
4. North Dakota
5. Clarkson
6. Cornell
7. Minnesota
8. Ohio State
9. Boston College
10. Providence
11. Western Michigan
12. Minnesota State
13. Wisconsin
14. Northeastern
15. Colgate
16. Michigan
17. New Hampshire
18. Minnesota Duluth
19. UMass Lowell
20. Canisius