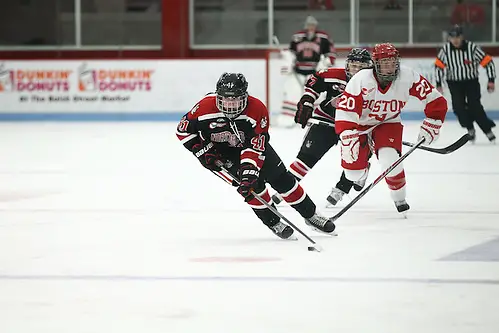 Arlan: I hope that you and our readers had a nice Thanksgiving weekend. On the ice, the special events that the holiday inspired added some flavor to our menu.
Wisconsin, the final unbeaten team, lost that distinction at the hands of Northeastern in the D1 in D.C. Tournament, which wasn't a true tournament in that the teams from Hockey East didn't play for the championship despite both winning on Friday.
The two events that were tournaments called themselves classics. Minnesota Duluth made the most noise in Vermont's Windjammer Classic, upsetting No. 2 Colgate in the event's first game and going on to earn the trophy over the Catamounts.
For the fans of parity, it would be hard to top the Nutmeg Classic, hosted this year by Connecticut with Penn State as the invited guest joining Yale and event champion Quinnipiac. All four games ended in deadlocks. Perhaps the recipe for the tie is what the Nittany Lions contributed, as they seem to have it down pat. They have eight draws through 17 games, including their last four and seven of the last nine.
The logical place to start seems like the Badgers, given that they've been the No. 1 team for most of the season. I'm not going to say that I saw the 3-2 loss to Northeastern coming, although there were signs that this wasn't going to be a 41-0 team with the number of close games that they played any time that they left the friendly confines of Madison.
Looked at in historical terms, Wisconsin looked to be ready to stumble. This was the fifth time in its history that is has started out undefeated through at least 10 games. The first loss in those seasons has usually come around this point, either on the calendar or in terms of the number of games played. Here are those five starts.
| Season | First Loss | Opponent | Score | Start |
| --- | --- | --- | --- | --- |
| 2006-07 | 11/24 | Minnesota Duluth | 0-2 | 13-0-1 |
| 2008-09 | 01/10 | Minnesota Duluth | 0-4 | 18-0-2 |
| 2015-16 | 12/11 | North Dakota | 0-3 | 18-0-0 |
| 2016-17 | 11/18 | Minnesota Duluth | 1-4 | 11-0-1 |
| 2017-18 | 11/24 | Northeastern | 2-3 | 16-0-0 |
So from a historical perspective, that loss was looming, although I'd have bet on it coming one week later, courtesy of UMD, as the Bulldogs had ruined three of the prior four undefeated starts. The other common factor in all of these losses is that the Badgers' offense goes missing. One might say that at least they scored a couple against Northeastern, but they were held off of the scoreboard until Sam Cogan's tally late in the second period when they were already down, 2-0, and the final goal came with less than six seconds remaining when their fate was all but sealed. The line of 41 shots but not a whole lot to show for it has been the Achilles' heel of recent Wisconsin teams.
In hindsight, what do you think of the Badgers succumbing to the Huskies and what it means for both squads?
Candace: I certainly didn't see it coming, that's for sure, mostly because Northeastern has been in a middling funk for most of the year, not the team that many of us expected to challenge Boston College in Hockey East this year. The Huskies entered the weekend a .500 team, and got shut out by Maine in their previous outing. One thing that stands out is that rookie goaltender Aerin Frankel made 39 stops. She seems to have won the starter's job from Brittany Buglaksi, who prior to playing against Minnesota State on Saturday hadn't played since Nov. 7. A 39-save outing against the top team in the country would seem to justify Dave Flint's decision, and will likely have Flint using the rookie more going forward.
Beyond that it's tough to say. Is this weekend the start of a trend for Northeastern? Or will see more of the Northeastern team that got routed by Boston College last night, 7-3. Both Frankel and Bugalski played last night, and neither was stellar. Frankel made 16 stops on 20 shots, and Bugalski stopped 10 of 13 shots. The defense couldn't contain Daryl Watts and Caitrin Lonergan; Watts had two goals and an assist, while Lonergan racked up a hat trick and two assists. Northeastern will need more of a defensive effort if it wants to move up.
For Wisconsin, a loss was bound to happen sooner or later, but what's interesting is, as you said, the offense went MIA. A couple weeks ago, you pointed out to Nicole that in three Frozen Fours with Ann-Renée Desbiens in net, Wisconsin gave her basically zero offensive support, and it's one reason that Wisconsin was unable to win the national championship. If Wisconsin starts overthinking it, that same trend can manifest again, and the offense without Annie Pankowski and Emily Clark, both playing in the Olympics, certainly isn't as strong as last year's offense that scored one goal in two games in the Frozen Four.
This could also be something of a relief for Mark Johnson's squad, which now doesn't have to carry the "undefeated team" moniker anymore. Perhaps they can play looser. I don't know that we can garner that from beating Boston University though, as the Terriers have not looked like themselves this season.
There were certainly some other interesting results. Colgate losing to Minnesota Duluth may make other teams think the Raiders aren't quite as tough as they might have thought before the weekend. What did you take from that game for both Colgate and UMD?
Arlan: At times when I watch UMD, it almost seems like a placeholder team that is just biding its time until next year when Maddie Rooney returns from her Olympic hiatus. I realize that isn't fair to the team's seniors, and Maura Crowell has some good ones. There is no doubt that Rooney will be kept very busy for a team that of late has been playing four seniors on its blue line. In spite of a lot of youth up front and a goaltender who is new to the roster, that unit anchors the team and keeps the puck moving in the right direction.
Forward Katerina Mrázová may be one of the more under-appreciated players in the country. In my opinion, her hands and her creativity are the equal of anyone in the country. She's one of those talents that makes other people better, something that is all too rare in the women's game. She's not the fastest skater, but she keeps popping up in the right place, and her poise with the puck allows her to get around defenders, even if she doesn't have the speed to blow by them.
Even with Mrázová, and talented younger players like sophomore Sydney Brodt and freshmen Naomi Rogge and Ashton Bell, the Bulldogs don't score much. They've only found the net 37 times through 17 games; that's only one goal more than they've allowed.
Mostly, they're stuck playing close games where the next goal wins, and they went through a six-game losing stretch early where their ranked opponents were the ones scoring those goals. Since then, they've won seven of nine, with both losses coming against Bemidji State by a single goal. The 4-1 win over Colgate equals UMD's largest victory margin of the year, but it hasn't lost by more than three goals either. The Bulldogs played as well as they have all year and they got the breaks for once, but even with that, it was a scoreless game with under three minutes to play in the second game. Then Rogge, the team's leader in both goals and points, buried a shot, and Brodt doubled the lead 17 seconds later. That momentum produced a power-play goal from Bell in the opening minutes of the final frame, and UMD cruised home.
I thought that perhaps the Bulldogs had turned a corner and they'd truly be a team to be reckoned with over the rest of the season, but they were back to their former next-goal-wins selves the next day in the game with Vermont. Luckily for them, they got a late power-play opportunity, and Emma Yanko converted it into the winning goal, but unless they can rediscover the version of the Bulldogs that toppled Colgate on a regular basis, I don't see them getting back into the national tournament picture. The team that squeaked by the Catamounts will bleed too many points away down the stretch unless it has more margin for error, and it doesn't have Rooney to give it a chance in any game as it did last year.
As for Colgate, I'm trying but I haven't come close to figuring the Raiders out yet. Whose team is it? Its scoring distribution looks similar to that of Minnesota, with offense by committee and nobody who contributes too much beyond a point a game. That surprises me, because the Raiders look to have plenty of talent when I watch them, but the potential doesn't always add up to goals like it seemingly should. Shae Labbe tops the team in goals and points right now, but her lead in either could be eclipsed by the break. Senior defenseman Lauren Wildfang seems to be the steadiest presence from game to game when I watch Colgate, but she's not even one of the assistants to captain Annika Zalewski. In net, junior Julia Vandyk got both starts over the weekend, so at least for now, she looks to have emerged as the starter over sophomore Liz Auby.
The Raiders have seven seniors and six play heavy minutes, so the future looks to be now. I see them as an NCAA tournament team, and I'd say that they're about 50/50 to make the Frozen Four, but unless they can bring urgency every time that they play, I don't know that they can produce the ultimate dream season. Even with all of the firsts that they've produced already this year, I think that there is more potential that has gone untapped.
What are your thoughts on the Raiders, and an I wrong to be at all negative on a team that is off to a 14-2-0 start?
Candace: It's hard for me to say. Right now, yes, I'd say they are an NCAA tournament team, but I could be singing a different tune in a few weeks after the Raiders face Cornell for a pair and then Robert Morris. Perhaps we can chalk the loss to Minnesota Duluth up to turkey blahs, but the way the Raiders lost isn't encouraging. They gave up 32 shots on net, and it was essentially a 4-0 win for Duluth, with Colgate's lone goal coming on a power play with 23 seconds left in the game. While Colgate's win over Clarkson signaled the Raiders are a potentially strong team, let's not forget that most of the goals came on power plays. Vandyk only faced 22 shots in that OT win. Further, the next night out the Raiders lost to St. Lawrence.
You mention scoring, and while Colgate only has two players at a point a game, they have seven total who are averaging three quarters of a point or more. That's pretty potent scoring depth. Wisconsin doesn't have that many. Neither does high-flying Boston College. Colgate also has the third-best goal differential, 2.31 goals per game, in the country.
The thing is, Colgate still has plenty of upside, and in this uncertain season, it's hard not to see them as an NCAA tournament team at the very least. Can they make the Frozen Four? Potentially, but the highest I've ranked the Raiders this season is second, and that was only last week when Boston College tied Connecticut. When it comes down to it, I'd still favor BC, Clarkson, and Wisconsin over the Raiders, and I could see them losing to a handful of other teams in the NCAA quarters in a one-and-done, though really I feel like I could say that about any team right now.
I mentioned Robert Morris earlier. The Colonials split with Ohio State. The Buckeyes have seemed to be fading over the last few weeks, but that's still an important win for the Colonials. It also actually helps Ohio State in the PairWise comparisons. What did that series tell you about both teams right now?
Arlan: I've heard that perception from others as well that Ohio State seems to be fading, but I'm not really sure where that comes from. The Buckeyes are almost at the halfway point of the season, and they have just the one loss to a team other than Wisconsin. An overtime loss on the road to a ranked opponent isn't all that damning. The toughest portion of the schedule is behind them. A four-week stretch does loom starting on January 12 where they play Robert Morris, Minnesota, UMD, and Wisconsin in succession, but three of those series are in Columbus. Overall, only three of Ohio State's remaining nine series are on the road.
OSU's program record for wins is 20, that coming back in 2006-07. Even though it has never really been a hockey school, one would expect more success from a Big Ten program. There have been notable wins over the years, but they've always seemed to be canceled out by bad losses to teams beneath the Buckeyes in the standings. So far this year, they've managed to avoid those damaging setbacks. I'm sure the loss to the Colonials was disappointing, but that will happen when a team goes down two skaters on the road in overtime. Even with that loss, Ohio State is still fifth in the PairWise Rankings and in good position for the program's first NCAA appearance, fading or not. That would be a great result for the current edition of the Buckeyes, with a roster that still isn't as deep as some other teams around the country, even in an Olympic year.
The biggest concern I'd have for Ohio State, beyond the rash of injuries that could derail any team, is that two of its most important offensive weapons are freshmen, Emma Maltais and Tatum Skaggs. It certainly doesn't happen to everyone, but a lot of first-year players hit a wall somewhere in the grind of a long season and production drops off. Should that happen with Maltais or Skaggs, I could see Ohio State suffering an upset or two to teams like UMD or Bemidji State and dipping down toward tournament bubble territory.
As for the Colonials, I think that they have a bigger series coming up this weekend. While it is nice to move into the top eight in the PairWise, the No. 8 spot is really useless for the top team in the CHA. Either that team wins the CHA tournament and earns an automatic bid, or it suffers an upset and gets displaced by a team from its own league that is outside of the top eight. RMU won the CHA season title last year in large part by taking seven of eight points from Mercyhurst. In 2015-16, it only managed one point on the season against the Lakers and lost to them in the playoff semifinal. I believe that Mercyhurst, even down from what it once was, still serves as the measuring stick for the other CHA teams. The Lakers were the roadblock for the rest of the league for so long that it can be a big blow psychologically to lose to them, particularly on home ice. Robert Morris can send an emphatic message to the rest of the league that it intends to be the boss of the conference again this year if it can get the sweep.
Another key series with possible PairWise implications took place on Saturday and Sunday when Providence hosted Cornell. The Friars came up short in both games. Do you think that series will prove to be telling for the prospects of both the Friars and the Big Red?
Candace: For Cornell perhaps, but not really for Providence. Let's face it: generally, the path to the NCAA tournament for Hockey East schools in recent years goes through Boston College. Even in years when there have been two Hockey East teams in the NCAA tournament, it's been because someone upset BC in the Hockey East tournament and won the league autobid, not because they were high enough in the PairWise to get in on their own. Northeastern managed it a couple of years ago, getting in as an at-large, but most of the years BU made it in this decade it was because the Terriers won the league championship.
Yes, it's still early, but right now the only HE school in the top eight of the PairWise is the Eagles. Providence is 10, Northeastern 11, and Maine 12. Providence has two wins against Northeastern, and lost to BC. Looking at the rest of the schedule, their only opportunity to make up ground in the PairWise is to beat BC twice when they play at the end of January. Even were they to do so, I don't know that it would lift them to seventh in the PairWise, which is at a minimum where they'd need to be to avoid getting bumped out by the results of the league tournaments.
Northeastern, credit to them for winning against Wisconsin, is in the same boat, with three more games against BC as their best chance to get an at-large, which probably still wouldn't be enough even if they ran the table.
I saw Providence play against BC a few weeks ago and was impressed by their speed. However, Providence may be setting itself up for success next season, when many of its current best players will be seniors. If they can get a good recruiting class in, it might help the Friars get into position for an at-large bid. Or who knows, they could beat BC in the Hockey East tournament this year and get in. Stranger things have happened.
As for Cornell, I'm puzzled a little. As I said to Nicole last week, one issue is that after Kristin O'Neill and Madlynne Mills, the scoring drops off fairly precipitously. We saw a little of that last week when Cornell could only muster a tie against Penn State. If you shut O'Neill and Mills down, Cornell is vulnerable. I think Cornell is an ECAC tournament semifinalist or finalist, and that might be enough to get them to the big dance this season, but I think we'll know more after this weekend when they play Colgate. Cornell has played twice against Wisconsin and once against Clarkson this season, and lost all three while only scoring two goals. I just don't think Cornell is deep enough to do anything if they do get to the NCAA tournament.
As long as we are talking about PairWise, let's talk Minnesota. Last month you said you didn't think they'd be able to play their way into at-large contention, but here they are right now, seventh in the PairWise. The Gophers have won eight straight since getting swept by Wisconsin, even if some of those, like Sunday's game against Lindenwood, were ones that seem like lucky escapes. The Gophers close the first half with Bemidji State and Minnesota Duluth the next two weekends. If they can sweep those four games, they are in position I think to be an at-large team, especially if they can beat Ohio State in January. What are your thoughts on the Gophers right now?
Arlan: Minnesota is a bit of an enigma, one that I'm obviously not on the verge of deciphering. The numbers suggest that the Gophers are the hottest team in country, having won eight straight games — the next most is five. My eyes don't believe that, although I've only seen two of those games.
Scoring was likely the biggest question coming into the season, and on that front, they've likely done okay. If I remove the likes of Saint Anselm, Sacred Heart, and Holy Cross — and I will because the ability to light up Saint Michaels, Post, or some D-III team isn't all that relevant to this discussion — then the Gophers are sixth out of 34 teams in scoring. While that's not the firepower that Brad Frost usually has at his disposal, far more shifts are being skated by people who would typically be on a fourth line or below. With three forwards centralized, Taylor Williamson missing all but one game due to injury, and Caitlin Reilly being injured early on against Lindenwood, Frost only had seven of what on paper would be the team's top 12 forwards available for much of the series at Lindenwood.
Because of that, Sophie Skarzynski may be the team's MVP to this point. The junior product of Chicago Mission has spent her college career shuffling between the blue line and the forward position, and in her latest move up front, something has really clicked. She's tied for the team lead with 18 points, and has given the team energy it desperately needs up front. The team scored seven goals against the Lions, and Skarzynski assisted on six of them.
At the same time, Skarzynski has to be ready to move back to defense, because Katie Robinson has missed four games with an injury and been limited in several others, so the rotation has primarily consisted of four defensemen of late. The roster lacks the depth to withstand it should Minnesota lose anyone else. As a unit, the defense continues to make these glaring mistakes, such as the turnover that was the catalyst in a Lindenwood rally on Sunday that necessitated overtime, where defenseman Olivia Knowles won it with her third goal of the weekend.
The goaltending position is more straightforward, but a riddle all the same. Fifth-year senior Sidney Peters gives the team the best chance to win now. Freshman Alex Gulstene is the team's future, and needs to play. That's another challenge for Frost to navigate.
Perhaps the biggest question right now is what will Amy Potomak do after being cut by Canada. She could join the Gophers in January, but by the time the second semester begins, there will only be eight games left of the regular season. The Gophers would love to add another body, especially one with her scoring prowess, but is it worth it to her to sacrifice a full season of eligibility for eight games plus the postseason? That's for Potomak and the coaching staff to decide.
The next four games could factor into that decision, as Minnesota hosts Bemidji State and then UMD. It swept both on the road, where the Gophers are a perfect 10-0-0 despite being sub .500 at home, but it was lucky to do so. If they lose a couple of games to the Beavers and Bulldogs, the prospects for the season could decline rapidly.
If Minnesota should falter, who do you see being poised to take advantage? Could someone like St. Lawrence move back to the forefront of our discussions?
Candace: St. Lawrence would certainly seem to be on paper the team that could. The Saints are one of two teams to beat Colgate, and are currently sitting at third in the ECAC standings and ninth in the PairWise. Further, because of how strong the ECAC is this season, St. Lawrence has the most potential in terms of playing other top PairWise teams to get valuable comparison wins. The Saints have two more games against Clakrson, and also have one each against Colgate and Cornell. St. Lawrence also has a win over Boston College in its favor.
One issue for the Saints is they have struggled against their North Country rival in recent years. Clarkson beat the Saints 6-1 and 4-2 back in October. St Lawrence also lost to Cornell. If St. Lawrence loses both games to Clarkson this weekend, it could kill the Saints' chances at an at-large bid. St. Lawrence has a pretty good offense, with Justine Reyes stepping into the scoring role that Brooke Webster had last year, and seniors Hannah Miller and Kennedy Marchment producing at a strong clip. Rachael Smith and Kayla Nielsen are also good producers.
The problems for St. Lawrence are on defense. The blue line is young, with only one junior and one senior. That young blue line might be one reason that Grace Harrison is struggling in goal this season. Her save percentage is below .900, after being at .916 and .923 her first two years, and her goals-against is the highest it's been in her career at 2.31. I don't think you can pin it all on Harrison, because as stated the blue line is young, but unless St. Lawrence shores up its defense, even if the Saints were to advance to the NCAA tournament they'd be one and out like last year.
Further, the vagaries of the PairWise make it distinctly difficult for one conference to send four teams, as the WCHA often found in recent years with North Dakota and Minnesota Duluth. Were Minnesota to falter, it's remotely possible that Northeastern or Providence could play their way in, but I'd tend to doubt it. This season does seem to have more uncertainty than previous years have at this point; perhaps we can chalk it up to the Olympics.
We've talked plenty about the top teams and who has been having a good season. Let's turn the tables and speculate on the reverse. Are there any teams that you think have been disappointing so far through the first two months?
Arlan: Collectively, I think that the coaches are doing really well in improving their programs. Over the last couple of seasons, I've been impressed with the improvement that I've seen when watching ECAC Hockey, and this year in particular I've liked the gains demonstrated by the teams that traditionally occupy the lower positions in Hockey East. The growth in D-I as a whole makes it tougher for any individual coach to move up or even maintain a position. Plus, someone has to finish last; that's just how it works.
But since you ask, I think that one needs to start in Boston. There are at least a couple of candidates there, one being Boston University.
I need to be a little careful, because the Terriers often play their best hockey later in the season, but they had posted six straight 20-win seasons before dropping down to 19 victories last year, and now they're behind last year's pace. I realize that they graduated a generational player in Marie-Philip Poulin, but they managed to win 20 the year after that, as well as when she was playing in the previous Olympics. We've talked a lot about the seasons that Caitrin Lonergan and Daryl Watts are having for BC, but when I watch BU, seniors Victoria Bach and Rebecca Leslie look just as impressive. Both can fly and have great hands, so why aren't they tearing up Hockey East like the two Eagles? The answer is likely that they are doing their part but aren't getting much help. Bach has 26 points while Leslie has 23, but nobody else is in double digits. That doesn't bode well for the future when that duo departs BU.
The other letdown to me is Harvard, not so much in total, but I'm not sure that anyone else has had as awful a two-game stretch as getting shut out by Holy Cross followed by the 8-1 dismantling by Boston College. The record looks decent, given that the Crimson have already equaled their five wins from a year ago, but they've also played a number of downtrodden teams like Yale, Dartmouth, and Brown. Harvard is another team that tends to play better later in the year, and we'll never forget its 10-2 debacle versus BC before later ruining the Eagles' Beanpot and NCAA tournament in 2014-15. I don't fully understand what happened to the Crimson last year, but despite the talent that Katey Stone keeps enticing to Harvard, it is starting to look like the problems may not all be in the past.
Perhaps it is just a sign of how tough it will be for Ivy League teams as a whole going forward. I remember that early in the NCAA era, it was common for half of the Frozen Four to be Ivies. Now Cornell is a likely tournament team, but that figures to be it. The jury is out on what Princeton will look like after Jeff Kampersal moved to Penn State. Harvard will rebound at some point, if not this season, but the trio of Brown, Dartmouth, and Yale are going to pop up in more discussions of the teams that miss the playoffs than on lists of contenders.
Which teams do you see as deserving of a lump of coal?
Candace: I agree we need to turn to Boston, and prior to this weekend I'd have included Northeastern in that grouping, but perhaps defeating Wisconsin will turn the Huskies' season around. Entering the game against Wisconsin Friday, Northeastern was a .500 team that had gotten swept by Providence and also lost two of three to Maine, which made the losses to Clarkson and Colgate look a lot more like how Northeastern was going to fare. Northeastern scored nine goals over the weekend, but the defense had been struggling, and did so again last night against BC.
I'd also put BU in as a disappointment. The Terriers have won three of their last four, and looking at their schedule perhaps the early losses to Merrimack and Maine aren't quite as damming, considering how those two teams have been playing, but losing to RIT the first weekend of November was a low point for BU. They have a tough few weeks to close the season, with two games against Boston College and one against Providence, but there is still time for the Terriers to build some success.
I think Mercyhurst has been somewhat disappointing as well. Credit to the Lakers, they've played a brutal schedule so far, with series against Wisconsin, St. Lawrence, Colgate, and Minnesota, and in three of those weekends at least one game went to overtime, even if they didn't win any of them, but the Lakers also have losses to Lindenwood and Rensselaer this season. Every time I think Mercyhurst is going to establish itself, they have a letdown, such as this weekend in losing to Rensselaer after a convincing win over the Engineers Friday.