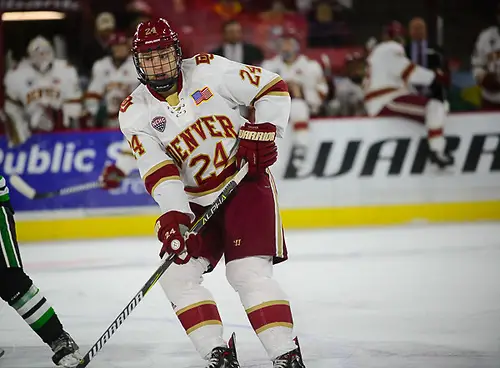 When you looked at the Denver schedule for this first half of the season, a few weekends stood out, as the Pioneers had rematch series on the road against Notre Dame and Minnesota Duluth, the two teams Denver beat in Chicago to win its eighth national championship last April.
Entering the series against Duluth last weekend, there were still some concerns for the Pioneers, who, while scoring goals in bunches, were prone to defensive lapses, and have three times this season lost games in which they were up by two or more goals, twice losing games in which they had a three-goal lead.
For Denver coach Jim Montgomery, last weekend's sweep of Minnesota Duluth, a series in Duluth in which they gave up one goal in two games, was an important step for his team.
"A defense-first approach, and then also winning ugly," Montgomery said. "You know, like we were scoring tons of goals, but we were getting real loose I thought, and it was nice for us to play two games in a row where we weren't loose at all."
Also standing out was the play of goalie Tanner Jaillet, last year's Mike Richter Award winner. Jaillet had been in net for two of those games in which Denver lost leads.
"You know, Tanner for 98 percent of the season's been like he was this weekend, and again, he was himself," said Montgomery. "He was in control of the entire D zone. He was vocal, he was breaking pucks out well for us and then obviously swallowing up pucks. There weren't rebounds laying around him at all all weekend long. So obviously, he's a big reason why our team won this weekend but also why our team had success."
As the defense has improved, so has Denver's penalty kill, which was perfect on the weekend against Duluth.
"I feel since we played St. Cloud at home that our penalty kill is really starting to gain a lot of confidence and I give coach (David) Carle credit because he wanted to change our penalty kill of how we've been doing things and going to being able to utilize the speed of our forwards to pressure pucks more," said Montgomery. "We had to suffer through some bad weekends, but it's really coming on and it's giving us a lot of momentum and energy on the bench because of the big kills we've been getting."
Perhaps one of the reasons for Denver's improved defense was the return of Tariq Hammond, the team's captain, who suffered a fearsome injury against Duluth in the national championship game and missed the first few weekends of the year.
"It makes us a tougher team just because of how hard he is to play against," said Montgomery. "And it gives us it gives us more leadership. We've noticed this year the difference between having nine seniors and for a while only having two seniors play, now we have four seniors playing and they're backed up by a real good deep junior class. And now we're starting to see our team not have slides of momentum and not be erratic within the game. I attribute a lot of that to Tariq being back in our lineup for us."
Of course, even with that improved defense, most teams are going to focus on Denver's fearsome offense. Troy Terry and Henrick Borgström are second and third in the country in scoring, and Dylan Gambrell is tied for 19th.
"You know it's been a really impressive just how hard they work every day in practice. I never could have said that last year ,especially about Borgström, but he's matured as a person and he's matured as a man," said Montgomery. "He's taken a lot of ownership of his life on and off the ice and it shows. The other two really took huge strides that way last year, and this year those two, 7 and 19, Gambrell and Terry, have made huge strides in their leadership qualities and they know that their work ethic, if that's great it permeates through our lineup and makes us a harder team to play against."
This weekend, Denver has a home-and-home with a much-improved Colorado College, Denver's traditional rival. The Pioneers have owned the series of late, winning every game between the two for the last three years. Montgomery knows this weekend will pose a tough test.
"Their top line and their power play, we've got to be cognizant of when they're on the ice and we've got to stay out of the box. And then the other thing is (Alex) Leclerc is a hell of a goalie and we've got to make sure that we make life hard, get into the blue paint, take away his eyes and try to create rebound chances cause he's excellent on that first shot as he is sometimes on the second and third."
North Dakota regroups
Fans of North Dakota have been on a roller coaster with their team.
Three weeks ago, the Fighting Hawks went to Denver and split with the top-ranked Pioneers. Then they came home for Thanksgiving and struggled against unranked Union, losing the first game and only managing a tie in the second, a disappointing weekend for a team accustomed to winning at Ralph Engelstad Arena.
However, the Fighting Hawks regrouped after that disappointing showing to sweep No. 10 Western Michigan at home last week. One reason for that showing was the return to the lineup of senior goaltender Cam Johnson, who missed the month of November with an injury. Johnson was stellar in the net, making 18 saves in Friday's 4-3 win and then 19 in Saturday's 4-1 win.
"Well, first of all, obviously Cam coming back in our group, a guy that has won a national championship two years ago, a guy that's been in net for the last three years here in for a lot of big performances, I think with Cam what you always get is when he's out of the lineup, his next performance coming back is usually a pretty strong one," said Berry. "He carried over from where he left off before the injury and then also I think obviously the guys knowing that he's in net and what he's going to bring every night, guys rally around that too."
Berry also believed that his players knew they had to up their play after the Union series.
"We didn't finish a lot of plays that weekend and it resulted in the loss and a tie," said Berry. "Our guys knew we had to be better in those areas so we worked extremely hard that week in the offensive part of the game and trying to get more pucks to the net that and trying to create ways to score. I thought we defended very well, but we didn't have the offensive side of it so you know, our guys found a way to get it done against Western Michigan. That was a man's weekend this past weekend against Western Michigan, a hard, heavy team that plays fast. It was a great college hockey weekend."
North Dakota has had success behind a strong defense and penalty kill, as well as a deep team that finds ways to score, even if it doesn't have an offensive standout the way it has in years past.
"Well I think that the word we've use from day one and the word we'll use to the end of the year is depth, the depth of our group," Berry said. "You know, we look at Cam Johnson going down with an injury, Peter Thome comes in and plays well to win some games for us. Then we're down a few guys on our forward number with injuries and illnesses. Josh Rieger who is a defenseman, never played forward before in his life plays right wing for the last two weekends and does very well and has a lot of success offensively. And those are situations where guys play out of position in rolls and find a way to get it done, so that's that team-first mentality. Now when you talk about the offensive side, it's no different. It's tied 1-1 going into the third period on Saturday against Western and right off the faceoff Cole Smith, who's not known for scoring a lot of goals, in seven seconds scores a goal to get us up in the game.
"It's something that's done by committee here, especially when you don't have the likes of the [Tyson] Josts and [Brock] Boessers in the group. Again, our guys thrive off of it now knowing that everybody has to dig in and pull the rope."
This weekend, North Dakota goes on the road to close its first half against St. Cloud State, a team like Denver that has an explosive offense. Berry believes his players can look to the previous weekend against Denver to know how to have success.
"It's the last series of the year for both teams, of the first half I should say. Both teams are up in the standings and PairWise. It's a huge weekend, but we're going into their building, an Olympic-sized rink. You know, they play very well on it. They are a rush team, they score a lot off the rush, and they thrive off their power play. One of the things that has to happen for us to have success is making sure our five guys on the ice play together as a unit and play hard together, and then obviously discipline is going to be a big thing and not giving them a lot of power-play opportunities. That's like playing with fire on that big rink. They've got four really good lines. They've got depth on their forward group.
"It's one of those things where we're going to have to make sure that we have a focus there like we had last year when we won two games there."
NCHC players of the week
Offensive player of the week ⸺ Jake Wahlin, St. Cloud State: Wahlin tallied five points in St. Cloud's sweep of Omaha, snapping a seven-game scoreless streak while recording his best weekend of his collegiate career. Friday, he notched his first collegiate multi-goal game, getting two goals and an assist while finishing plus-2 and being named the game's first star. Saturday, he scored the game-winner in a 5-0 shutout and added an assist while finishing plus-2 and being named the game's second star.
Defensive player of the week ⸺ Jimmy Schuldt, St. Cloud State: Schuldt added three assists to his points total on the year. Friday, he assisted on St. Cloud's second goal in a 7-4 win and finished plus-5 on the night and blocked three shots. Saturday, he assisted on both of St. Cloud's power-play goals and went plus-2 while helping kill five Omaha power plays. He leads the nation in plus/minus at plus-22 on the year, and leads NCAA defensemen in points with 19 on five goals and 14 assists.
Rookie of the week ⸺ Grant Mismash, North Dakota: Mismash picked up NCHC rookie of the week for the fourth time in this young season, notching three points in North Dakota's sweep of Western Michigan. Friday, he had an assist on North Dakota's first goal in a 4-3 win, and Saturday he assisted on North Dakota's first goal and scored the fourth goal in a 4-1 win while finishing plus-1. His 14 points on five goals and nine assists leads NCHC rookies
Goaltender of the week ⸺ Tanner Jaillet, Denver: Jaillet helped Denver to a road sweep of Minnesota Duluth. Friday, he stopped 28 shots, including 12 in the third period, earning his first shutout of the year and fifth of his career. Saturday, he made 27 saves in a 2-1 win while earning the game's first star. He finished the weekend with a .985 save percentage and .50 goals-against average.