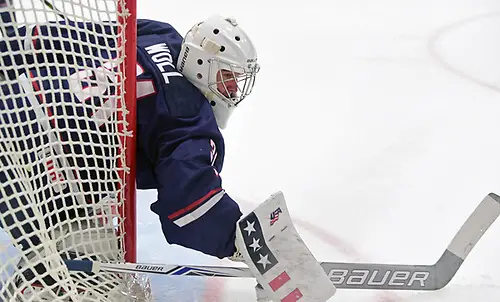 Brady Tkachuk (Boston University) and Casey Mittelstadt (Minnesota) both scored, but the U.S. National Junior Team fell to Slovakia 3-2 Thursday night in its second preliminary round game of the 2018 IIHF World Junior Championship at the KeyBank Center in Buffalo.
"Give Slovakia a ton of credit for their game plan and execution," said Team USA coach Bob Motzko (St. Cloud State) in a statement. "That said, at the end of the day, it came down to our ability to execute. We hit a few posts, missed some open looks, the puck just didn't bounce our way tonight. The great thing is we get to wake up tomorrow and get back at it right away in what we expect is going to be a tremendous environment."
Mittelstadt tied the game 2-2 at 16:49 of the third period before Samuel Bucek scored the game winner at 17:52 for Slovakia.
Joseph Woll (Boston College) made 22 saves in goal for the United States.
Team USA will play Canada Friday at 3 p.m. EST at New Era Field in the first outdoor game in IIHF world championship history.