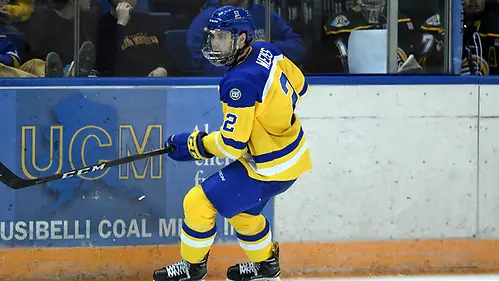 Alaska junior defenseman Jack Weiss will miss the remainder of the 2017-18 season after being diagnosed with testicular cancer earlier this month.
Weiss will begin chemotherapy on Tuesday (Jan. 2) near his hometown of Bloomington, Minn., where he will spend the next nine weeks receiving treatment.
"The amount of support I have received from family, friends, teammates and coaches has been incredible and I cannot thank them enough," Weiss said in a statement. "I am looking forward to beating this and getting back on the ice as soon as possible."
Weiss has appeared in four games for the Nanooks this season, registering one goal and five shots on goal.
Throughout his three years with Alaska, Weiss has played in 40 games, collecting one goal and eight assists for nine points.
Weiss is a Business Administration major at the University of Alaska Fairbanks and was named to the WCHA All-Academic Team following the 2016-17 season.