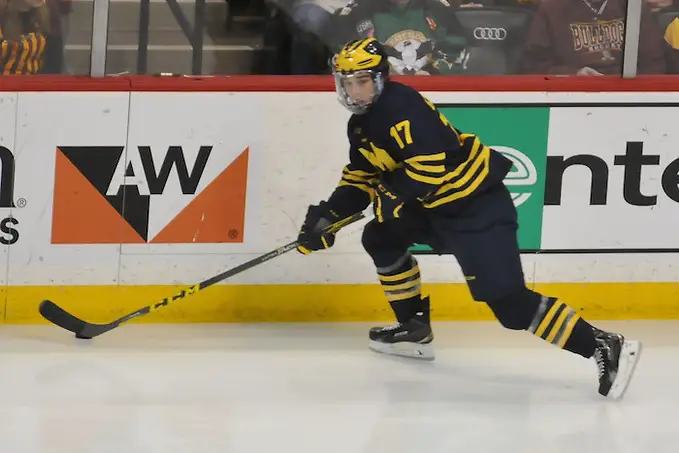 Great Lakes Invitational
Little Caesars Arena, Detroit, Mich., Jan. 1-2, 2018
Pairings
Monday: Michigan State vs. Michigan Tech, 2:35 p.m., Bowling Green vs. Michigan, 6:05 p.m.
Tuesday: Consolation game, 2:35 p.m., Championship game, 6:05 p.m.
Bowling Green
Players to watch: Alec Rauhauser, D (6-11-17); Stephen Baylis, F (7-9-16); Cameron Wright, F (5-10-15); Brandon Kuse, F (4-10-14)
Notable: The future and present are both bright for the Falcons, who head into this tournament with an 8-8-6 overall record and a bevy of reliable freshmen, including Wright, Kruse, Max Johnson, Connor Ford and Sam Craggs.
The Falcons' biggest issue is finishing off close games, and there have been many of them. The Falcons have six ties, five in the WCHA, and the inability to win those is one of the reasons the Falcons haven't been ranked this season.
The goalie tandem of Ryan Bednard and Eric Dopp have split starts this season, and both have big-game ability.
Michigan
Players to watch: Tony Calderone (13-5—18), Joseph Cecconi (3-8—11), Cooper Marody (4-20—24)
Notable: It's become a Michigan tradition to do without young talent at the Great Lakes Invitational Tournament, as several Wolverines are in Buffalo with the U.S. National Junior Team for the IIHF World Junior Championship.
Forwards Will Lockwood and Josh Norris are on the U.S. roster, but perhaps the player that Michigan will miss the most is freshman defenseman Quinn Hughes, who is essential to the team's blue line and was one of the best defensemen in the Big Ten during the first half of the season.
The Michigan offense is streaky and inconsistent, averaging 3.31 goals per game but scoring a lot one night and falling flat the next, as it did to end the first half with a 4-0 win over Michigan State before being shut out by the Spartans 5-0. The exception is Calderone, whose 13 goals this season are two fewer than he scored in all of last year. Calderone has three career goals in the GLI and had a hat trick in that 4-0 win over Michigan State Dec. 7.
Michigan's defense is likewise streaky, with both Hayden Lavigne and Jack LaFontaine playing earnestly but inconsistently in net. Cecconi, a junior defenseman, finished the first half with play strong enough to be noticed.
The Wolverines have won 17 GLI titles, more than any other participant, and last did so in 2015.
Last year, the Wolverines lost their opening GLI game to Michigan Tech, 2-0, before beating Michigan State 5-4 in overtime of the consolation game. Calderone combined with Dexter Dancs and Jake Slaker on that game-winning goal.
Michigan State
Players to watch: Mitch Lewandowski (10-11—21), Taro Hirose (6-15—21), Patrick Khodorenko (6-9—15)
Notable: The Spartans ended the first half of the season with consecutive shutouts, albeit one that didn't count.
After defeating Michigan at home 5-0 Dec. 8, Michigan State beat the U.S. Under-18 Team 3-0 in exhibition Dec. 16. The win over the Wolverines was a huge boost to a rebuilding program; the win over the visiting youngsters was something that helped hone both skills and confidence entering this tournament.
Michigan State has a dozen GLI titles, but the Spartans haven't captured the MacInnes Cup since 2009.
The Spartans enter the GLI and the second half with an 8-9-1 overall record, already one win ahead of all they registered for 2016-17.
They're averaging 2.39 goals per game and giving up 2.78, but they're playing smarter hockey under first-year coach Danton Cole.
The Spartans' top line of Lewandowski, Hirose and Khodorenko is responsible for 22 of their 43 overall goals, so if that line doesn't score, it's a tough night for Michigan State.
Sophomore goaltender John Lethemon has emerged as a strong starting goaltender, improving as the first half progressed with a respectable 2.28 GAA and .918 save percentage.
In the first round of last year's GLI, the Spartans lost 4-1 to eventual champion Western Michigan before losing the third-place game in overtime to Michigan, 5-4.
Michigan Tech
Players to watch: Jake Jackson (8-8—16), Brent Baltus (7-8—15), Mitch Reinke (2-13—15)
Notable: Tech ended the first half of its season on a high, going 4-1-1 against Alaska, Ferris State and Lake Superior State. That run of positive results has helped the Huskies push back into the top half of the league standings after a five-game winless streak in late October and early November.
Those games have also showed that Tech's top line of Jake Jackson, Brent Baltus and Alex Smith are as good as any in the WCHA. They've been together since early November and they've been responsible for 13 of the Huskies' 26 goals in that eight-game span. Tech, by the way, has the second-best scoring offense in the league — although they're nowhere near league-leading Minnesota State's 3.75 goals per game, their 3.05 number is pretty solid.
Defensively, new head coach Joe Shawhan had a few question marks coming into the season, as goalie Angus Redmond left after his freshman year. Early in the season transfer Patrick Munson started a bulk of the games, but his recent struggles have seen freshman Robbie Beydoun get three consecutive starts as Shawhan's preferred goaltender.
Tech gets to open this year's edition of the tournament with Michigan State — the teams split their series when they met last year but haven't met in the GLI since 2015 — but Huskies fans are undoubtedly hoping they get to play Michigan in the next game to get a rematch with former head coach Mel Pearson.
Outlook
The Great Lakes Invitational Tournament dates back to 1965, where it was first played in Detroit's Olympia Stadium and hosted by Michigan Tech. Michigan has been cohosting since 1976 and Michigan State first participated in 1966. The Spartans have appeared in every GLI since 1979, when the tournament moved to Joe Louis Arena during that venue's inaugural season.
This year, the GLI makes its first appearance at Little Caesars Arena during the LCA's inaugural season, with Bowling Green rounding out the field of four. Attendance for Detroit Red Wings games at LCA has been disappointing this season, and there is some chatter in southeast Michigan about the timing of this year's tournament and how it will compete unfavorably with NCAA football bowl games.
Any one of these teams can win this tournament, and the familiarity between all four makes it a very cozy event for diehard local college hockey fans willing to forego football and brave the frigid temperatures.