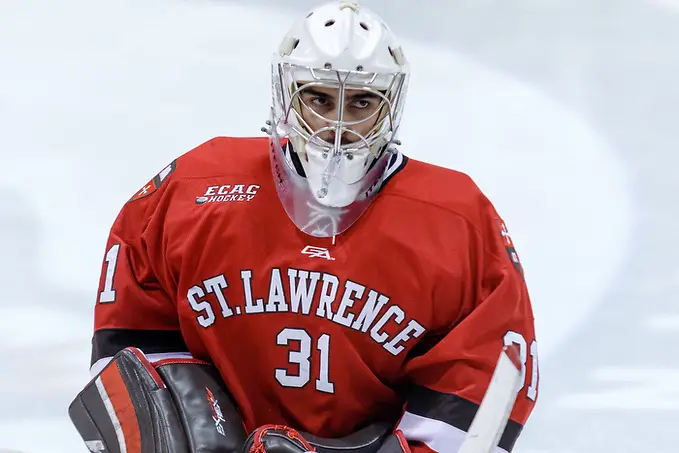 To say the first half the 2017-18 season was rough for St. Lawrence is an understatement.
It was a treacherous start to Mark Morris' second year behind the Saints bench. The first half of the season ended with a 1-14-1 record.
Part of that was because the team was ravaged with injuries where on some nights, they were only skating with three lines while their schedule wasn't so friendly.
That's just the tip of the iceberg, as prior to the Clarkson series last month, news broke that the school administration was looking into the program on how it was treating injured players.
So when the team took the ice this past Friday, the players were anxious to get back to playing hockey. That's what they did and took the Catamount Cup by defeating host Vermont with a 3-2 victory and defeating UMass Lowell 3-0.
They finally had some depth this past weekend.
"We got a couple healthy bodies back, which was a great thing and it slots everybody closer to where we should be as what we had mapped out on paper in the fall," Morris said. "Adding some veterans to the lineup, and we also brought in Cameron White, who's a player we brought in mid-year. He's a good-size defenseman who can help stabilize our defensive core. In addition to that, we had an outstanding weekend from Daniel Mannella, who earned his first two college wins and he was stellar. He was named MVP of the tournament."
White comes to the Saints from the Ottawa Jr. Senators of the Central Canadian Hockey League where had four goals and 11 assists this season.
Just like other ECAC rivals, Union and Harvard who have gone to their backup goalie at some point this season when they were in a rut, Morris thought it was time to give Mannella shot in goal.
Morris is going to ride the hot hand at least this weekend for a series against Canisius.
"He's earned it and now it's a matter of seeing if he can sustain that level," Morris said. "Arthur Brey was the guy who we tabbed as our starting goalie at the beginning of the season, so we gave him the lion's share of the playing time. In fairness to him, we didn't have a lot of depth in front of him. I don't think we were playing with a lot of swagger. We are going to cross that bridge when we get to it. Having a little competition is good, but you have to play the hot hand and Danny has done an exceptional job for us."
Morris isn't going to be looking changing anything from what he saw in Burlington, but will try to continue the momentum versus Canisius, their final nonconference opponent of the season.
He's hoping the losses his team took in the fall in nonconference play where they faced five top-20 opponents and another three ECAC teams that were in the top 20 at the time when the games were played.
His young team wasn't up to the speed for non-conference schedule they were put into roles that weren't suited for them. Now with getting some bodies back, players are moving into roles they are more suited for.
"As I alluded to before, it's amazing what one, two or three bodies can do to slot everybody into their right position and add depth," Morris said. "It brings energy, it brings added enthusiasm and inhouse competition, those are all good things. We hadn't had that before. We had guys in a little over their head based on the fact they were new. As I alluded to, it adds a lot of responsibilities to guys who might not be ready for playing top-end Division I hockey.
Union not making excuses for nonconference play
The Dutchmen have been Jekyll and Hyde this year.
They sit second in the conference standings with a 6-2 record. Out of conference, it hasn't been pretty with a 4-8-1 mark.
Coach Rick Bennett tipped his cap to those non-ECAC teams.
"I wish we had an absolute answer to that, there's a lot of things that we can talk about, but I feel those are excuses," Bennett said. "I will leave those out, but what I will say, it has been a very demanding schedule and lot of those games have been on the road, against excellent opponents that seem to have their best weekends. Know what? That's a credit to them and we didn't (have our best weekends). That's led to our nonconference schedule (record).
Union finished December losing a pair to Omaha and without their leading scorer Brett Supinski for the games in Omaha. Supinski has six goals and 16 assists in 19 games played
For Bennett, he doesn't want his squad to rely on a single player to spark the offense.
"It's unfortunate that one of your top guys is out, but if we are a one-person or a two-person team, then shame on us," said Bennett. "We have to be better than that when guys are out. I don't want to use the next man (up), but it's kind of the 'my turn' mentality the guys in the lineup have to have."
The good news for the Dutchmen – they only have one more nonconference game on their schedule and that's against their rival Rensselaer in the Mayor's Cup.
Bennett knows facing ECAC teams here on out doesn't mean his team will have the same success that they had in the first half of the year.
"I would like to think so, but we haven't done a lap around the league yet," Bennett said. "We don't know what we are going to get from some teams. That's the excitement of going into the second half, especially within the league."
ECAC players at the World Juniors
We've hit the semifinals of the World Junior Championship and both Adam Fox and Colton Point have reached the final four with their respective teams.
Fox of Harvard has been one of the United States top defenseman and the Harvard sophomore has a goal and four assists.
Colgate's Point has served as Canada's backup to Carter Hart. He did appear in a preliminary game where he made 20 saves in a 6-0 victory over Slovakia.
With USA and Canada moving to the semifinals on Thursday, the Americans face Sweden (4 p.m. EST) and the Canadians take on the Czech Republic (8 p.m.). Both Fox and Point will miss their college team's Friday's games with the gold- and bronze-medal games taking place Friday.
Harvard takes on RPI on Friday and Colgate has Quinnipiac.
Will be interesting to see if either will play on Saturday with the tournament over. Harvard hosts Union, while Colgate welcomes Princeton. If I were to guess, Point is more likely to play Saturday than Fox as he only has played one game in the tournament.
Donato, ECAC alumni named to Team USA Olympic team
Ryan Donato was one of four current college players named to the USA Olympic Team on Monday at the announcement at the Winter Classic between the New York Rangers and the Buffalo Sabres.
Donato leads the Crimson with 12 goals and eight assists in 12 games this season.
Presumably Donato will probably miss the second Monday of the Beanpot tournament and the final two weekends of the ECAC regular season.
Also joining Donato are five ECAC alumni, including Noah Welch who also played at Harvard. Welch currently plays in Swedish Hockey League with Växjö Lakers HC and has two goals and three assists in 15 games this season.
Three former Yale teammates will be donning the red, white and blue. Mark Arcobello is tied for first in the National "A" League in Switzerland in scoring with 13 goals and 26 assists with SC Bern. Broc Little has 19 goals and 12 assists in 35 games with HC Davos, also of the NLA. The third is Brian O'Neil, who suits up for Jokerit of the KHL where has 12 goals and 13 assists in 32 games.
The fifth is Ryan Gunderson of Vermont, whose first two years with the Catamounts were in the ECAC before the move to Hockey East. He plays with Brynäs IF of the Swedish Hockey League where he has four goals and 21 assists in 31 games.
Players of the Week
Donato was also named as ECAC Player of Week with four goals and an assist at the Catamount Cup. Mannella took home Goalie of the Week as he led the Saints to the Catamount Cup championship. Princeton's Ryan Ferland was tabbed Rookie of the Week as he backstopped the Tigers to two ties against the No. 1 team in the nation, St. Cloud State.
December Players of the Month
Wednesday night, the ECAC announced the players of the month. Donato took home the Player of the Month honors with eight goals and two helpers. Ferland was named Rookie of the Month going 2-1-2 with a 2.21 GAA and a .935 save percentage. Jake Kielly of Clarkson took home Goalie of the Month honors with a 3-0-0 record, a 1.34 GAA and a .949 save percentage.