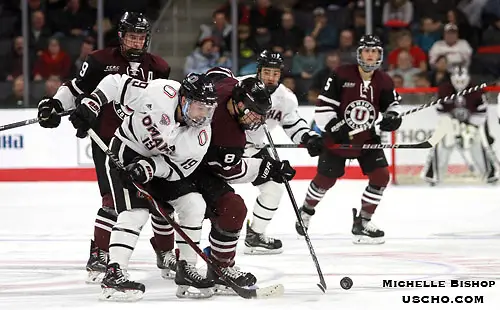 For the Omaha Mavericks, who currently sit at the bottom of the NCHC standings, consistency has been an issue this season.
The Mavericks have some big wins, including defeating then-No. 12 Lowell and then-No. 8 Notre Dame, but some frustrating results, like a tie with Arizona State, and stretches where they have lost two or three games in a row.
Last weekend, the Mavericks hosted then-No. 19 Union and came out with an impressive sweep, 5-1 and 5-3. It was only their second sweep all season; the other was against Northern Michigan over Thanksgiving weekend.
"First off, I give the guys a lot of credit," said Omaha coach Mike Gabinet. "I thought we came back from the break with a lot of focus; our attention to detail was very high in practice. They were very attentive, and we really had a couple of good days of practice leading up to the weekend. I thought Friday night was maybe one of our most complete games of the year. First off, from a defense standpoint, our forwards tracked extremely hard back to our end, had a tight gap, and didn't allow them to enter our zone with possession of the puck, and I think we ended up holding them to an all-time low shots against for the season."
Special teams also played a key role in the sweep, as the Mavericks had two power-play goals Saturday and one on Friday. Omaha's power play is currently ninth in the country, averaging a 24.71 percent success rate, and its penalty kill is also strong at 83.54 percent, which is 16th in the country.
"I think especially during the regular season, it's so important," said Gabinet. "Oftentimes, you'll find yourself with five kills or five power plays a game and it ends up being a lot of time on ice for your special teams. So something we take a lot of pride in; I'm really fortunate to have two great assistant coaches that help out a lot on special teams. Our PK's been really solid for us all season long, and our power play's doing well, especially late for helping us get back in the game like it did on Saturday night or to get the difference between ourselves and our opponent."
Offensively, the Mavericks are paced by senior David Pope, who has 23 points and averages 1.27 points per game. Pope has also worked hard to play better in the defensive zone and lead the charge during his senior campaign.
"I think he's skating a lot better this year," said Gabinet. "He's part of the forecheck, he's getting into the tough areas of the ice where nowadays goal scorers have to go into to get goal scoring consistently. And then he's obviously got a lot of talent and a great shot. He's capitalizing on the power play, and he's finishing up and executing on his opportunities. So you know again coming back to that two-way game and playing the game the right way."
One area the Mavericks could stand to improve is in defense. The team ranks second to last nationally in team defense, giving up 3.56 goals per game, and none of its goalies have a save percentage above the .900 mark.
"I think it starts with our tracking back hard to our end, our D-men having good gaps, being responsible defensively, and then really smart D-zone coverage when teams do get sustained offensive-zone time and making sure we are taking away time and space, that everybody knows what they're doing and has some predictability for each other so we're all on the same page," said Gabinet. "We just saw last weekend our goaltenders both had really solid games, and when they step up with that above-.900 save percentage, we have a chance to win every night. So our forwards, our team defense, our goaltending all have to keep improving. That will help with those numbers being better."
This weekend, the Mavericks travel to Grand Forks for a big NCHC series against North Dakota. The last time Omaha was coming off a sweep, it got swept the next weekend, so Gabinet knows his team has to prepare well for this weekend.
"Coming off a sweep you don't want to be too high. You don't want to get overconfident; you don't want to get away from anything that gave you the chance to have success that previous weekend. So that's what we've been focused on this week of practice. Again, being really hard in our attention to details, holding guys accountable to making sure we're doing things the right way. Our energy's been fantastic, and it's going to be another big challenge. North Dakota is a heck of a hockey team. You've got to go in there and you have to be firing on all cylinders."
Duluth stands tall at Ledyard Bank Classic
Coming out of the break, Minnesota Duluth faced a tough challenge, as five of its players (Scott Perunovich, Joey Anderson, Riley Tufte, Mikey Anderson, and Dylan Samberg, were off playing at the World Junior Championship.
Three of those players are starting defensemen, and considering that Duluth has had troubles with defensive consistency this season, it would not have been unexpected to see the Bulldogs drop a game at the Ledyard Bank Classic.
Instead, goalie Hunter Shepard played an outstanding weekend, blanking Yale and then making 41 saves against a resurgent Dartmouth team as the Bulldogs won the tournament in a shootout.
"Our first month, our goaltending was just average, and I see [Shepard] stepping up and giving us some consistency," said Duluth coach Scott Sandelin. "Obviously, he's given our team some confidence, and he's given us a chance, pretty much all of those games, to win. You know, a lot of those games we didn't give him the offensive support, so I think it starts there. When you have good goaltending, it's a great starting point. Shep has been pretty consistent here, I would say over the last month and a half for us for sure, and it's giving our team confidence and obviously, he's gained some confidence from that going out there and playing every game."
Sandelin also singled out the play of Nick McCormack and Jarod Hilderman, who have not played as many games this season, as important in the team's success at the Ledyard.
"We went out there with five 'D,'" said Sandelin. "A couple of guys hadn't played in a while with McCormack and Hilderman, but those guys have played, and I think sometimes going into those games where guys know they're going to play, I think they were prepared to. I think our team was excited about the challenge that was ahead of us, and certainly I think it proved that we do have some pretty good depth. Certainly Shep was good in that game, especially early. I think the first against Yale he was good and he kind of settled our team down and once we got the first goal late in the period it gave us some momentum, and I thought we carried that forward throughout the rest of the game.
"I think our guys just embraced the challenge and wanted to prove something and then they went out there and played a real solid game. Unfortunately Saturday, we lost McCormack, which put a little dent into our 'D' corps. We went from five to four. Playing Dartmouth, who has been playing well, coming off the Denver win and then New Hampshire, we knew that was going to be a tough challenge, and it certainly was."
While the defense has improved, Duluth's offense has tailed off some since October. After a series against Denver in which the Bulldogs only scored one goal on the weekend, the offense has started to get more consistent.
"I think it was one of those series; one goal, you're not going to win many games scoring one goal, and there's only four goals scored in the whole series," said Sandelin. "It was nice for our guys to go into Omaha and score 11 goals. Unfortunately, we lost the one in the shootout, but it was nice to score some goals and get some of that back. But I think it's just simplifying it. I think just getting more pucks, burying opportunities, scoring on the power play. Obviously we need some guys to step up. I know the Saturday against Omaha we challenged our group a little bit, and we saw the result. Tufte scored goals. Joey Anderson had a big game, guys like that, so guys that we need to contribute to the score on a regular basis.
"It's just been a weird year. I mean, we went through October going pretty good I think and getting some momentum and come out of that the end of October with all the injuries and starting in November we were missing four or five guys, so you have different lines. The chemistry was being built and then it kind of got torn down and then you get those guys back and we played some pretty good hockey. We didn't win all the games and then we turn around lose five more guys. So it's been kind of that hit or miss. I think a lot of it's been sustainability by our team over 60 minutes to sustain how we need to play. So it's trying to establish that high level of consistency and how we want to play and trying to get some chemistry and consistency throughout our lines, and hopefully going into the second half, we'll do that when we get those guys back."
NCHC players of the week
Offensive player of the week ⸺ Nick Halloran, Colorado College: Halloran tallied five points to help CC go 2-1-1 in its last four games. He became the first CC player to score a goal in four straight games since Alexander Krushelnyski in the 2013-14 season. He scored CC's second goal Dec. 16 against Arizona State, and the first goal on Dec. 17 in a tie. He scored CC's first goal in each of the games last weekend against Air Force and Merrimack, averaging 1.25 points per game over this four-game stretch, and is currently tied for second in NCHC scoring with 27 points on the year.
Defensive player of the week ⸺ Ryan Jones, Omaha: Jones was a key contributor in Omaha's sweep of No. 19 Union. Friday, he scored the game-winning goal and finished plus-2 in a 5-1 win while earning the game's second star. Saturday, he had two assists, including on the game-winning goal, and finished plus-1. He had four blocked shots on the weekend as well.
Rookie of the week ⸺ Kohen Olischefski, Denver: Olischefski had four points in Denver's last four games, after having only one point all season prior. On Dec. 15, he assisted on Denver's only goal in a 1-0 win over Dartmouth. The next night, he scored the first two goals of his career while being named the game's first star. This past weekend, he scored the first goal against Merrimack and earned the game's third star. He finished plus-1 over the four-game stretch.
Goaltender of the week ⸺ Hunter Shepard, Minnesota Duluth: Shepard helped Minnesota Duluth win the Ledyard Classic last weekend, despite his team missing five skaters to the World Junior Championship. He earned tournament MVP in the process. Friday, he got the third shutout of his career in a 5-0 win over Yale, stopping 29 shots. Against Dartmouth Saturday, he made a career-high 41 saves in a 2-2 tie, and then made two saves in the shootout. He finished with a .972 save percentage and .96 goals-against.