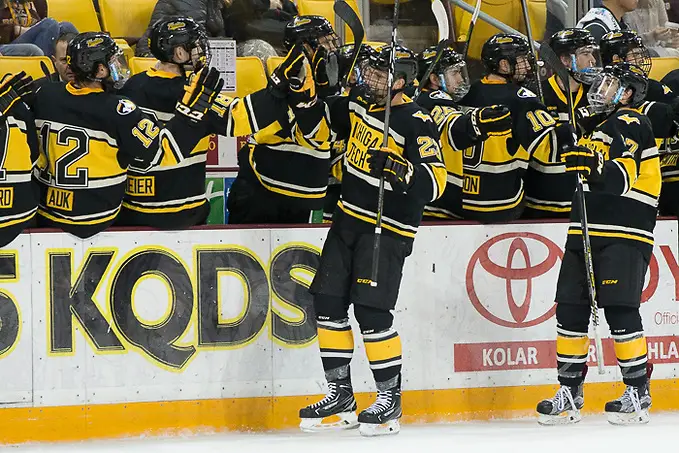 Ice Vegas Invitational
T-Mobile Arena, Las Vegas, Jan. 5-6
Watch: www.flohockey.tv
Tournament Schedule (all times PST)
Friday, Jan. 5
• Boston College vs. Michigan Tech – 5 p.m.
• Arizona State vs. Northern Michigan – 8:30 p.m.
Saturday, Jan. 6
• Consolation Game – 5 p.m.
• Championship Game – 8:30 p.m.
Arizona State
Players to watch: F Brett Gruber (4-9—13), F Tyler Busch (7-5—12), G Joey Daccord (4-10-4, 3.41 GAA, .908 SV%)
Notable: When looking back at last season, the Sun Devils proved they were a second-half team, going 6-6-2 in 2017 after the new year, and averaged nearly a goal per game more than the 2016 half.
Sophomore forward Brett Gruber continues to lead the team in points for the fourth straight week, while classmate Tyler Busch has collected at least one point in the last seven series for ASU.
The 2017-18 season is the Sun Devils' third as an NCAA Division I program.
Quotable: "It is a great honor to be a part of the inaugural Ice Vegas Invitational and part of the first-ever college hockey tournament in Las Vegas. One of our top priorities as a program is to help grow this game out West, and this tournament is yet another great way to showcase Division I college hockey in a non-traditional market out West." – ASU coach Greg Powers
Boston College
Players to watch: Julius Mattila, F (5-10-15), David Cotton, F (4-9-13), Graham McPhee, F (5-5-10)
Notable: Boston College will likely be missing a significant piece of their lineup as goaltender Joseph Woll helps lead Team USA at the World Junior Championship in Buffalo. Woll was also missing a year ago when BC posted a loss and tie at the Three Rivers Classic in Pittsburgh. Ryan Endquist, who holds a 2-1-0 record this season, took Woll's place in those two games in Pittsburgh, but on Saturday posted a 23-save, 2-0 shutout of Connecticut… Hockey may be new to Las Vegas, but the connection between the city's NHL team, the Golden Knights, and Boston College is a strong one. George McPhee, general manager of the Golden Knights, played for Boston College head coach Jerry York at Bowling Green, capturing the Hobey Baker Award as a senior in 1982.
Quotable: "Instrumental. It's their inaugural tournament and George was directly involved in convincing this eastern school to go out there. Watching the rink and the fan base they've created it's going to be a spectacular event for us." – BC coach Jerry York on the role Vegas Golden Knights GM George McPhee had on bringing Boston College to Las Vegas for the inaugural tournament.
Michigan Tech
Players to watch: Jake Jackson (9-8—17), Brent Baltus (7-10—17), Jake Lucchini (7-10—17)
Notable: It will be a quick turnaround for Michigan Tech, who just played in the Great Lakes Invitational on Monday and Tuesday. The Huskies managed to beat Michigan State 5-2 in the opener but lost to WCHA rivals Bowling Green 4-1 in the title game — which turned out to be a rematch of last season's WCHA championship tilt. Jake Lucchini scored two goals for the Huskies during the GLI — one in each game — while Brent Baltus has scored in eight consecutive games for Tech. The big question will be how the Huskies' legs are after two games already this week plus a long plane ride from Detroit to Vegas.
Northern Michigan
Players to watch: Robbie Payne (16-6—22), Adam Rockwood (4-16—20), Darien Craighead (11-8—19), Troy Loggins (7-12—19)
Notable: First-year head coach Grant Potulny — currently on assignment as an assistant coach for the U.S. World Junior team — is off to a great start in his initial season. The Wildcats are the best story in the WCHA right now. After finishing eighth in the conference in 2016-17, both coaches and media predicted little better from them this season — seventh. But as the calender turns to 2018, they sit in second place in the standings, just five points behind Minnesota State and three ahead of both Michigan Tech and Bowling Green. They've done so with one of the most potent forward lines in the country. Robbie Payne is tied for the national league in goals scored (16) and leads the WCHA with 22 points. Adam Rockwood and Troy "Danger Zone" Loggins also have helped NMU's offensive resurgence. And in goal, Atte Tolvanen — who tied an NCAA men's shutout record last season — and Mathias Israelsson have been a formidable tandem.