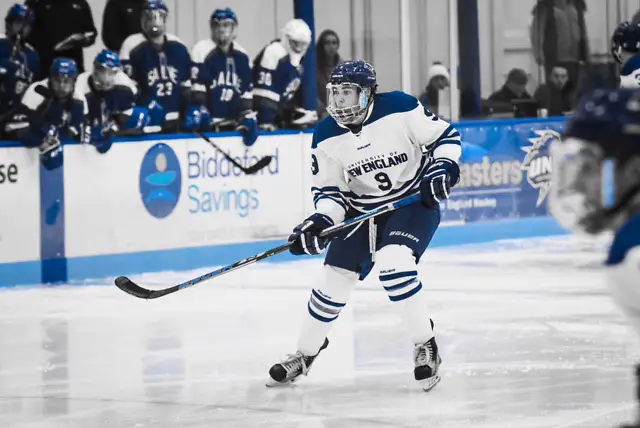 A quick look at the national rankings this week finds three CCC teams ranked in the top 15. No. 2 Endicott and No. 12 Salve Regina are joined by No. 14 University of New England this week, while Nichols College also received a vote in the poll. The ascension of the conference on the national stage is not lost on several of the coaches, who understand that their recent successes outside the conference have contributed to national respect generated in the polls.
"It is great for the reputation of our conference," said UNE coach Kevin Swallow. "You see the success that Endicott has had all season, or Salve [Regina] beating two top-five teams in Adrian and Massachusetts-Boston to win the Codfish, or just last weekend Nichols downing St. Thomas and Elmira to win the Boston Landing Invitational, it's all good for our conference in showing the high-caliber hockey we are playing. It makes me happy when our teams knock off other very good programs. I reached out to Zech [Klann] at Salve and Parker [Burgess] at Nichols after their tournament wins to congratulate them both on their accomplishments. It certainly helps to strengthen our reputation in the D3 landscape."
A missing element of the CCC success from the quote above has been the stellar play of Swallow's Nor'easters, who since returning from the break knocked off a ranked Colby team before taking out Geneseo and Norwich to win the Northfield Savings Bank tournament last weekend. Oh, and for good measure, they knocked off another NESCAC school on Tuesday, beating Bowdoin, 4-1.
"Every win is big for us as a young team," noted Swallow. "But the wins over Geneseo and Norwich showed us we can win hockey games different ways. We really didn't want to get in a shootout with Geneseo based on their offensive talent, but that is kind of what the game turned into and we took advantage of all our opportunities in the 9-5 win. The game against Norwich really showed we can play a 200-foot game against a strong defensive opponent. Ben [Churchfield] was fantastic in goal for us and needed to be in a 1-0 win. Both games also showed that we can play good hockey anywhere and not just in front of our home crowd, where we lost just one game all last season have such a strong record again this season. These wins, as well as the win over a strong Colby team, are boosting our confidence and hopefully adding to the reputation of the quality of our conference."
The Nor'easters may be young, but return two-thirds of the dangerous B-F-F line in sophomore Ryan Bloom and junior Brady Fleurent, who lead the team again in scoring so far this season with 26 and 23 points, respectively. The second "F," captain Trevor Fleurent graduated, so some new responsibilities have fallen of the shoulders of the returning linemates.
"That line certainly was special last season, and Ryan and Brady are both off to strong starts this season where they have had to evolve more into leadership roles on the team with Trevor's graduation," noted Swallow. "This year, we really have three lines that can be scary offensive threats to our opponents, and I think that helps our overall team in terms of balance and takes pressure off just one or two lines to produce. I think we showed that in the Geneseo game, but knowing we can score goals, I am happier with the 1-0 win that showed our ability to focus on team defense –- something the coaching staff has been preaching for a while."
The rankings are recognition of the level of play coming from the CCC so far this season, and Swallow certainly hopes there isn't any drop-off with a lot of games remaining on the schedule, especially in the conference, which is shaping up to be a challenge right to the end of the regular season and into the playoffs. So, what would resonate as success for the league overall?
"Getting two teams into the NCAA tournament would be huge for the conference," stated Swallow. "That is probably much easier said than done with the limited number of at-large bids available to qualify past the auto-bids, so not counting on anything other than the focus to compete every night and try to win our way in by winning the conference title –- something we fell just short of last season."
A second team from the CCC might be a reality if the programs continue to knock-off ranked opponents and build their resumes, inclusive in-conference wins against their high-flying league partners. There is a lot of hockey still to be played, but for now, the CCC is heading in the right direction, and all opponents should take notice.