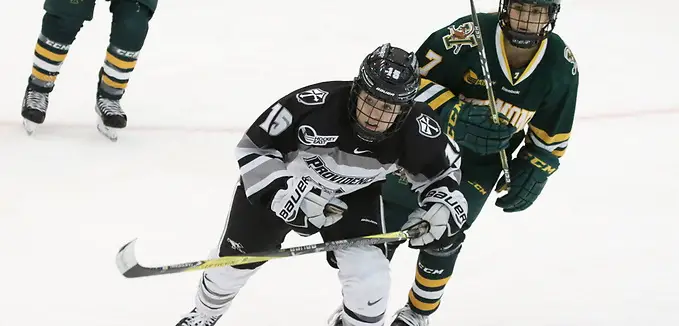 It's been a slow and steady climb for the Providence Friars since Brooke Boquist was a rookie. That freshman year, Providence was just 6-25-4 at the end of the season. They won four more games her sophomore year and seven more the year after that. Now, as a senior, Boquist is leading the Friars with 11 goals and eight assists as her team is 13-5-5, ranked eighth in the nation and sitting in second place in Hockey East.
It's a fairly comfortable spot to be in, three points clear of third-place Maine with 11 games left on the schedule, but if the Friars want to extend their season and make their second-ever NCAA tournament appearance, there isn't a lot of room for error. With Boston College comfortably atop Hockey East, Providence either has to unseat the giant and win the conference tournament to earn Hockey East's auto-bid, or they have to finish in the top six in PairWise to comfortably feel like they'll receive an at-large bid.
It's no small feat, but it's also not an insurmountable hill. Just 0.0066 points separate them from sixth place Cornell in the current PairWise rankings. Achieving a dream is tantalizingly close, but it's also exactly the thing the Friars can't dwell on.
"I think our goal as a goal for the rest of the season is just to take it one game at a time and make the NCAA tournament by being ranked in the top six," said Boquist. "That's our huge goal. You can't skip a step. We can't jump ahead. We're just trying our best to do the best that we can every day. You can only focus on one day at a time, one practice at a time. If we come to the rink every day and work hard in practice, I think it's going to carry over into the game."
If the Friars do fall short, it won't be for lack of effort. The team's tireless commitment and motivation is what is driving their success this season, and Boquist said it's a bit hard to overlook the connection between the team's drive and this season's success.
"I don't think it's a coincidence," she said.
She's hesitant to characterize this team differently because it would inherently imply previous squads didn't live up to the same level, but for Boquist, that everything in Providence is coming so easy right now is what makes the season feel like it could be something special.
"Everyone is very motivated," said Boquist. "It's easy to come to the rink and work hard and be the best you can be. It's easy to put in the work and do all the stuff that you wouldn't normally want to do just because everyone wants to be great and wants to be the best that they can possibly be, on and off the ice. The personnel, the culture is almost more motivated and more close-knit. The team is very close-knit this year, and I think that plays a huge role in whether your team is successful. We have a good team behind us. We're just a confident team. We trust each other on the ice, and I think that plays a huge role."
Freshman Maureen Murphy leads the Friars with 14 goals. The rookie has been able to take on a larger role due to injuries, and she's picked up her development to meet the team's needs. It doesn't surprise Boquist that Murphy and the rest of the younger players have more than adequately filled the roles the team needed them to fill, but she is, nonetheless, impressed.
No matter what has been asked of the 14 underclassmen on Providence's roster, they've delivered. Murphy said that the significant minutes the younger players have needed to log on the ice haven't been easy, but they have helped the team to build a chemistry that usually doesn't exist as early in the season as they had it.
The whole thing has a surreal quality for both players. For Boquist, it's surreal to imagine the 6-25 team she was on her freshman year is now a serious contender for an NCAA bid. Murphy is having a difficult time wrapping her head around the fact that not only does she get to dress for a top-10 team day in and day out, but she gets to contribute. It's something she hoped would be the case, but never let herself expect.
Though Murphy's offensive output has been a huge factor for the Friars, especially short-handed, she's already learned that focusing on whether or not she gets on the score sheet is a recipe for disaster.
"I think if you were to focus on points, you'll drive yourself insane. You can play well and not get a point. (It's important to be) just contributing in any way possible. It doesn't necessarily have to be a goal."
Though every coach wants to focus only on the next practice, the next shift, the next game, it's impossible for the Friars not to be peeking ahead at the schedule and watching what happens in the rankings each week. Instead of ignoring the possibility, Murphy said the team has discussed the stakes of the next few weeks of the regular season.
"We talked about how one game can jeopardize your chances. You either have to win Hockey East, or be high enough in the PairWise to move on," she said. "We've definitely discussed it, but at the end of the day, you can't think about that without winning every shift in every game. That's been our main focus. If you don't win the game now, it doesn't matter (what happens) at the end of the season."