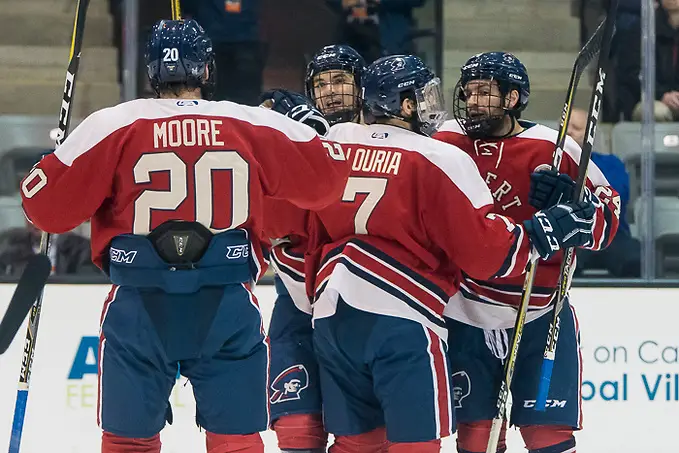 Thanks to some scheduling quirks, Robert Morris is in the middle of a stretch where it will play one game in 19 days.
And if you include the holiday break, Derek Schooley's team plays just three games in 30 days.
That's a pity, because the Colonials, which got off to a slow start (5-11-1), have put together a 3-1 streak that includes a close 2-1 loss to No. 11 Providence in the title game of the Three Rivers Classic, hosted by RMU at downtown Pittsburgh's PPG Paints Arena.
"I thought we played pretty well in the second Penn State game (7-4 loss on Dec. 9)," said Schooley. "And we followed that up with two good performances (in a sweep of) Mercyhurst."
The Colonials then dominated Lake Superior State 5-0 in the semifinals of the Three Rivers Classic before falling to Providence in the championship. RMU was denied its third consecutive Three Rivers Classic title, but Schooley said his team is optimistic coming off the loss.
"Our belief in ourselves is pretty high," he said. "We believe we can play better and start to get to where we need to be at the right time. "
Bright spots have included the play of a trio of forwards who have already reached the 20 point plateau this season: senior Brady Ferguson, junior Michael Louria and sophomore Luke Lynch.
Louria, a transfer from UMass Lowell, is second on the team with 22 points, including nine goals.
"We noticed his skill last year when he sat out, not knowing how it would translate in games versus practice," said Schooley. "But right away, he's done everything we've asked. We asked him to win battles, he wins battles. We asked him to back check, and he's done that. We've asked him to produce, and he's done that. He's answered the bell every time."
Ferguson leads the team with 11 goals and 27 points. He's currently at 145 career points, 11 shy of the program record of 156 set by Zac Lynch in 2016.
"Brady has been so consistent for us," said Schooley. "Through it all, he's gone from being a young guy on a team with a lot of talented players to stepping out of their shadows and making this his team."
Luke Lynch, Zak's younger brother, is making his own mark as well, with a team-leading 12 goals. He's actually slightly ahead of Luke's pace with 40 points in 58 career games, while Luke, who got off to a slower start his rookie year, had 37 points in his first 40 contests.
"It's unfair to compare them," said Schooley. "They're different people. They're each good players in their own right. Luke is creating his own path."
Once the Colonials get back into a consistent schedule, they'll play six straight weekends of conference games in a sprint to the finish.
"We know with this league, usually only getting one team in the (NCAA) tournament, that it's not a marathon where you get rewarded for winning 20 games. It's a sprint. It's playing your best hockey down the stretch, and have your game where you want it to be.
"We've won over 20 games four of the last five seasons, and the one year we didn't win 20 (19 in 2013-14) was the time we went to the NCAA tournament."
There are parallels between this season and 2013-14, when the Colonials caught fire in the second half of the season and went on a run culminating in a conference title and a ticket to the dance.
"That's been brought to my attention," said Schooley. "There are a lot of similarities between that season and this one, but we've got a long way to go."
One and only
As Schooley mentioned, winning 20 or more games doesn't guarantee an Atlantic Hockey team an at-large berth in the NCAA tournament.
Robert Morris posted win totals of 20 (2012-13), 24 (2014-15 and 2015-16) and 22 last season, but lost in the AHC tournament each time and was sent packing.
The only at-large bid the league has garnered was in 2013, when Niagara (23-10-5) finished high enough in the Pairwise Rankings to get in.
Success in non-conference games is key to a high PWR ranking, and the league continues to struggle, currently at 20-40-6 with just one non-league game remaining on the schedule . Canisius is the highest Atlantic Hockey team in the current rankings, but is only 26th. That means the AHC will again be a one-bid league.
On the bright side, the league is guaranteed to beat last year's non-conference record (.338) and every team but one has at least one non-conference win this season, including eight victories over ranked teams. The exception? First-place Canisius, which didn't win a non-league game, but tied Colgate and St. Lawrence.
Strangely enough, the teams currently near the bottom of the standings have fared far better in non-conference play. The bottom four teams (Mercyhurst, Bentley, Air Force and Sacred Heart) are a combined 13-11-3, while the rest of the league is 7-29-3.
Weekly Awards
Here's what the league came up with this week:
Player of the Week –Derian Ploufffe, Niagara:
The senior had four points (two goals and two assists) to help the Purple Eagles stop a four game slide with a win and tie against Rochester Institute of Technology. Plouffe now has 25 points on the season, tops on his team and fourth overall in the conference.
Goalie of the Week — Stefano Durante, American International:
The freshman led the Yellow Jackets to their first sweep of Holy Cross in program history. Durante stopped 44 of 47 shots in the pair of victories. He leads the conference in goals against (2.05) and is fourth in save percentage (.915).
Defensive Player of the Week — Niko Kovachis, Niagara:
The junior blueliner had a goal and an assist for the Purple Eagles, who claimed three points against visiting RIT. Kovachis has seven points on the season, including a pair of goals.
Rookie of the Week — Marc Johnstone, Sacred Heart:
Johnstone had a goal and assist in a tie with Army West Point. He now has seven goals and 17 points, both league bests for rookies.