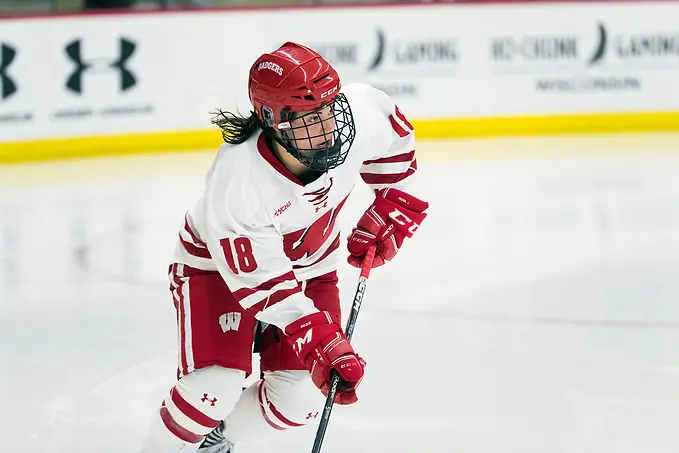 Union gave Nicole another game back on me last week, though neither of us did well. I went 12-9-1 (.568), while Nicole went 13-8-2 (.613). On the year, I am 211-77-42 (.703) while Nicole is 205-83-42 (.684).
Friday, Jan. 12
Rensselaer at No. 3 Clarkson
Candace: I don't see Clarkson having much difficult here. Clarkson 4-1
Nicole: This should be an easy win for Clarkson. Clarkson 5-2
Harvard at No. 4 Colgate
Candace: Harvard is still inconsistent, and Colgate hasn't been suffering losses to teams it should beat. Colgate 3-1
Nicole: Harvard has improved, but the Raiders should prevail. Colgate 3-1.
Dartmouth at No. 6 Cornell
Candace: Do the Big red get back on track? Against Dartmouth, yes. Cornell 2-1
Nicole: The Big Red have slipped back a bit, but a win here should help. Cornell 3-0
Brown at Princeton
Candace: Princeton seems to have awakened in the second half. Princeton 3-1
Nicole: Princeton takes this. Princeton 3-1
Yale at Quinnipiac
Candace: Quinnipiac has shown itself to be improving, and the Bobcats are at home. Quinnipiac 3-2
Nicole: The Bobcats could use the boost this win should give them. They take this. Quinnipiac 4-1
Union at St. Lawrence
Candace: The Saints had a poor loss last week, but I think they regroup. St. Lawrence 3-1
Nicole: St. Lawrence wins. St. Lawrence 3-1
Friday-Saturday, Jan. 12-13
RIT at Mercyhurst
Candace: The Lakers are becoming a real threat to return to the NCAA tournament. Mercyhurst 3-1, 3-1
Nicole: Mercyhurst is in need of every conference point they can nab and they should be able to handle RIT here. Mercyhurst 4-2, 3-1
Penn State at Lindenwood
Candace: While some series are easy to pick, this one is perhaps the hardest. Lindenwood 2-1, Penn State 2-1
Nicole: Both of these teams surprised me last week. I'll pick a split, so I think the whole weekend is a toss-up. Lindenwood 3-2, Penn State 2-0
No. 2 Boston College vs. Northeastern (home-and-home)
Candace: Northeastern is not having a good year by its standards, and BC's offense is too strong. Boston College 5-3, 5-2
Nicole: There's not much that's been able to trip up BC this year. I'm not sure Northeastern has the firepower to match BC, even if they can get to that defense. I'll pick BC to sweep. Boston College 5-3, 4-1
No. 7 Providence vs. Boston University (home-and-home)
Candace: I keep expecting the Terriers to do better, but they haven't. Providence 3-2, 4-2
Nicole: This should be a series sweep for Providence. The Terriers just haven't shown that they can match what Victoria Bach is doing, and she can't do it alone. Providence 3-1, 2-0
Bemidji State at Minnesota Duluth
Candace: This is the second-hardest series to pick. The last time out, these two split in Bemidji. That probably happens again. Minnesota Duluth 2-1, Bemidji State 2-1
Nicole: These have been some of the most fun games of the past few years. I'll take a split here, with Duluth winning at home in game one and Bemidji winning game two. Minnesota Duluth 2-1, Bemidji State 3-2
Vermont at No. 5 Minnesota
Candace: The Catamounts can hang with teams, but I don't think they have quite enough. Minnesota 4-2, 4-2
Nicole: The Gophers looked to have been getting things on track before the break, though Vermont has definitely surprised teams who weren't ready for them in recent years. I'll pick a Minny sweep, but would not be unsurprised to see Vermont steal one here. Minnesota 4-2, 4-3
No. 9 Robert Morris at No. 8 Ohio State
Candace: Two teams that are completely struggling of late. These two split last month. I'm going out on a limb here. Ohio State 4-2, 3-2
Nicole: Both of these teams could do with a show of dominance and a boost of confidence, but I'm not sure either has the ability to totally overcome the other. I'm picking a split. Robert Morris 3-1, Ohio State 2-1
Saturday, Jan. 13
Union at No. 3 Clarkson
Candace: The Golden Knights look golden this weekend. Clarkson 4-0
Nicole: Clarkson gets another weekend of wins with a victory over Union. Clarkson 4-0
Dartmouth at No. 4 Colgate
Candace: Again, Dartmouth had a good weekend last time out, but they aren't improved enough to match the Raiders. Colgate 3-1
Nicole: Colgate wins. Colgate 3-0
Harvard at No. 6 Cornell
Candace: Harvard could spring the upset here, but I'm picking home ice. Cornell 3-2
Nicole: Cornell wins. Cornell 4-3
Yale at Princeton
Candace: The Tigers get critical points in the playoff race. Princeton 3-2
Nicole: Princeton wins this Ivy League battle. Princeton 3-1
Brown at Quinnipiac
Candace: I see the Bobcats keeping pace with the other teams. Quinnipiac 3-1
Nicole: Quinnipiac wins. Quinnipiac 3-0
Rensselaer at St. Lawrence
Candace: A potential upset game, but I like St. Lawrence at home. St. Lawrence 3-1
Nicole: St. Lawrence gets a weekend full of wins with a victory here. St. Lawrence 2-0
Saturday-Sunday, Jan. 13-14
Minnesota State at No. 1 Wisconsin
Candace: This is one of the easiest series to pick all weekend. Wisconsin 4-1, 4-1
Nicole: Should be a an easy series for the top-ranked Badgers, especially in front of a sold-out crowd. Wisconsin 4-0, 4-1
Connecticut at New Hampshire
Candace: The mid-tier of Hockey East can torture me. I'll go with the home ice sweep. New Hampshire 3-2, 3-2
Nicole: Huskies still haven't found a conference win, but I think they could get one here. I'll pick a split. New Hampshire 3-1, Connecticut 2-1
Tuesday, Jan. 16
Boston University at New Hampshire
Candace: The Terriers look to have fallen back to Earth after a hot stretch. New Hampshire 3-2
Nicole: I'm taking New Hampshire. New Hampshire 3-2
Syracuse at No. 4 Colgate
Candace: Syracuse shows signs of coming alive, but it won't be enough against the Raiders. Colgate 3-1
Nicole: Colgate wins this one. Colgate 4-2
Harvard at No. 2 Boston College
Candace: Harvard always gets up for this game, but it won't be enough. Boston College 5-2
Nicole: BC beats their crosstown rivals. Boston College 5-2