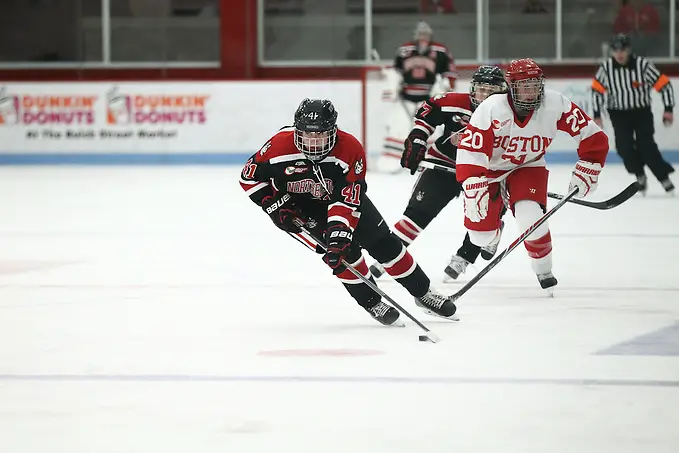 Arlan: Over the weekend, teams ranked No. 2, No. 5, and No. 7 lost to unranked opponents. No. 9 Robert Morris was swept, but those losses were to No. 8 Ohio State.
In terms of the impact of what it may mean going forward, I'd say that the most significant result was No. 2 Boston College's 5-4 loss to Northeastern. The Eagles remind me a bit of the Miami Dolphins team that Dan Marino took to Super Bowl XIX. With Marino throwing touchdown passes at will, the Dolphins looked unstoppable, and they were, right up until they met the San Francisco 49ers in the championship. The Eagles have three of the top four scorers playing Division I schedules in Daryl Watts, Caitrin Lonergan, and Makenna Newkirk. They have the highest-scoring defenseman in Toni Ann Miano. But with all of that firepower, it took overtime plus four goals from Miano just to gain a come-from-behind split with the Huskies on Saturday.
There looks to be a considerable gap between the rest of the field and the top four teams: Wisconsin, BC, Clarkson, and Colgate. None of those teams can match BC's scoring punch, but each is considerably better defensively. Can the Eagles defeat any of those teams by simply outscoring them? Yes, I believe that is definitely something that they can do. However, given that they allowed four goals in each game to a a Northeastern squad that averages less than three per contest, it looks like the Eagles may have to win at the Frozen Four by triumphing in a scoring contest. Perhaps they will. None of the Badgers, Golden Knights, nor Raiders will have faced an offense anything like BCs. It may come down to who can best finish their chances, because when I've watched BC games, both teams have plenty of scoring chances.
Do you have a comparison for this season's Eagles that is a bit more relevant to women's college hockey than the one that I used?
Candace: I'm not sure if it's completely relevant, though there were men's teams in the early to mid '90s that scored in bunches that ultimately failed to win the most important contest. I think you could in some ways compare BC to prior BC teams. Two years ago, the Eagles only lost one game, the national championship to Minnesota, That team had a dominant offense with players like Alex Carpenter and Hayley Skarupa, and they were better defensively than this edition of the Eagles. However, as the playoffs loomed, BC had more and more trouble scoring. Teams tighten up defensively as the season progresses, and scoring becomes harder to come by.
I've wondered for months whether Watts, Lonergan, and Newkirk can continue to score at the pace they have. They seem to be doing so, but BC's defense is just not good. I supposed you can't fault the Eagles too much on that front; any team would struggle with three of its normal starters playing in the Olympics.
I think we may also be not giving enough credit to Northeastern. This is the team, after all, that hung the only loss of the year so far on Wisconsin. Northeastern reminds me of Denver on the men's side a little: talented, gets up for the big games, but sometimes struggles against teams it should beat. Northeastern has performed poorer on that front than Denver though. I wonder if this win can jump-start the Huskies, but I wondered that after they beat Wisconsin, and it didn't seem too.
Sometimes the first few games after the break are a struggle. That was the case in Minneapolis. Sidney Peters was dreadful in net Friday against Vermont in a 4-2 loss. The next night, Minnesota was flirting with disaster again before an outburst in the third. What did that series tell you about Minnesota?
Arlan: Primarily that the dreadfulness in that game extended beyond Peters. The only game in recent memory where the Gophers have found themselves in such a deep hole with so much hockey remaining was the 8-2 debacle in their trip to Madison last season. That contest was different in that the Badgers ran over them like a runaway freight train. Vermont was up 4-0 with almost half the game remaining, having scored on half of its eight shots, and Minnesota clearly had no idea of what to do next. The players looked like they were trying to score four goals on every shift. It wasn't that they weren't trying, but there looked to be more panic than urgency, and the result was that they kept losing all of the one-on-one battles. It wasn't until they had to kill off a five-minute major as the third period waned that they got back to playing effectively and scored a couple of times for a 4-2 final.
What caused the struggles? Maybe it is the pressure of trying to perform in front of the home crowd. After Friday's loss, the Gophers were an imperfect .500 at home, 6-6-2, despite being winning all 10 of their road games. Perhaps it is easier to just focus on the job at hand with fewer distractions when they're away.
Another factor is that I'm not sure who the leader of this team is. Sydney Baldwin and Cara Piazza are the captains, but can they get their teammates back on track when things go off the rails? As a senior, former Gopher Sarah Davis confessed to me that as a rookie she was intimidated by teammate and future captain Jen Schoullis. That might not be all bad, to be a little in awe of your captain when she's trying to lead you. So much of the core of the current Minnesota team is made up of underclassmen, or transfers like Nicole Schammel, who may not feel it is their place to be telling everyone else what is what.
Minnesota misses the two points a game that Kelly Pannek brought to the table, but more than that, they miss her presence at the top of the line chart. At least offensively, it was Kelly Pannek's team, at least when Dani Cameranesi was out. I haven't seen a similar leader emerge this year.
However, there were two teams on the Ridder Arena ice, and the Friday result can't be understood by looking solely at the Gophers. Vermont played a terrific road game, made the plays they needed to make, and deserved the victory. Coach Jim Plumer said people would look at the box score, see that his team only had 11 shots on goal, and think the result was a fluke when it was not. I think that he was both right and wrong. Was it a fluke that the Catamounts defeated Minnesota? No, their victory over Clarkson hinted at their potential, and they went toe-to-toe the week before with a ranked Providence squad. But scoring four times on eight shots, some of which weren't all that threatening?
We've discussed before how Hockey East might shake out behind probable winner BC. I gained some insight from watching Vermont and chatting with Plumer, but have recent results given you any more clarity about that conference?
Candace: Not really. I had thought BU might have turned a corner when the Terriers came on strong in December, but recent results seem to show that BU, like everyone else, is talented but inconsistent.
I still think Providence is a top squad. They rebounded nicely Saturday after losing to BU Friday. The Friars skate well and have good scoring. They'll get home ice for the first round.
After that, it's anybody's guess. Maine has been much improved. UNH had looked good, but got crushed by BC two weeks ago and just split with UConn, a team I think should have a better record than it does.
Obviously too Northeastern is a team to watch. If the Huskies can get to the Hockey East championship game and an NCAA berth is on the line, I wouldn't bet against them, which will have whatever team is seventh in the PairWise very nervous.
Ohio State got back on track with a sweep of Robert Morris, a team that seems to be in trouble. What's your take on the Colonials and the CHA right now?
Arlan: Add the CHA to the list of leagues where it looks like the gap is shrinking. Mercyhurst, Penn State, and Lindenwood all look to be better than they were last year. Syracuse, the conference runner-up in March, has fallen back to the pack, and defending champ RMU sits in second by a point.
In the wake of the Colonials getting swept by the Buckeyes, it looks fairly certain that none of the CHA teams will be getting an at-large berth. Robert Morris already has more losses than the five it suffered all of last year. Admittedly, four of those have come outside the conference, including three to OSU alone, but the Colonials are also behind their pace of last season within the circuit. What has changed? I'm sure that veteran goaltender Jessica Dodds has been missed to an extent. Current senior Elijah Milne-Price has far fewer games on her career resume, and her save percentage is a bit lower, but her goals-against average is roughly the same as what Dodds wound up with last season. Likely, the opponents are a little better this time around.
The CHA is the only conference thus far that has given us the unlikely result of a last-place team winning its championship. While RIT has not hinted at being on the cusp of such a shocker this season, it wouldn't stretch belief a whole lot to spin a scenario where any of the other five teams would emerge on top and advance to the NCAAs.
Mercyhurst, in particular, looks to be finding its footing. After winning only twice in its first 12 games — half of which were versus teams ranked in the current top five, the Lakers went 8-4 over the next dozen. Michael Sisti has often tried to load up his team's nonconference schedule in the hope that it will hone it for league play, and one certainly can't argue with the results over the years. He doesn't have a Brittany Howard type at the top of his line chart; none of the Lakers average a point a game. However, Mercyhurst only allowed 12 goals in its first pass through the league. If the Lakers can remain just as stingy, they won't have long to wait for their next championship.
I'm going to go with the Defense Wins Championships theory in the CHA. Do you think that RMU's slightly-better offense will make the difference, or do you see the winner coming from another direction?
Candace: At this point, I'm leaning the same way you are. I don't think Robert Morris has had the same confidence since the loss to Mercyhurst in December. The Lakers have always been THE team in the CHA, While some other teams have gone to the NCAA tournament since the conference got its autobid, it's always felt like teams need to overcome the mental hurdle of Mercyhurst. With the Lakers demonstrating that they are indeed, going to make a race of it, I think that mental challenge teams face in overcoming the Lakers may get Sisti's team back to the top.
We haven't really discussed the ECAC yet; the favorites all won over the weekend, but the team I think we need to keep an eye on is Princeton. The Tigers are suddenly hot, and I think they could make a big push for home ice. Regardless, I think Princeton is going to be a dangerous team in the ECAC playoffs. The personnel were all there; I think perhaps some of the inconsistency in the first half was the team adjusting to a new coach.
What is your opinion on Princeton right now?
Arlan: It looks like the Tigers may have turned a corner over the break. They've gone 4-1-1 since resuming play. Their low point came at the end of November when they were swept at Merrmack to sink to 2-7-3. It's understandable if Princeton wasn't quite sure of its own identify at the start after 21 seasons with Jeff Kampersal at the helm. At least it isn't like Cara Morey is a stranger to the program, having been on Kampersal's staff for the last six seasons.
You mentioned Princeton's having the personnel to win, but Kampersal wasn't the team's only loss. It graduated three of the team's top five scorers, including Kelsey Koelzer, who garnered all sorts of recognition as a Tiger, including ECAC Defensive Player of the Year, First-Team All-American honors, and a nod as a Patty Kazmaier Top 10 Finalist. Junior Karlie Lund currently leads the team in points, as she did as a frosh and again as a sophomore, but for the first time in her career, she's producing less than a point per game. Goalie Steph Neatby hasn't matcher her performance from her rookie season either, although she set the bar very high, to be sure.
A bigger concern in terms of numbers may be skaters rather than points. The Tigers have only been dressing 14 skaters in recent games. Everything gets more challenging when the numbers dip that low. There's no margin for error if a couple more players get injured or become ill. It's difficult to even run a full practice. If Morey can not only hold the team together but keep it improving through these challenges, then perhaps Princeton has discovered a coach that can lead the program through the next couple of decades.
As for earning home ice, the numbers are against the Tigers on that front. They only have six ECAC games remaining, while all the teams above them, save Quinnipiac, will play 10. They will be favored in four of those games, so it is at least possible that they could find themselves hosting, but they'd need some help regarding how things play out for other teams.
A bigger surprise to me is that Rensselaer currently holds the league's final playoff spot, despite garnering but a single point in its last six league contests. What do you think: can the Engineers run their string to three straight postseason appearances?
Candace: I don't see why not. Yale has been inconsistent, though Yale does have a more favorable schedule with two games against Brown and one against Dartmouth. Rensselaer meanwhile, has two games against Union, which these days are not guaranteed wins. I don't see Dartmouth getting hot enough to move into consideration, so that last spot is going to be a battle between Rensselaer, Union, and Yale.
Rensselaer has had more consistent results against its remaining opponents in terms of close losses, and does have a win over Princeton earlier. The Engineers could really help themselves by sweeping the home-and-home with Union at the end of the month. If they split, then it becomes more wide open. RPI has good goaltending in Lovisa Selander, and that may be enough for them to overcome the lackluster scoring from their forwards. They also play pretty good defense in front of Selander. Someone has to finish eighth, and I think the Engineers just might.
Speaking of the Dutchwomen, I really would like to see them get the last spot instead of RPI. They've shown improvement over the last year, and given some of the struggles of that program in recent seasons, including not winning a game one year, I'd love to see them make the playoffs because I think it would be a major step forward and help them continue to improve. When I look at their schedule, they have the Colgate/Cornell travel pair twice, two against RPI, a weekend with the Dartmouth/Harvard travel pair, and then Princeton and Quinnipiac, whom they lost close games to. It's just possible the Dutchwomen could win enough to jump into that final spot. Coco Francis provides a solid presence in net, and that can go a long way. The team still doesn't get enough scoring; their two leading scorers average .625 points per game. The Dutchwomen may be one more recruiting class away from the playoffs, but it's good to see that program developing under Josh Sciba.
Seeing program turn themselves around is always good. Speaking of, how about Maine? A year ago, the Black Bears didn't even make the Hockey East playoffs. This year, they are third in Hockey East and look to have a home ice spot locked up for the playoffs. Further, they are currently eighth in the PairWise, and could play themselves into the NCAA tournament if things fall the right way. Even with last year's rookie of the year, Tereza Vanišová, I am surprised at how well the Black Bears are going.
Arlan: I think we've all had trouble sorting out which team comes next after BC in Hockey East, so I asked Plumer his thoughts, given he actually gets to see these teams. He is very high on Maine.
In the past, I've observed that there was a sizable drop-off between Maine's top-line kids and those toward the bottom of the rotation, but Plumer thinks that the Black Bears' depth has markedly improved. If that's the case, then maybe they can skate with a team like BC well enough to at least have the hope of pulling an upset. Because beyond the depth, Maine has a lot of the pieces in place that a team needs to be successful.
Vanišová has backed up her point-a-game freshman campaign with an even better sophomore season, piling up points at a rate that is 60 percent higher. She has an effective running mate in senior Brooke Stacey, who produces a point per game herself. Coach Richard Reichanbach isn't reluctant to look outside his backwoods for talent; the Maine roster looks like something Shannon Miller would have put together in her heyday.
Vanišová is one of three players from the Czech Republic, and there are also representatives from Austria, Denmark, Norway, Russia, Sweden, three Canadian provinces, and five U.S. states, including two from Maine. All that diversity includes a core of four defensemen at or near double digits in points. Carly Jackson capably backstops the team with a .927 save percentage and a 1.78 goals-against average.
Added together, only 10 teams from the D-I conferences score more than the Black Bears do, and only four are more effective defensively. The numbers, including the seventh-best winning percentage, start to look more and more like those of a contender for the national tournament and less like a team that is rising up the Hockey East standings by accident.
The Black Bears currently sit at No. 8 in the PairWise, a spot that has no value given a CHA must advance. If Maine is to move up into the top seven and secure an at-large bid, at whose expense would it most likely do so?
Candace: It's either Cornell or Ohio State, because with the CHA getting an autobid and Robert Morris the current highest team at 12, whatever team wins that conference is eighth. Cornell is currently seventh in the PairWise, and Ohio State sixth.
Cornell rebounded from dropping two decisions the weekend before tow win twice over Harvard and Dartmouth, though giving up three goals to the Crimson isn't exactly a good win. The Big Red get good goaltending from Marlene Boissonnault, who has a 1.96 GAA and .922 save percentage, but the scoring is a little iffy. Kristin O'Neill averages 1.5 points per game, but after that, the next highest scorer is Madlynne Mills with a .900 points per game average, and then the next person after that is Jamie Bourbonnais with .687. If a team can shut down O'Neill, they've got a good chance to win. Cornell's schedule is pretty favorable down the stretch, with two games each against union and Rensselaer and another series against Harvard/Dartmouth, plus Syracuse, Yale, and Brown. Those are all games the Big Red should win, so if they can avoid any losses there, they'll probably still be high enough in the PairWise that Maine would need to beat Boston College and win Hockey East to get into the NCAA tournament.
Ohio State meanwhile, had been limping along prior to sweeping a reeling Robert Morris over the weekend. The scoring from freshmen Emma Maltais and Tatum Skaggs is a little down from where it was when the season started, but still over a point a game for each. Kassidy Sauve is again a rock in net with a .929 save percentage and 2.15 GAA, though the latter is the highest it's been in her career, but not by much.
The Buckeyes host a hungry Minnesota team this weekend. As you mentioned earlier, the Gophers have been much better on the road, and they will be eager to avenge the loss and tie/shootout loss they suffered to the Buckeyes back in October. Losing to Minnesota won't really hurt Ohio State in the PairWise. The Buckeyes need to avoid losing to teams like Minnesota Duluth, Bemidji State, and Minnesota State down the stretch. If they can, Ohio State will also likely be in, and Maine would again need to win the Hockey East tournament to knock someone out.