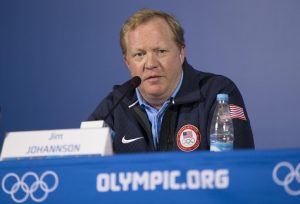 Jim Johannson, assistant executive director of USA Hockey and the general manager of the 2018 U.S. Olympic men's hockey team, passed away in his sleep early Sunday morning at his home in Colorado Springs.
Johannson, 53, had a life-long career in hockey and was one of the most accomplished and respected people in the sport.
Those who knew Johannson knew that he bled red, white and blue, never more apparent than recently when he individually called each every member of the upcoming U.S. Olympic team to notify them of their selection.
"I've had a lot of fun at USA Hockey but one of the most fun days I've had was calling fifteen or sixteen guys early one morning from my house to tell them they were on the 2018 Olympic team. And the second time was telling the last few guys that they made the team," said Johannson. "It meant so much to me that I got to call those guys and tell them that they were going to represent us. I know how much it meant to those players at this point in their careers. I know they will represent us well."
The USA Hockey community, understandably, is emotional losing one of their best leaders.
"We are beyond shocked and profoundly saddened," said Pat Kelleher, executive director of USA Hockey. "As accomplished as Jim was in hockey, he was the absolute best, most humble, kind and caring person you could ever hope to meet. His impact on our sport and more importantly the people and players in our sport have been immeasurable. Our condolences go out to his entire family, but especially to his loving wife Abby and their young daughter Ellie."
Johannson came to USA Hockey in 2000 after spending five years as the general manager of the Twin Cities Vulcans, a Junior A team in the United States Hockey League. Under his guidance, the Vulcans captured the 2000 USA Hockey Junior A National Championship in Green Bay, Wisconsin.
Johannson began his career at USA Hockey as manager of international activities and U.S. Olympic Committee relations, was promoted to senior director of hockey operations on August 5, 2003, and on June 25, 2007, assumed the position of assistant executive director of hockey operations, where he had oversight of all in-sport related initiatives, including USA Hockey's efforts in putting teams on the field of play for international competition.
Among the numerous accomplishments during his tenure, among the most significant were capturing 64 medals in major international competition, including 34 gold, 19 silver and 11 bronze; the launching and implementation of the highly acclaimed American Development Model; and securing USA Hockey Arena in Plymouth, Michigan, as a home for all U.S. teams to utilize.
"Jim's positive influence was enormous and will be felt for generations to come," said Jim Smith, president of USA Hockey. "He was widely respected across the world and his genuine nature helped advance our sport in so many ways.
"Today, we are a medal contender every time we put a team on the ice for international competition, and he played a major role in helping us get to that point. Our heartfelt condolences go out to his entire family. It's a sad day for all of us."
"There are few like Jimmy," said Ron DeGregorio, chairman of the board of USA Hockey. "Our sport was so lucky to have him. He was as good of a person you'll meet and he played such a significant role in helping move our sport forward. Today is a tough day for everyone. To Abby and Ellie and the entire Johannson family, our thoughts and prayers are with you today and always."
Johannson played college hockey at Wisconsin from 1982 to 1986 and helped the Badgers capture the NCAA title as a freshman. He was selected by the Hartford Whalers in the seventh round (130th overall) of the 1982 NHL Draft and went on to play 374 games of professional hockey between 1987-94 in the International Hockey League where he registered 279 points, including 119 goals.
"On behalf of the Western Collegiate Hockey Association (WCHA) and our member institutions, we are profoundly shocked and deeply saddened to learn of Jim Johannson's passing," said the WCHA in a statement. "He was a true ambassador for our game, whose indelibly positive impact and legacy of success, respect and – most importantly – kindness, will never be forgotten. Our heartfelt condolences, prayers and best wishes are with the entire Johannson family, and the University of Wisconsin and USA Hockey communities."
He twice played for the U.S. in the Olympic Winter Games (1988, 1992) and was also a member of the U.S. Men's National Team that participated in the 1992 IIHF Men's World Championship.