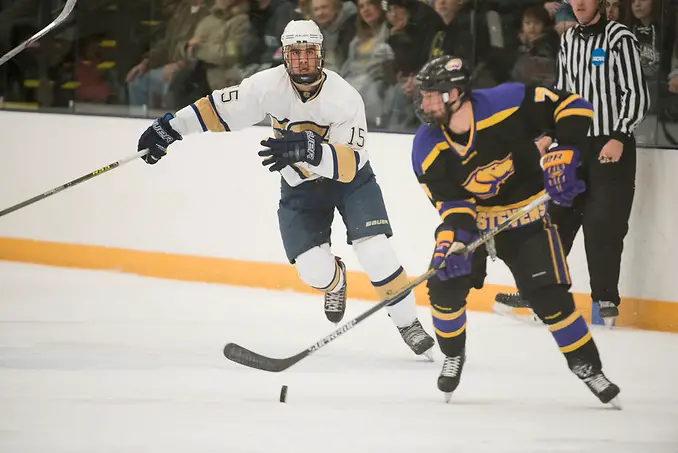 Roles change all of the time for hockey players. Wisconsin-Eau Claire's Jesse Tredinnick has embraced his new role quite well.
The senior forward has come through with six goals and six assists in the first 18 games and sits three points shy of matching his point totals of each of the first two seasons. His six goals are already as many as he scored all of last season.
"It's definitely a different role than in the past; I'm depended on more to score goals, and through the first half of the year, I've pulled through with that," Tredinnick said. "I've been in a slump lately, but I'm looking to bounce back in conference play and hopefully contribute to a WIAC championship."
The slump hasn't been easy for Tredinnick, who hasn't registered a point in a game since Dec. 2. Considering what he has done most of the year, it's a safe bet Tredinnick will get back into a groove. Slump aside, the Wisconsin native has made strides.
"When I started my career, I was more of a defensive zone guy, blocking shots and focusing on penalty kill," Tredinnick said. "As we've lost great scorers (to graduation), I've stepped into more of a scoring role, focusing a lot on the offensive zone and creating chances for myself and my linemates."
He focused a lot on the offensive side of the game in the off season, talking with his coaches about what he can improve on and developing a mentality of being a shoot first type of player. His ability to step up at any given moment is something he's applied to his role as a leader. Tredinnick is one of eight seniors on a team that has nine freshmen on the roster.
"I'm not a captain by any means, but I see myself as a lead-by-example kind of guy," Tredinnick said. "Putting up points is one of the ways I've helped lead the team."
Wis.-Eau Claire is 12-8 overall and 1-2 in the WIAC. The Blugolds hoped for more, and while everything hasn't gone as planned this season, they know a WIAC title is still very much within reach.
"The WIAC championship is still a goal," Tredinnick said. "We're not looking past that. We feel like we have a good shot of winning it if we can put together a nice streak here and go to the conference tournament and win it. It may even give us a shot at the national tournament. We're looking forward to seeing what we can do with this team."
Of course, life in the WIAC is never easy. Every game is a grind.
"I think it's one of the most competitive in the nation; there isn't anyone you can overlook," Tredinnick said. "You have to bring your best every night because you are going to get that from your opponent."
No matter how the remainder of the season plays out, Tredinnick is thankful for the opportunity he has had to play college hockey for the Blugolds.
"I love being a student-athlete. It's special and something I'll always cherish," Tredinnick said. "The experience has been unbelievable here. I've had a blast and will continue to have a blast as long as the season goes. It's an experience I'll never forget."
West Region notes
Lumberjacks make a statement
Northland stunned then No. 1 St. Norbert Friday night in an upset for the ages. The Lumberjacks jumped in front 4-0 and then held off a furious comeback attempt by the Green Knights.
A.J. Smith was instrumental in preserving the upset at home, racking up 45 saves in the Lumberjacks' first win over a ranked team this season.
Northland closed out the weekend with a convincing 6-1 win over Finlandia.
The Lumberjacks are 8-9-2 overall and 5-6-1 in the conference. They have been impressive on their home ice this year, fashioning a 5-2-2 mark.
Cardinals still in MIAC playoff hunt
Saint Mary's went into last weekend winless in its last five games. The Cardinals are back on track now after winning games against Concordia and Wisconsin-Stout. The wins are a positive sign for a team that has had a tough year. After winning 13 games a season ago, the Cardinals have managed to find the win column only five times this year.
Despite the struggles, the Cardinals are only three points out of the sixth and final playoff spot. They are 2-5-1 in the conference, and anything can happen in the always unpredictable MIAC.
Jay Heinle, Jack Stang, Jared Johnson, and Kevin Walz all have 10 points or more, and their ability to produce down the stretch will be the key to the Cardinals making a late-season push for the postseason.
Heinle leads the team with five goals and nine assists. Don't overlook Chad Cesarz either. He has nine points, including five off goals.