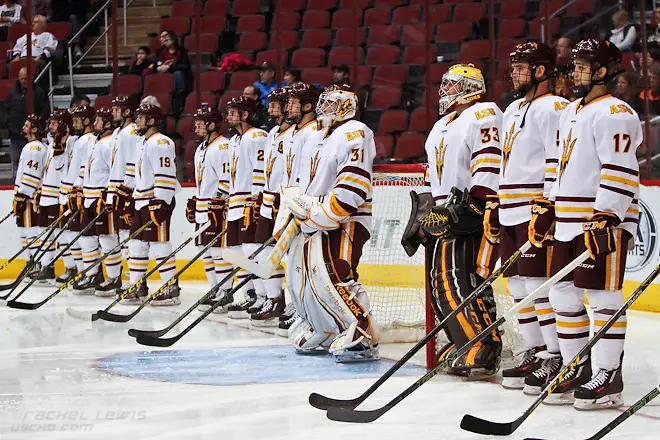 TEMPE, Ariz. — Arizona State took its first major step towards building a new, on-campus arena on Thursday when the Arizona Board of Regents Business and Finance Committee voted to approve an estimated $160 million project that would include construction of a 5,000-seat arena that the Sun Devils hockey team can call home.
As first reported on Thursday, the university asked for the funding to renovate the existing Wells Fargo Arena, the home of Arizona State basketball, and build next door a new multi-sports facility that would house the hockey team.
Arizona State coach Greg Powers, who recently hinted that a new facility might be imminent on a recent USCHO Live! episode, is not allowed to comment on the process at this time.
The university did issue a statement following Thursday's vote:
"ASU is in the early stages of considering options for upgrading and renewing its basketball arena, adding a multi-sport venue for our men's hockey, wrestling and women's gymnastics teams, and creating new opportunities for community involvement in athletics. Should the university receive approval from the Arizona Board of Regents, we will continue the planning phase of what will be a multi-year process. Until that process is completed, everything is preliminary. These plans do not anticipate that any taxpayer or tuition funds will be used for the project."
The final vote by the full Board of Regents is expected to take place on Feb. 8.