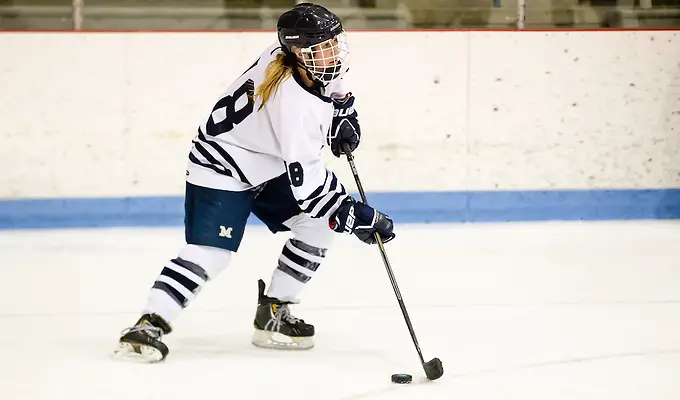 No. 4 Gustavus Adolphus vs. St. Mary's
Sydney Henrichs scored just 1:19 into the game to put the Gusties up 1-0 and Jesse Cwik answered exactly 17 minutes later. Two more periods and an overtime weren't enough to break the tie as the game ended 1-1. Gustavus responded with a decisive 5-0 win on Saturday. Ericka Power led the Gusties with a goal and an assist as five different players found the back of the net.
Concordia (Minn.) vs. No. 8 St. Thomas
After a scoreless first, Rachel Werdin put St. Thomas on the board first. Concordia responded with goals from Emily Goff and Amanda Flemming to take a 2-1 lead into the third. Allison Parnell brought St. Thomas even before Goff put Concordia ahead 3-2 with 15 minutes left in the game. Allie Borgstrom scored for St. Thomas with 5:38 to go in the game to earn the tie for the Tommies. On Saturday, it was all St. Thomas en route to a 7-1 win. Maddy Fielder and Rachel Werdin scored twice and Allie Borgstrom had four assists for the Tommies in the win. Amanda Flemming was the lone goal scorer for Concordia on Saturday.
No. 5 Middlebury vs. Hamilton
Elizabeth scored in the first to give Middlebury a 1-0 lead they'd carry into the third period. Janka Hlinka extended it to 2-0 before Andrea Rockey cut the lead in half for Hamilton. Jessica Young ensured the win with a late goal for Middlebury to make it 3-1. On Saturday, Maddie Winslow scored in overtime for Middlebury to earn the 2-1 win and weekend sweep. Rockey was again the goal scorer for Hamilton in the loss.
Becker vs. Endicott
Friday's game was scoreless into the third before Claudia Gee scored to put Becker up 1-0. Caroline Hughes responded five minutes later and the opening game in this series ended a 1-1 tie. On Saturday, Jillian Gibbs, Courtney Walpole, and Ashlie Jones each scored for Endicott in their 3-0 win.
Wisconsin-Superior vs. No. 7 Wisconsin-River Falls
Friday's game was an offensive shootout as the teams combined for 65 shots on goal and 12 goals — and all the scoring came in the first two periods. Wis.-River Falls took the lead early thanks to two goals from Hailey Nielsen and one from Madi Nolan, but Wis.-Superior responded. Saige Patrick and Kaleigh Martinson found the back of the net and it was 3-2 Wis.-River Falls after one. Patrick scored just :41 seconds into the second to tie the game. Payton Rudiger gave Wis.-River Falls the lead again less than two minutes later, and Jenna Curtis scored on a power play less than two minutes after that to make it a 4-4 game with only 23:48 of game time having passed. They traded goals one more time, as Wis.-River Falls' Maddy Illikainen and Wis.-Superior's Kelly Cockerill made it a 5-5 game. The difference maker was Wis.-River Falls' Erica Schramel, who scored twice in the final 3:13 of the second to make it 7-5 Wis.-River Falls. On Saturday, Wis.-River Falls outshot Wis.-Superior, 28-11, and five different Falcons scored to earn a 5-0 win and weekend sweep.