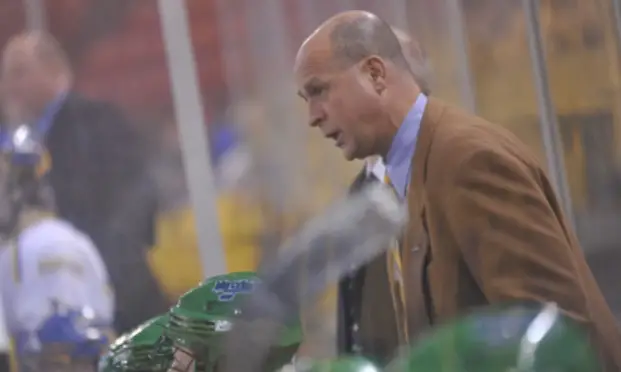 Mercyhurst coach Rick Gotkin enjoyed his weekend off.Thanks to an uneven number of teams in Atlantic Hockey, there's usually an odd team out. So the Lakers were idle last weekend, part of a stretch of 13 days without any action."It was nice," said Gotkin. "I got to take care of some things around the house, have a little down time. Watched the Super Bowl."But part of Gotkin wishes he was behind the bench, because his Lakers were on quite a roll before taking a break, currently riding a seven game unbeaten streak (5-0-2), second longest in the nation.That's moved Mercyhurst from the middle of the pack in Atlantic Hockey to sole possession of fourth place, just four points out of first with at least one game in hand on the three teams ahead of it."We would rather have played," Gotkin said. "But on the other hand, we had played a lot of hockey to that point. Playing at Army (the weekend before last) was physical, it was a grind."The Lakers came away with three points at West Point after a 2-2 tie last Friday and a 6-1 win the following evening."We've played pretty well last few weeks," said Gotkin. "I don't think we played poorly before Christmas, but there was certainly improvements that needed to be done and still needs to be done. Like everybody, we're a work in progress."That series with Army West Point had an added dimension. Mercyhurst senior Jack Riley and his brother, sophomore Brendan Riley, are the sons of Army West Point coach Brian Riley.Both played well in the rink that they grew up in, combining for five goals and two assists. Jack had a hat-trick on Saturday, probably his last collegiate game at his home town rink."I think there was a point that (playing against his father) was hard for Jack," said Gotkin. "It's such a cool but difficult dynamic. I think it's been a little easier for Brandon. I think the guy it's hardest on is Brian. When they're your kids, it's hard."Gotkin has a unique perspective as the coach that recruited the Rileys."I'm honored that Brian and Marybeth (Riley) trusted Mercyhurst," he said. "(Sister) Dani is here as well as a grad student and lacrosse coach."They're just a great family. They're hockey royalty and we all know that, but they're great, great people. The best part for me has been getting know the Rileys".The downtime also allowed Gotkin to more closely follow the story of former Laker goaltender Ryan Zapolski, the Erie native and former Mercyhurst goaltender (class of 2011) who will be playing for Team USA in the Winter Olympics in PyeongChang."He's here right now," said Gotkin. "He's been here working out on the ice every day. He's leaving for South Korea on Wednesday."Zapolski was a walk-on at Mercyhurst who won the starting role his sophomore season and moved up the ranks in pro hockey, eventually landing in Finland and becoming a top goalie in the Kontinental Hockey League with Jokerit."He's a unbelievable story," said Gotkin. "Forget the fact that he didn't play in the National Hockey League. He's from Erie (Pennsylvania), which isn't Minnesota, or Massachusetts, or upstate New York. He played high school hockey and then in the NAHL in Youngstown."He reached out to us. A hometown guy, wanted to stay in Erie, would like a chance."Zapolski started as a third-string practice goalie, waiting for his chance that eventually came. When he graduated from Mercyhurst, he had over 100 games under his belt."He just kept working. We were really excited in his development. Some guys are better pro players than college players and for whatever reason, Ryan just got better and better. And he was a very good college player."Gotkin says that when the NHL elected not to send players to the Olympics, Zapolski was an easy choice."He's been on (USA Hockey's) radar," he said. "He's played for the national team in some international tournaments. The folks in USA Hockey thinks he's the best goalie in Europe."It's exciting to see. (Zapolski) thrives on being a guy that no one really knows. We're proud that he started here at little Mercyhurst College."Just as Zapolski has flown under the radar, so has Mercyhurst this season. But the Lakers' play as of late is getting noticed. They'll be put to the test down the stretch beginning Friday when the Lakers will play five games in nine days."Everything is so tight in our league that you need to be playing well this time of year," said Gotkin. "We've played against some really good teams. Everyone we've seen from top to bottom has been good. It's going to be an exciting finish."
Hobey hopefuls
It's that time of year when Hobey Baker speculation begins in earnest. Will the list of ten finalists include any players from Atlantic Hockey?Here's the list of AHC players who have been Hobey finalists:2004 Reid Cashman, D, Quinnipiac2007 Eric Ehn, F, Air Force (Hobey Hat Trick finalist)2008 Simon Lambert, F, RIT2009 Jacques Lamoureux, F, Air Force2011 Paul Zanette, F, Niagara2012 Tim Kirby, D, Air Force2013 Carsen Chubak, G, Niagara2015 Matt Garbowsky, F, RIT and Cody Wydo, F, Robert Morris2016 Zac Lynch, F, Robert Morris2017 Charles Williams, G, CanisiusThere are three players who merit serious consideration this season:Dylan McLaughlin, Canisius: McLaughlin is currently tied for third nationally in points per game (1.44).Brady Ferguson, Robert Morris: The senior is tied for 11th nationally in points per game (1.32).Scott Pooley, Holy Cross: Pooley has 18 goals so far this season, tied for sixth nationally.My guess is that if McLaughlin can keep pace, he'll make the list of finalists. But overall it's been a down year for the league in terms of standout players, so it wouldn't be shocking to see Atlantic Hockey shut out of the race for the first time since 2014.Surprisingly, in a league known for goaltending, there aren't any goalies in the conversation this year. Holy Cross senior Paul Berrafato is having the best season in terms of save percentage: his .922 is seventh in the country.The best the league has to offer in terms of GAA are Air Force's Billy Christopoulos and American International's Stefano Durante. They're tied for 18th nationally at 2.35.
Here we go again?
Back in January, the government shutdown forced Air Force to postpone its Jan. 20 game against Sacred Heart. The plan is to make that game up on Feb. 13.The Falcons are at Bentley this weekend, and will stick around New England and play the Pioneers on Tuesday afternoon at Quinnipiac.That is, of course, unless there's another shutdown. The latest temporary agreement expires on Feb. 8. That would certainly wreak havoc on Air Force and the rest of Atlantic Hockey so close to the end of the season.Fingers crossed.
Weekly Awards
Here's what the league came up with this week.Player of the Week — Kyle Schmidt, Bentley:The senior had a five point weekend to lead the Falcons to a sweep of Rochester Institute of Technology. In Saturday's 5-2 win, Schmidt recorded his second career hat-trick. He now has 53 career goals.Goalie of the Week — Billy Christopoulos, Air Force:Christopoulos stopped 51 of 53 shots last weekend to help the Falcons to a win and a tie against AIC. He recorded his second career shutout on Friday, stopping all 29 shots in a 3-0 victory.Defensive Player of the Week — Eric israel, Robert Morris:The junior blueliner scored a pair of goals in the Colonials sweep of Sacred Heart. He currently has 15 points so far this season (four goals and 11 assists).Rookie of the Week — John Laurito, Army West Point:The freshman had four points in last Friday's win over Niagara. He registered a pair of goals and a pair of assists in a 6-2 win. Laurito now has three goals on the season, tops among rookies for the Black Knights.