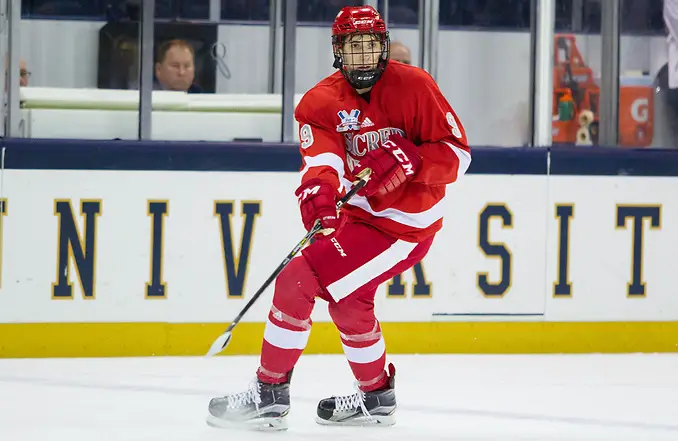 With a roster comprised of a large number of freshmen and sophomores, Sacred Heart head coach CJ Marottolo knew his Pioneers would face a season of opportunistic growth.
Winning was important, but the team needed to adapt and learn. His message stood steadfast, emphasizing to his team to get better today to have a better day tomorrow.
Two weeks away from the end of the season, the Pioneers are now starting to hit their stride, both on the ice and in their consistency. And thanks to a recent run of points, they're also back in the race for home ice advantage in the first round of the Atlantic Hockey postseason.
"I've been satisfied with our growth from the beginning of the season until now," Marottolo said. "We're starting to really find our consistency, and we're finding our template to win hockey games. At the beginning of the year, we had some wins but would be up and down. But now our team has been through a lot, and it's been great to watch that growth (as a team)."
If the Pioneers are finding their template, they're not afraid to put it on display.
Three weeks ago, a win over Bentley preceded a 2-1 victory over Air Force in Colorado in a series where the second game was postponed due to the government shutdown. This past weekend, a sweep win over Niagara put them right back into the playoff hunt, and Tuesday's makeup game win over the Falcons positioned Sacred heart for a late-season run at home ice.
"Niagara is a hard place to play, and we showed a lot of fight in our game," Marottolo said. "We showed a lot of character, which bodes well for us at this time of year. But now our goal is just to keep rolling."
It hasn't been by accident. Sacred Heart sought to build a complete team capable of winning complete team efforts, and in their recent wins, they've seen a number of different goal scorers. They've scored 20 goals over the stretch with 11 different goal scorers, and only Jackson Barliant and Kory Kennedy tallied multi-goal games.
In goal, Brett Magnus is very quietly becoming one of Atlantic Hockey's most dependable backstops. He made 30 saves or more in the victories over Air Force and Niagara, and the win over Bentley was his second 40-save performance of the season and third of his career. When he allows two or less goals, his team is 6-1, with the lone loss coming against Yale in a non-conference matchup.
"We've had good work ethic (as a team)," Marottolo said. "The guys have been playing with great enthusiasm. We've been very good on special teams. And our goaltender has made the key saves at the key moments when we've needed him to make them."
Atlantic Hockey is always tight packed because every team, at some point, makes its move against the rest of the league. With four games remaining in the regular season, it seems the Pioneers are now making their move, which would enable them to peak at exactly the right time.
"Any time you win, you gain some confidence," Marottolo said. "Especially in this league, it's really not how you start but how you finish. We really have only been focusing on ourselves and not worry about who is doing what in the standings. That's been helping keep our focus, especially because anyone can beat everyone within this league."
Sacred Heart hosts RIT this weekend on Saturday at Webster Bank Arena, with Sunday's game being played at Yale's Ingalls Rink. The Pioneers then head to Army West Point for the final weekend next week.
Gridlock
The Pioneers' win over Air Force on Tuesday only served to further muddy up the conference picture.
It pushed Sacred Heart over 20 points, meaning 2017-2018 is the first time in conference history every team has at least 20 points. Less than 10 points separate first from last place, and literally every place is still up for grabs.
Chris Lerch and I ran the numbers, and if our math is correct, the only team that's clinched a first-round home series is Canisius. Every other team, from second place Mercyhurst down to the bottom of the standings, can still finish anywhere from a first round bye through a first-round road series.
Seven teams – Canisius, Mercyhurst, Holy Cross, Robert Morris, Army West Point, Air Force and RIT – can still finish as high as first place. AIC and Sacred Heart can still finish as high as second. The only two teams facing elimination scenarios for a first round bye and a quarterfinals home series are Niagara and Bentley.
Things will shake out a little bit more this weekend. But at this point in time, we would be analyzing clinching scenarios. The truth is that it's almost impossible to look into it this point, but we'll look into things on Saturday after what shakes down on Friday night.
The Other Bench's Story
This weekend will be incredibly special at Bentley. The Falcons said goodbye last weekend to the John A. Ryan Arena, and the university is putting the finishing touches on the Bentley Arena in anticipation for its opening nights against Army West Point.
A building's opening night has a special kind of distraction for both benches. But it's worth noting that the Black Knights are no stranger to the circumstances. The Bentley Arena, after all, is the third new arena christened by the cadets in the last five years.
Back in 2013, Penn State skated by the Black Knights, 4-1, in the first game played at the Pegula Ice Arena. Three years later, Army tied Colgate, 2-2, to open the Class of 1965 Arena. Now they'll skate against a familiar Atlantic Hockey rival this weekend in the Boston metropolitan area.
It'll create a compelling storyline, especially since few teams had Army West Point's success in Boston. The Black Knights went 1-0-2 in their last three games in the building and have never been swept in a two-game series featuring back-to-back games at Bentley. But that was all at the JAR and the Bentley Arena is, quite literally, a blank slate.
One More For Hinesy
The Army West Point-Bentley series features a "six degrees of separation" story worth telling this week.
St. John's Prep High School in Danvers, Mass., retired the jersey this week of Derek Hines.
Hines, a West Point hockey graduate, was killed in action in Afghanistan in 2005 while serving the United States Army. He was a graduate of the high school, located approximately 20 miles north of Bentley University.
Hines' jersey is the second jersey elevated to the rafters at St. John's Prep, and he joins Pete Frates as the only other honoree. Frates is an international icon, a former college baseball player at Boston College who helped kickstart the ALS Ice Bucket Challenge that became a worldwide phenomenon in 2014. Frates' brother, Andrew, is a Bentley graduate. When the Bentley Arena opens this weekend, the two stories will intertwine once again, on the backdrop of a retired jersey from Massachusetts' North Shore.
Maybe it's just me, but I always love when things intersect like that. It proves my theory that the world is small, and we're all in it together. It's amazing to me that these two icons, who gave and are giving so much to the world, came out of the same hockey program, and that they both have a connection to this weekend's series in Waltham.
It's All Just Geography
When Atlantic Hockey had 12 teams, the league used a divisional setup for scheduling (and one ill-fated playoff format in 2011).
Connecticut's departure changed that, but a good lot of us still refer to the league's geographical alignment when discussing matchups.
The end of the season always highlights the old divisional rivalries, and this year, save for RIT-Sacred Heart this weekend, will not disappoint.
Army West Point plays Bentley and Sacred Heart this weekend, while the Falcons draw a final game against American International next Friday (the two schools are Division II, Northeast-10 Conference rivals in all other sports). Holy Cross, meanwhile, finishes with games against those Yellow Jackets in a series where the campuses are separated by about an hour.
Canisius heads to Air Force this weekend, then returns to Buffalo for a home-and-home with Niagara in the Battle of the Bridge. RIT returns home next weekend to take on Mercyhurst, and Robert Morris plays the Lakers this weekend before heading to Air Force next week.
Players of the Week
Player of the Week – RIT's Gabe Valenzuela: Valenzuela had three goals and an assist as RIT swept Robert Morris last weekend in Pittsburgh.
Defensive Player of the Week – Sacred Heart's Liam Clare: Clare had a number of assists in Sacred Heart's wins over Niagara, finishing the weekend at plus-5.
Goalie of the Week – Sacred Heart's Brett Magnus: The Montreal native stopped over 50 shots on the weekend, recording a .927 save percentage as the Pioneers earned four points in Western New York.
Rookie of the Week – RIT's Bryson Traptow: Get him the puck! Traptow scored the first goals of his college career and recorded a plus-3 in the RIT four-point weekend.