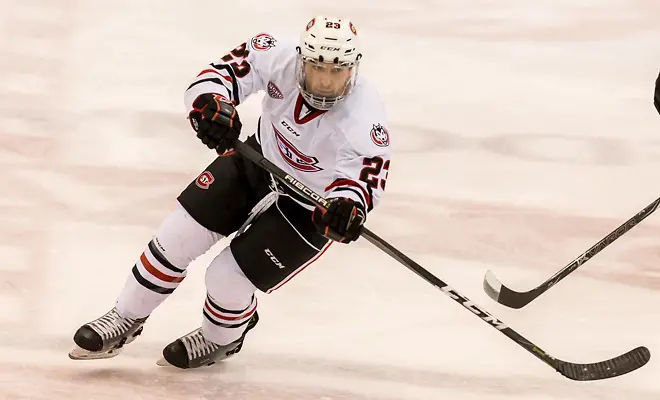 Each week during the season, we look at the big events and big games around Division I men's college hockey in Tuesday Morning Quarterback.
Paula: Jimmy, I'm not surprised that there's a new No. 1 this weekend, but I think I'm a little surprised that Notre Dame didn't receive a single vote.
Both Notre Dame and Denver received 15 votes each last week, St. Cloud 13 votes and Cornell seven. This week, St. Cloud's 28 first-place votes obviously show that voters have a lot of confidence in the Huskies.
Another surprising development, to me, at least, is Cornell's 18 first-place votes. My guess is that voters looked at the Big Red returning to form after a two-game disruption of a long, successful streak. Like Notre Dame, though, Cornell isn't winning a lot of games by more than a goal or so, so I have the same concerns about Cornell as I've had all season about the low-scoring Fighting Irish.
Heading into their weekend with Michigan, the Irish and the Wolverines had identical records (3-3-1) in their previous seven games. I had a feeling that Michigan would take at least one game in that series. The games were the last two conference games of the year for the Wolverines, and they were playing to secure home ice in the first round of the Big Ten playoffs. Also, their starting goaltender, Hayden Lavigne, has been playing with increasing authority in the Michigan net.
Then there's St. Cloud's seven-game unbeaten streak.
Then there's Minnesota State's lone first-place vote.
And there was a fight between coaches after a game this past weekend.
And there's Olympic hockey.
So much to talk about this week.
Jim: I was a little surprised by Michigan's sweep of the Irish, but it shows that the Wolverines under Mel Pearson are entering the postseason on a high note (though they need to avoid a letdown against an Arizona State team that has given plenty of other perennial powerhouses fits this season).
Personally, I'm excited to see this Michigan team playing well. Coaching transitions aren't always a piece of cake, but we know once Pearson could get his team playing his system, based on what he accomplished at Michigan Tech, there was a lot of potential.
Changing gears and taking a look at the PairWise, we are at the point where we can begin making some definitive statements. If you read Jim Dahl's excellent blog (a site I have used as reference for a few years now back to when he posted this information on SiouxSports.com), you will find that you can lock in the top seven teams in the PairWise with NCAA bids. Additionally, the next three teams – Minnesota, Providence and Minnesota Duluth – are all near locks.
Once we get below that, teams currently ranked 11-14 (Northeastern, North Dakota, Omaha, Michigan and Western Michigan) all have pretty solid footing for an NCAA bid, but all will need to avoid slumps and conference tournament upsets.
What does this translate to?
If you're not currently in the top 14 of the PairWise, be prepared to either make a very deep postseason run if you're on the bubble, or if you're currently ranked 18 or below, hope to win your conference tournament.
There's a lot of teams in that space that had high expectations – Boston College, Boston University, Harvard, Penn State, Union – that will need to catch fire or be prepared to watch the NCAA tournament from their living rooms.
Paula: Another takeaway from the PairWise, for me, at least, is that at least five of those top seven teams seem pretty solid to me once the tournament begins.
St. Cloud and Denver have had consistently decent seasons with hiccups here and there, and I have no doubt that the NCHC is the strongest conference again this season, so those playing in that league, the hiccups are expected.
Minnesota State, now riding a 10-game win streak, has emerged as a very strong team in a conference that is far more competitive this season than it was last season. The Huskies, Pioneers and Mavericks all seem well-balanced and each has at least one player up front that can be a difference-maker in any game. You can add Ohio State to that list, too.
Cornell and Notre Dame have both benefited from outrageously good goaltending. Add Clarkson to the Big Red and Fighting Irish, and you have teams that were dominant in their conferences for extended periods of time. After Cornell's little letdown, the Big Red seem to be back on track, but Notre Dame and Clarkson concern me.
As we've discussed, in a one-and-done tournament, anything can happen, and both the Irish and the Knights have shown recently that they have weaknesses that are exploitable. Maybe, though, those are programs that can take what they learn here in the late season and make right the things that are going wrong. That having been said, I'd rather have momentum on my side at this point in the season.
Changing the topic completely, I hardly know what to make of what transpired after Michigan Tech beat visiting Arizona State 5-3 Saturday. According to what I've been told, there was a fight among players at the end of the game and the tensions spilled over into an altercation between ASU coach Greg Powers and MTU coach Joe Shawhan, who first exchanged words and then shoves on the ice. Officials had to intervene to separate them. There were six penalties assessed to players after the final buzzer sounded, and as we write this, I hadn't heard yet what, if anything, will come of it for the coaches. Shawhan did issue an apology.
Jim: I saw limited video of the altercation after the Michigan Tech-Arizona State game and don't know what to make of it.
I didn't see the same in its entirely to know if there was chippy play, a dirty hit or just some frustrations that boiled over. It's rare to see coaches get that enraged (my last memory was the famous RPI-Union postgame a few years back), but I do know one thing.
Multiple commissioners have told me that this time of year their phones ring more and their email boxed fill up quicker. It's the nature of the beast. Teams are trying to grab home ice or a bye, they're positioning for NCAA bids. There is a lot of pressure this time of year and, unfortunately, sometimes that can boil over.
A Tip of the Cap…
Paula: … to the Bentley Falcons for selling out their first two games in the Coach DeFelice Ice Rink in the new Bentley Arena.
The new multipurpose arena seats 1,917 and can accommodate up to 500 more people with standing room positions. Announced attendance each night for Bentley's series against Army West Point was 2,207.
Jim: I was lucky enough to be there on Friday night and can tell you the atmosphere was electric.
The student sections at each end of the ice were absolutely packed and when the first goal went in (unfortunately on that night, it was the only one), the noise was deafening.
This is a true crown jewel in a beautiful campus in the hockey loving city of Waltham. Hopefully, the local community embraces such a beautiful facility and makes these capacity crowds a norm.