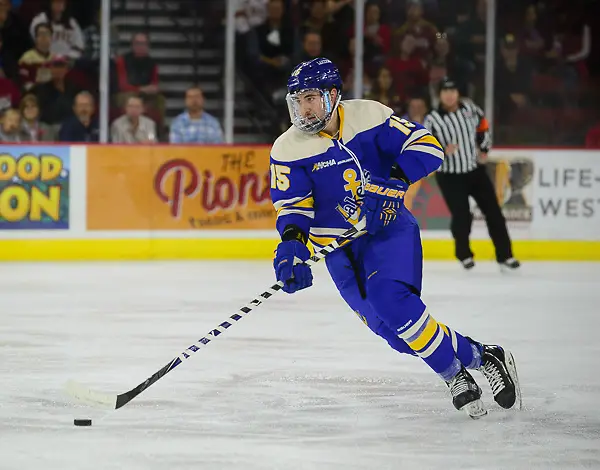 There always seems to be some sort of drama in the final week of the WCHA's regular season.
This year is no different.
Minnesota State, while being close to claiming a share of their third MacNaughton Cup title in four years, hasn't clinched just yet. Second-place Northern Michigan could still swoop in and claim the league championship with two wins and some help from defending champions Bemidji State.
That's all well and good, but this year there's also some intrigue at the bottom of the table. The top five WCHA playoff sports have been claimed. That leaves four teams to fight for the three remaining places.
Alabama Huntsville, Alaska, Ferris State and Lake Superior State will all be fighting for their playoff lives this weekend.
To make matters worse, the four teams are separated by just three points in the league standings. Huntsville and Alaska are tied for sixth with 30 points apice. Ferris is two points behind both, in eighth place with 28 points, while Lake Superior is in ninth with 27.
UAH will host Bowling Green this weekend while Alaska takes on rivals Alaska Anchorage. Meanwhile, Lake Superior State and Ferris State will go head-to-head in Big Rapids, Mich.
The complicated tiebreakers used by the WCHA for ties means handicapping who makes it from this group is nearly impossible. The only thing each individual coach knows his team has to do is win.
For Damon Whitten, his Lakers (10-20-4, 8-15-3 WCHA) have been doing a lot of that in February. They've played themselves back into playoff contention with four consecutive victories this month, all on the road. They went into Bemidji at the start of the month and shut out Bemidji State twice by identical 2-0 scores. Then they travelled to Anchorage and knocked the Seawolves out of playoff contention with a sweep — including a 3-2 overtime victory.
"That Bemidji series was huge. It's a tough trip, and they're very good in their building," Whitten said of the start of Lake Superior's current win streak. "They're a good hockey team, and you know when you go to play (BSU goalie Michael) Bitzer, you're going to have to keep it a low-scoring affair…. We had a goal to go a minimum of .500 on that trip, and to go in there and start off winning both games was a really positive momentum-builder for us."
The Lakers, who had been struggling on defense at the beginning of the year due to injuries to some of their key players, have been able to be stronger defensively simply due to having some of those players back, Whitten said. Sophomore Collin Saccoman, freshman Lukas Kailbel and Providence transfer Steven Ruggiero were all injured at some point this season.
And the Lakers' goaltending tandem of junior Nick Kossoff and freshman Mareks Mitens have done well to keep the puck out, for the most part.
"I think our guys have done a good job. I think without the leadership in that locker room and guys not taking more ownership, it could have gone the other way," Whitten said. "We were in a pretty tough spot there, but I think our leadership group has done a good job of rallying together and continuing to get better."
The Lakers are looking for their fourth consecutive WCHA playoff appearance after missing out in 2014 — their first year in the league. If they want to make it back, they'll have to get at least one victory against a Ferris State team that has made the playoffs every year since joining the WCHA but has been struggling near the end of the season.
The Bulldogs (12-21-1, 9-16-1 WCHA) have just four wins since the start of December. Two of those were a big series sweep at Michigan Tech that likely kept them alive for this playoff run; another was a 4-0 win over the Lakers in Sault Ste. Marie in January. The Lakers won the second game of that series 5-3.
Whitten said the Lakers' approach won't change this time around.
"We've been kind of in playoff mode for a while; we'll be playing for our playoff lives," he said. "We've been on the road the whole month. We haven't been home in a while, so we've had that road warrior mentality for a while. We're going to try and play a simple road game. Manage pucks well, put pucks behind their defensemen and get out to a great start."
Players Of The Week
This week's WCHA players of the week were Minnesota State senior Brad McClure (offensive), Michigan Tech senior Mark Auk (defensive), Bemidji State senior Michael Bitzer (goaltender) and Minnesota State freshman forward Reggie Lutz (Rookie).
Ice Chips
— Two WCHA players were named as among the top 10 finalists for the Senior CLASS Award: Bemidji State goaltender Michael Bitzer and Bowling Green forward Mitch McLain. The award honors senior leadership on the ice, in the classroom and in the community. Last year's winner was Bemidji State's Brendan Harms.
— Speaking of Bitzer: The Bemidji State goalie needs just 12 saves this weekend to set the Beavers' all-time men's record for saves. He currently has 3,054 career stops, 11 shy of leader Steve O'Shea (3,065).
— The only playoff series that is actually decided for sure also involves the Beavers. BSU is locked into the No. 4 seed, while Michigan Tech earned the No. 5 seed and will visit Bemidji next week.
— Minnesota State can earn the No. 1 seed this weekend with just a single point over the Beavers. They'll win the MacNaughton Cup outright if they can get two or more points.
— Northern Michigan, on the other hand, can win the MacNaughton Cup if they sweep Michigan Tech in their home and home series AND Bemidji State sweeps Minnesota State.
— A succinct version of the playoff scenarios can be found at the Predict WCHA Playoff Blog. They do all the math and probabilities so you, the fan, don't have to!