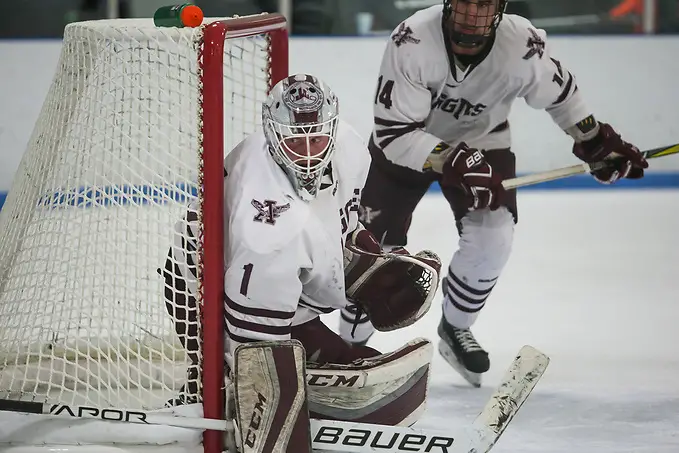 Adrian
The 16-game win streak is over. It ended in a loss to NCHA rival St. Norbert in the Harris Cup final last weekend. However, the second-ranked Bulldogs can't worry about the past. Their focus now is on the NCAA tournament and their quest for a national championship.
It begins next Saturday against fourth-ranked Wisonsin-Stevens Point at Arrington Arena.
"Like anyone, you don't want to lose, you don't plan to lose," Adrian coach Adam Krug said. "So, the loss last weekend to St. Norbert wasn't a good thing, but we're utilizing it as a way to improve."
Krug said the team is focused on what it did wrong and to make it right before the tourney begins.
"It's hard to coach when you win 16 in a row," Krug said. "This is allowing us to see where things went wrong. Was it structure, inability to finish scoring chances, discipline? That's what we are looking at. Not just (Assistant Coach) Shawn (Skelly) and I, but our group. We've had a very focused group this week despite having a bye. You can tell we have our eye on the prize."
The Bulldogs are 24-5 and have outscored their opponents 77-24 in the last 17 games. Taylor McCloy leads the way with 23 goals. He has a team-best 37 points as well.
Cory Dunn has been impressive as well, tallying 27 assists, which ties him for the most by a blueliner in NCAA Division III hockey.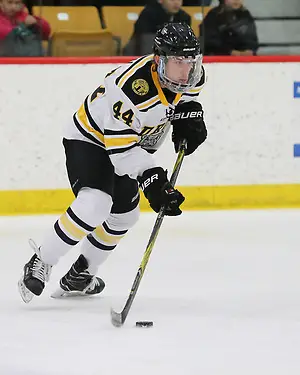 Two others have racked up at least 30 points, including Kyle Brothers, who has scored 11 goals and dished out 23 assists. Mathew Thompson has come through with 16 goals and 17 assists.
The Bulldogs are also solid at the goaltending spot. Kevin Entmaa owns a 16-3 record and a 1.75 goals-against average. His win total marks the most in his career.
Despite not winning the NCHA title, Krug feels good about the position his team is in as it heads into the NCAA tourney.
"Obviously, for about two months or so now we've been playing really well — as good of hockey as we have in my four years as coach. From the net out, our consistency in doing the little things has been the difference this time around," Krug said. "We've focused on team defense a bit more, taking away time and space, tight gaps, winning the blue lines. These things will allow us to transition and turn defense into offense. We need to continue to do these things to have a chance to be the team raising the trophy on March 24. There's a commitment in our room to be better. We're seeing that now."
Why Adrian will make the Frozen Four: The Bulldogs are playing their best hockey, having won 16 of their last 17 games, and they have an understanding of what it takes to get there.
Why Adrian won't make the Frozen Four: A tough draw. The Bulldogs are playing a championship-caliber game in the opening game of the tourney, having to play Wisonsin-Stevens Point.
Wisconsin-Stevens Point
Two years ago, Wisconsin-Stevens Point won a national championship. The Pointers are hoping to return to the top of the hockey mountain this season.
They are coming off a loss in the Commissioner's Cup championship game, but enter the tourney as the fourth-ranked team in the nation and have lost just once in their last 10 games. The Pointers have lost just twice since the start of January.
Coach Tyler Krueger likes what he has seen from his team leading into the tourney, despite the fact that it fell short of a WIAC tourney title.
"Over the last three months our team has been playing on a different level than the beginning of the season," Krueger said. "With such a young team, it took us a bit early in the season to hit our stride. We've dealt with a fair share of injuries down the stretch, but the next man up has always been able step in without problem, which is a testament to our depth."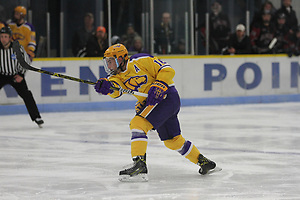 Tanner Karty leads the way for the Pointers, who are 20-5-3 on the season and in the NCAA tournament for the fifth consecutive season. The WIAC Player of the Year is one of the top scorers in the country, coming through with 22 goals and 26 assists.
Willem Nong-Lambert has risen to the occasion as well, tallying 11 goals and 23 assists. Ten other players have tallied at least 11 points. The Pointers have scored 104 goals in all.
Defensively, Max Milosek has 24 starts under his belt this season and 16 wins on his record. He owns a 1.85 GAA, the eighth-best average in the nation.
The Pointers will have to go on the road for their first tourney game as they will take on Adrian in the quarterfinal round. The good news is they have thrived on the road, fashioning a 9-1 record.
Wis.-Stevens Point goes into the tournament seeking its fifth title in program history. Attention to detail will be key for the Pointers if they hope to make a run.
"To be successful in the national tournament, everybody is going to have to commit to the details that make us successful," Krueger said. "We need to be disciplined within our game plan and our emotions. We want to play even-strength hockey as much as we can."
Why Wis.-Stevens Point will make the Frozen Four: The Pointers beat Adrian twice during the regular season. That confidence could go a long way in being able to knock off the Bulldogs one more time.
Why Wis.-Stevens Point won't make the Frozen Four: Playing on the road in the postseason is never an easy thing. Not having home ice could be the difference between winning and losing.
St. Norbert
St. Norbert is the champion of the NCHA and eager to win a national championship after falling short of that goal a season ago. The top-ranked Green Knights open the tourney against Augsburg or Marian and will host a quarterfinal round game for the 17th consecutive season. This is the 18th tournament appearance for St. Norbert, which is 24-4-1 on the season and unbeaten at home.
The Green Knights are hoping to win their first national title since 2014 and their fourth in the last 10 years.
They have won nine consecutive games and have been impressive on both ends of the ice, scoring 114 goals while allowing just 40.
The offense is anchored by Tanner Froese, who has come through with 12 goals and 17 assists. This is a St. Norbert team that spreads the wealth offensively. In addition to Froese, 15 other players have tallied 10 or more points. Keegan Milligan ranks second on the team in points with 11 goals and 13 assists. Peter Bates and Dominick Sacco have both scored 10 goals and have 14 and 13 assists, respectively.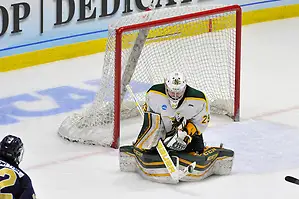 Where this team really gets the job done is on the defensive end of the ice behind the stellar play of goalie T.J. Black. He has appeared in 29 games and has 24 wins on the year. His GAA stands at 1.37, and he has recorded three shutouts in the last seven games. When Black is at his best and the offense is clicking, no one is better than St. Norbert.
Why St. Norbert will make the Frozen Four: It's hard to find a weak link on this team. The Green Knights have a great offense and a great goalie, and that typically leads to success.
Why St. Norbert won't make the Frozen Four: It's hard to imagine a scenario where they don't make it to the national semifinals, but no matter who they play in the quarterfinals, the opponent will be a familiar one — the Green Knights have played both teams this season — and it's never easy beating a team multiple times in the same season.
Augsburg
Augsburg (18-9) is in the tourney for the third consecutive season and is hoping for its first Frozen Four appearance in 20 years. The Auggies, ranked 11th in the nation, have what it takes to go all the way to the title game and even win it.
This is an Augsburg team that is riding the high of winning its third consecutive MIAC tournament crown and a team that has been among the best in the country all year. The Auggies started the year 8-0, fell off a bit for awhile, and have since recovered nicely.
Their quest for a championship begins Saturday against Marian. Augsburg comes in having won nine of its last 13 games, and it boasts an offense that is one of the most balanced in the country, with 11 players coming through with 10 or more points.
Nate Flynn anchors the offensive attack, racking up 12 goals to go along with 14 assists. Chandler Madry has been a phenomenal playmaker and also has 26 points on the year, including 20 off assists. Luke Dietsch has scored nine goals and dished out 16 assists, and Drew Anderson has tallied seven goals and 11 assists. The Auggies have managed to score 95 goals in all.
They have also gotten great goaltending play from Nick Schmit, who has won 16 games and has a 2.26 GAA. He has one shutout to his credit as well.
Why Augsburg will make the Frozen Four: The Auggies have as good of an offense as any team out there when they are clicking on all cylinders. If they bring their A game to the arena, anything is possible.
Why Augsburg won't make the Frozen Four: If they do get past Marian, a third consecutive year of playing St. Norbert in the tournament is up next. The Auggies were swept in the regular season by the Green Knights and having to play on the road against them won't be easy.
Marian
For the first time in program history, Marian is in the NCAA tournament. Everything from here on out is icing on the cake, but rest assured, the 14th-ranked Sabres aren't happy just being here.
I'm really excited with this group," Marian coach Zach Gaynor said. "For us, having the tough loss against St. Norbert (in the NCHA tournament), we needed to refocus, reset, and get revitalized, and our team is ready to play. I know these guys are going to put their best foot forward and give the best showing they have."
The Sabres understand this tournament appearance goes beyond just what has been accomplished this season.
"I expect us to play our best game of the year because we're playing for something bigger than just ourselves and the 20 guys that will be on the ice," Gaynor said. "We're playing for all the alumni and everyone that has ever walked through this program, that's the motivation for our guys."
The Sabres, who own a 20-7-1 record, have won nine of their last 10, their only loss during the stretch coming against St. Norbert in the conference tournament.
Derek Thorogood leads the offense. He has 34 points on the year, scoring 15 goals and dishing out 19 assists. Hunter Stewart and Nick Monfils have stepped up as well. Stewart has racked up 12 goals to go along with 23 assists, and Monfils has punched in five goals while dishing out 18 assists.
Six others have at least 12 points on the year, while Hunter Vorva has been nothing short of stellar, winning 20 games and fashioning a 1.93 GAA.
"One key for us will be to continue to get scoring from all four lines. We get a lot of scoring from our top lines, and in playoff time we expect our bottom two to really step up, and that's something we are looking forward to," Gaynor said. "It's going to take some good work in the defensive zone, transition, and Vorva continuing to play well. He's given us a chance to win every game, so if he shows up the rest of the guys will follow. He's kind of the pulse, so if he shows up and makes a big save early, our guys will get excited."
Why Marian will make the Frozen Four: This is a team that has nothing to lose and everything to gain. The Sabres have shown how good they can be when on top of their game and will be tough to beat if they leave everything they have on the ice.
Why Marian won't make the Frozen Four: Not having experience in the NCAA tournament can be a tough thing to overcome.