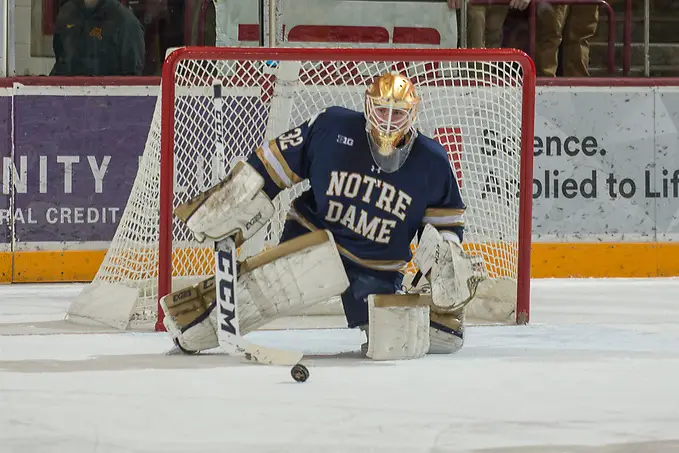 The Big Ten announced Tuesday the All-Big Ten teams and individual award winners as selected by the conference's coaches and a media panel.
Notre Dame's Cale Morris was named Big Ten Player and Goaltender of the Year, while Ohio State's Steve Rohlik was selected as the Coach of the Year. The Fighting Irish will host the Buckeyes in the championship game of the Big Ten Tournament at 8 p.m. ET Saturday on BTN.
Penn State's Trevor Hamilton was tabbed the Defensive Player of the Year, which is awarded to a defenseman or forward. Michigan State's Mitchell Lewandowski collected Freshman of the Year laurels in a unanimous vote, while Michigan's Cooper Marody claimed the scoring title with 27 points in 24 conference games.
The Big Ten also recognized seven Sportsmanship Award honorees. The students chosen are individuals who have distinguished themselves through sportsmanship and ethical behavior. These students must also be in good academic standing and have demonstrated good citizenship outside of the sports-competition setting.
ALL-BIG TEN FIRST TEAM
Cooper Marody, F, Michigan
Jake Evans, F, Notre Dame
Tanner Laczynski, F, Ohio State
Jordan Gross, D, Notre Dame
Trevor Hamilton, D, Penn State
Cale Morris, G, Notre Dame
ALL-BIG TEN SECOND TEAM
Tony Calderone, F, Michigan
Taro Hirose, F, Michigan State
Mason Jobst, F, Ohio State
Quinn Hughes, D, Michigan
Sasha Larocque, D, Ohio State
Sean Romeo, G, Ohio State
HONORABLE MENTION
Mitchell Lewandowski, F, Michigan State
Tyler Sheehy, F, Minnesota
Matthew Weis, F, Ohio State
Andrew Sturtz, F, Penn State
Trent Frederic, F, Wisconsin
Carson Gatt, D, Michigan State
Ryan Lindgren, D, Minnesota
Wyatt Kalynuk, D, Wisconsin
Peter Tischke, D, Wisconsin
Hayden Lavigne, G, Michigan
ALL-FRESHMAN TEAM
Mitchell Lewandowski, F, Michigan State
Casey Mittelstadt, F, Minnesota
Linus Weissbach, F, Wisconsin
Quinn Hughes, D, Michigan
Wyatt Kalynuk, D, Wisconsin
Tommy Nappier, G, Ohio State
Big Ten Sportsmanship Award Honorees: Sam Piazza, Michigan; Carson Gatt, Michigan State; Mike Szmatula, Minnesota; Andrew Oglevie, Notre Dame; Christian Lampasso, Ohio State; Erik Autio, Penn State; Tim Davison, Wisconsin.