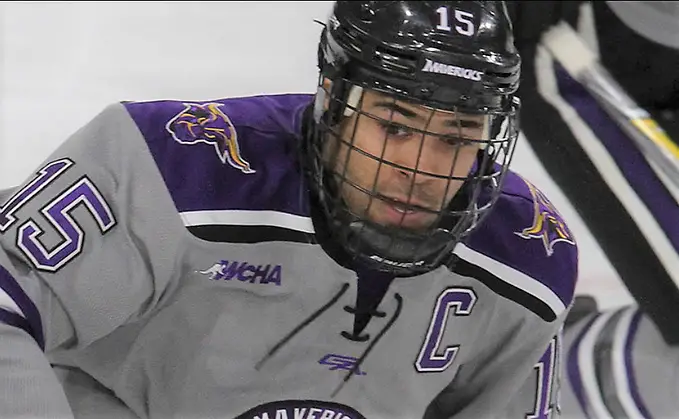 The WCHA announced Thursday that Minnesota State senior forward C.J. Suess is the 2017-18 Player of the Year.
Suess, who earlier this week was named WCHA Offensive Player of the Year, was chosen for the top overall accolade by league head coaches from among the final four candidates: Defenseman of the Year Alec Rauhauser of Bowling Green, Goaltender of the Year Atte Tolvanen of Northern Michigan and Rookie of the Year Jake Jaremko, also of Minnesota State.
"On behalf of the WCHA, we commend Mr. C.J. Suess on his amazing season and applaud him as our 2017-18 WCHA Player of the Year," said WCHA commissioner Bill Robertson in a statement. "Each of our final four candidates had remarkable years, but C.J.'s leadership of a top-10, NCAA tournament-bound team, along with his stellar, league-leading offensive production for our regular-season champions, make him truly worthy of this honor."
Suess, a Hobey Baker Memorial Award top-10 finalist, was the first Minnesota State player to capture the WCHA scoring title after tallying 36 points in 28 conference games. The Forest Lake, Minn., native scored a league-high 19 goals, added 19 assists and posted a WCHA-best plus-19 rating. He collected at least one point in 23 league games, including 10 multi-point efforts. Suess factored in nine game-winning goals for the 22-win, MacNaughton Cup-champion Mavericks, scoring four himself (second-most in the WCHA) and assisting on five others. The first-team All-WCHA performer also added 11 points on the power play (4g-7a), was on the ice for a league-best 32 even-strength Minnesota State goals and contributed a WCHA-high 380 faceoff wins.
"First of all, I think it's an outstanding honor to be selected by coaches throughout the league," added Minnesota State coach Mike Hastings. "Secondly, I think C.J. is a complete player. There isn't a situation that he does not play in over the course of an entire game. During his time with us, he has worked to eliminate holes in his game to develop into a complete player. You can talk about his talents on the ice, but his leadership skills in being a 'we' guy and never a 'me' guy is exhibited daily. Over his entire four-year career, he has contributed daily to making Minnesota State a better place to be."
Suess is tied for 12th nationally with a career-high 43 points for the NCAA tournament-bound Mavericks. The Winnipeg Jets prospect has scored 22 goals (tied for 10th in the country), has 21 assists, 509 faceoff wins (second nationally) and a plus-18 rating (tied for 19th) in 39 games.
A two-year captain, Suess has helped Minnesota State to a No. 6 ranking in the latest polls, along with an NCAA-best 29 wins. He stands as Minnesota State's active career scoring leader with 127 points on 57 goals and 70 assists, while his points total is tied for fifth on the school's career scoring list during the Division I era.