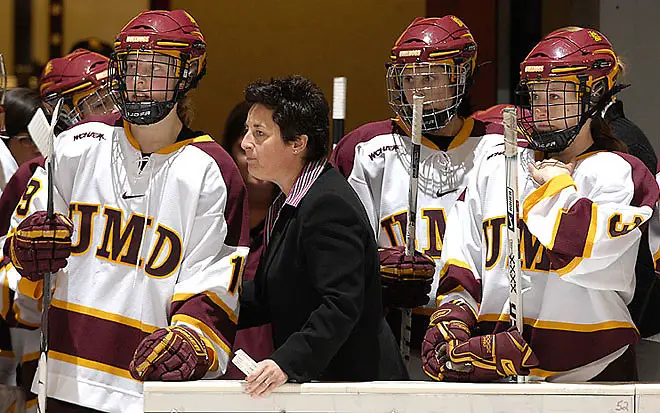 Former Minnesota Duluth women's coach Shannon Miller was awarded $3.74 million by a jury Thursday after an eight-day trial in her lawsuit against the school.
The Duluth News Tribune reported that the jury of eight women and four men took a little over four hours to find that UMD discriminated against Miller on the basis of her sex and retaliated against her for making Title IX complaints when officials decided in December 2014 not to offer her a new contract.
Miller coached at UMD from 1999 to 2015, winning five national titles and going to seven Frozen Fours.
"It's a big day for women," Miller said on the courthouse steps during a news conference. "Women in general, but especially women in college athletics."
"It's a real rebuke to the leadership of UMD, and to the athletic department in particular," added Miller's attorney Dan Siegel. "I hope it's a new day for this university and this community as women all over the world are saying, 'Time's up.'"
UMD athletic director Josh Berlo sat at the defense table and UMD chancellor Lendley Black watched from the front row of the public gallery.
"I want to say I'm extremely disappointed in this decision and very surprised by the decision," Black said at a news conference. "I still stand behind the actions that I took at UMD, and know personally why I made the decisions I made."
Siegel called Miller a "role model for women everywhere" and "the pride of Duluth."
Miller now lives in Las Vegas and runs a small business with her partner Jen Banford. She hasn't ruled out coaching again.
"There's a lot of men coaching in women's athletics," Miller said. "I absolutely see no reason why women can't coach in men's athletics."