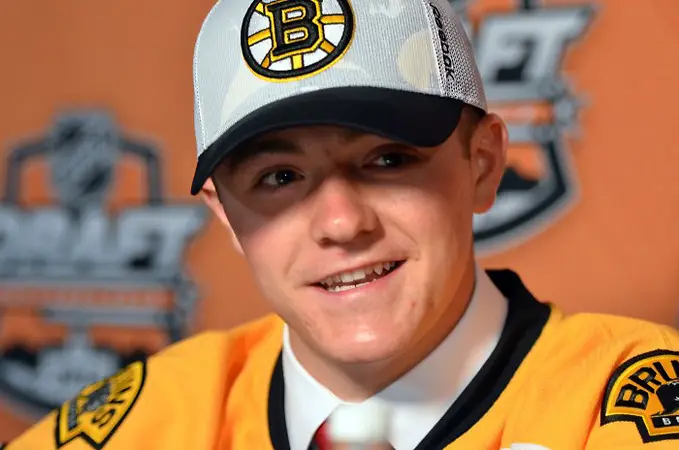 Harvard junior forward Ryan Donato has signed an entry-level contract with the Boston Bruins, and will give up his senior season with the Crimson.
Originally drafted by the Bruins as a second-round pick (56th overall) in the 2014 NHL Draft, Donato had his best season (26 goals, 17 assists) in a Crimson uniform in 2017-18, capping off a memorable three-year career at Harvard.
"I am excited to announce that today I have fulfilled a lifelong dream, signing a NHL contract to play for the Boston Bruins," Donato said in a statement. "While I am beyond thrilled for this next opportunity, it comes with a bittersweet feeling, as my time as a student-athlete at Harvard comes to a close. I am so thankful for every day I have spent at Harvard and the remarkable people I have met along the way, from the classroom, to the ice, and beyond. It has truly been a privilege to wear the Harvard jersey and represent my school alongside such incredible teammates and coaches. My time in the Harvard hockey program has provided me with some of my closest friends and fondest memories, and I will strive to continue representing Harvard well from afar as I enter this next stage of my life.
"While no longer on campus, I am so proud to consider myself a member of the greater Harvard community, and I am still fully dedicated to working towards another lifelong dream of mine: a degree from the university that has given me the best three years of my life."
The ECAC Hockey Player of the Year and a Hobey Baker Award top 10 finalist, Donato became the 32nd player in program history to top the 100-point mark, finishing his Crimson career with 104 points (60 goals, 44 assists) in 97 games played.
Donato also made waves last month as a member of the U.S. men's hockey team at the 2018 Winter Olympics, leading the team with six points (five goals, assist) before returning to complete the season at Harvard.
Donato will join the Bruins for their game Monday night against the Columbus Blue Jackets.